Tips And Tricks For Finding Designer Clothes At Thrift Stores
Monday, January 26th, 2015
In the past year, I've completely revamped my shopping habits. I've stopped shopping at fast fashion stores like H&M and Forever 21, occasionally dabbled in well-priced, on sale designer brands, and I've switched to shopping almost exclusively at secondhand stores. While there are a lot of benefits to shopping secondhand, like saving the environment and shit like that…the biggest perk is that I can now afford brands I've never been able to afford before. Suddenly I have a wardrobe full of Topshop, J. Crew, Anthropologie and more…all pieces acquired from consignment stores and thrift shops. Sure, these aren't the fanciest brands in the entire world, but they are definitely not brands I can casually buy on a regular basis. If I can get a J. Crew skirt for $20 instead of $80, that's a major savings.
As much as a I love to brag about my thrifted Topshop duds, nothing compares to walking out the door in the a piece of clothing you only see on the red carpet, or hear about in Fergie songs.  I live for finding designer clothes at thrift stores. Check out some of my favorite finds, and read a few tips on how you can find designer clothes at thrift stores below.
Trade your old clothes in at consignment stores.
If you want to get a deal on designer clothes, the definite way to do it is to bring your gently used, on-trend clothing to resell shops. I'm a big fan of Buffalo Exchange and Crossroads Trading here in NYC. Sell your clothes, get store credit, and spend it on their designer selection.
The last time I sold my clothes at Crossroads Trading, I spent my credit on these Dolce and Gabbana quilted patent leather tennis shoes. I ended up paying only $11 out of pocket for these babies. According to The Gloss, the original selling price for these was $295.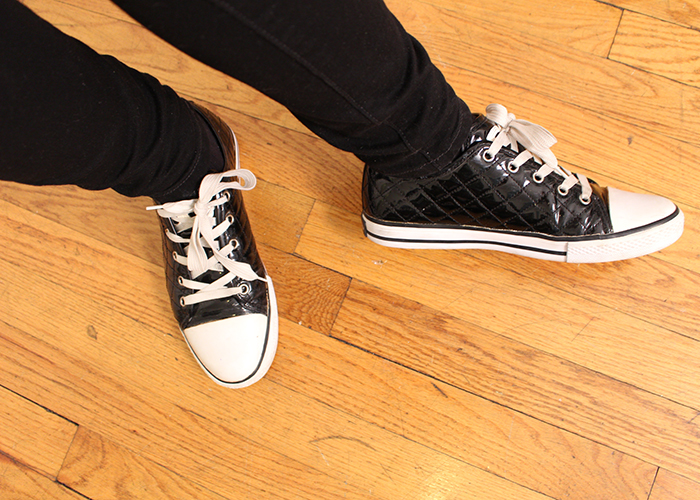 Since the laces cover up the DG logo on the tongue of the shoe, they aren't overtly label-whorish, but you KNOW I tell anyone who compliments my footwear that they're Dolce and Gabbana.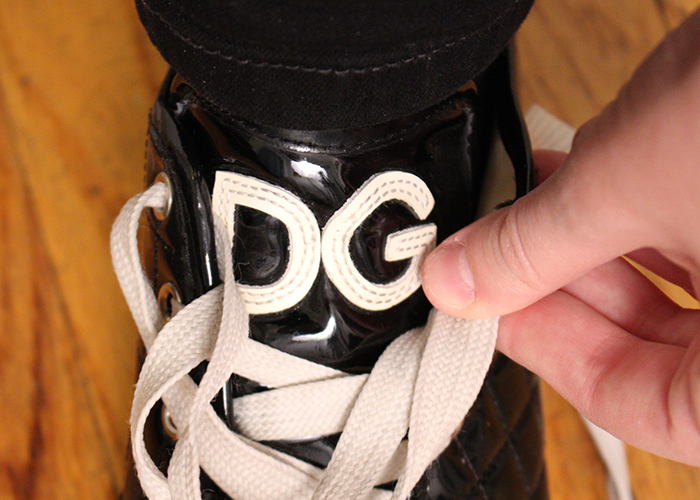 Do a Google search for upscale resale in your area.
Thrift stores vastly vary in terms of pricing, whether they're charity shops or they have consignment options. Before heading out to search for that diamond-in-the-rough at the local Salvation Army, or popping into a vintage store only to be floored by the insane price mark-up…do your research. Yelp reviews are great for figuring out if a store is in your price range, if it's your style, or if they have amenities like dressing rooms (a surprisingly rare aspect when it comes to thrift stores). If you're specifically looking for upscale brands, finding an upscale thrift store in your area is the best place to start.
In St. Louis, my favorite upscale resale store is The Scholar Shop. It's a charity store, with all proceeds going to college scholarships for kids in need…meaning the prices aren't out of this world, since they didn't put money into purchasing the merchandise. My most epic designer find EVER was from The Scholar Shop…a Badgley Mischka evening gown with the tags still on it from Saks Fifth Avenue. The originally selling price? $795. The Scholar Shop's price was $95, but I went on a day that all evening wear was 75% off. This red carpet worthy dress was only $23.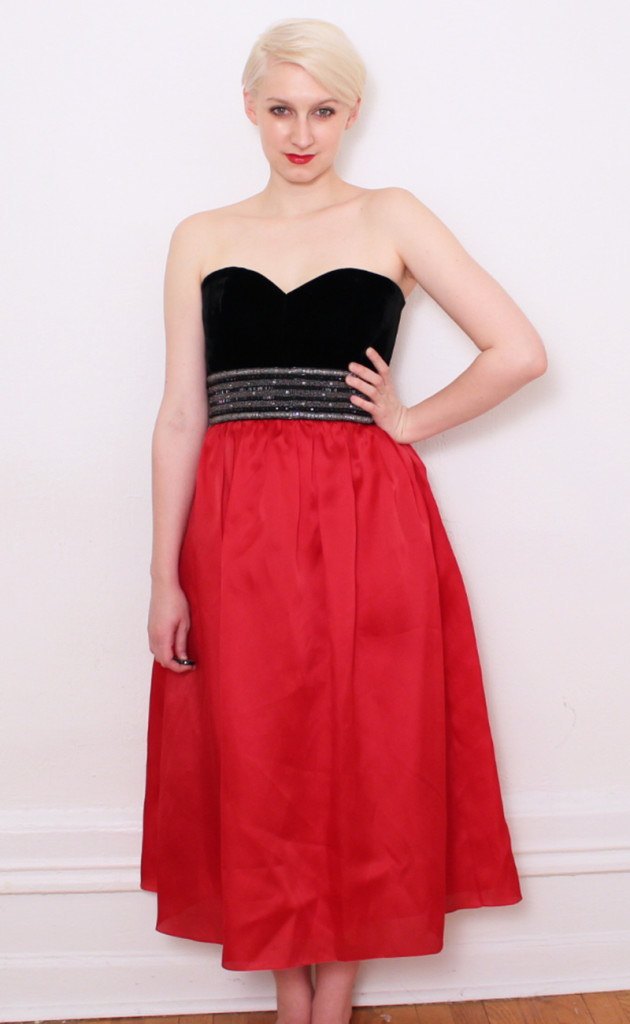 The sweetheart cut bodice is velvet, with a silver and black beaded belt and silk tea-length skirt. I thought about selling this at a consignment store, but I just couldn't part with it. Who knows when you'll need an evening gown!?
Find thrift stores in affluent areas…but also in areas that match your aesthetic.
The best thrift stores in New York City are in the most ritzy neighborhoods. The Upper West Side Goodwill has provided me with unworn Anne Taylor skirts with $120 price tags for $8, and vintage trousers from Neiman Marcus for $5. But at the same time, I'm definitely a fan of getting down and dirty, sifting through racks of old clothes at the Salvation Army on 23rd street and 8th avenue, where the clothes have a funkier downtown vibe. I've never found designer clothes there from recent years, but I have found a few fancy labels that just didn't happen to be in my size or exactly fit my style, like this purple Christian Dior blazer for $4.99.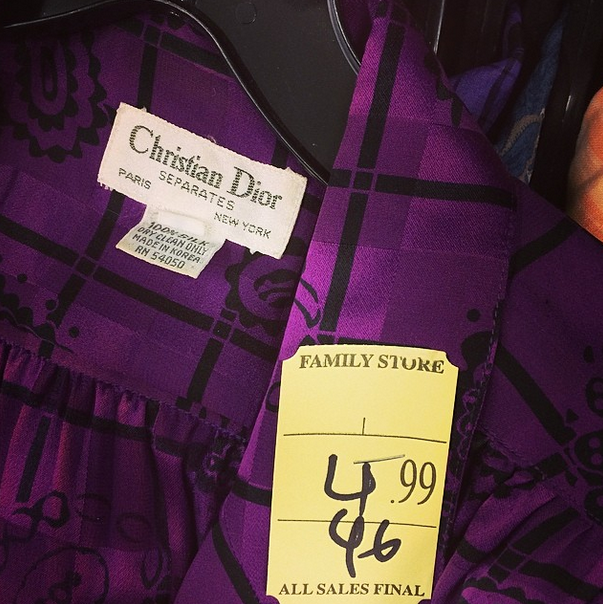 On the opposite side, I tend not to go out of my way to shop at the Upper East Side Goodwill, where brands will be preppier and cater to an older group of people, even though it's a wealthy part of town. I've heard from many it's a great place to shop, but in the few times I've been, I've left unimpressed. Once you find your staple stores, stick with them and visit frequently.
Get lucky.
When shopping at thrift stores, a lot of it comes down to luck. You may find four designer label items at the dirtiest thrift store you've ever set foot in one day, and nothing at consignment stores that deal in buying fancy shit the next day. You may not even realize you're buying something amazing when you make a purchase. The other day, I bought at Lacoste Live sweater at Crossroads Trading for $10. I've never been a big Lacoste fan, but I liked this particular design and I had store credit.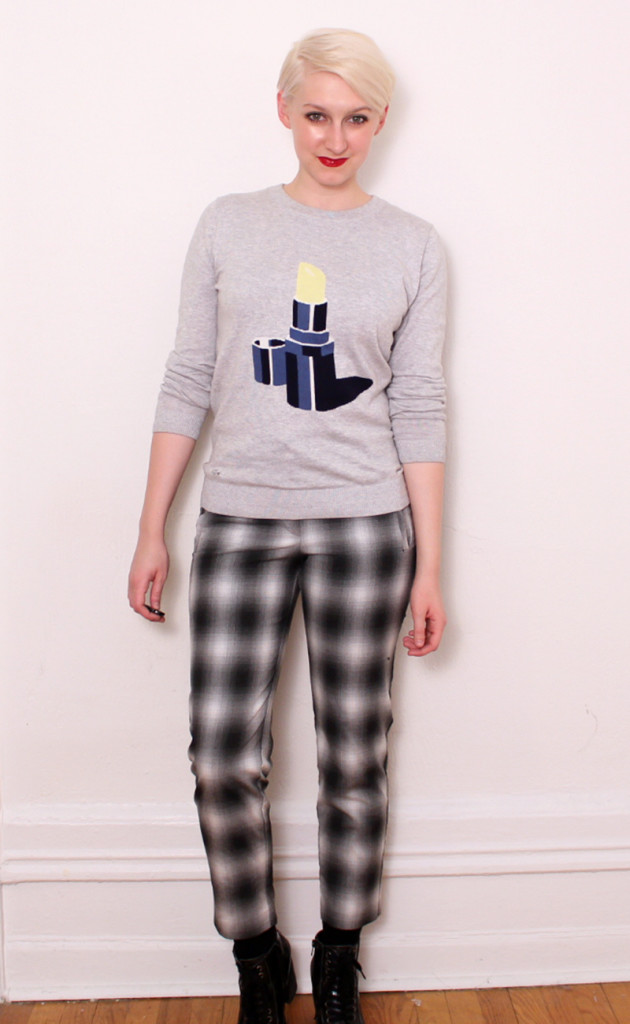 The next day, I did a Google search to find out what exactly this Lacoste Live brand was. Turns out, the sweater is still on sale on their website for $95, with an original price of $195. And I didn't even buy it for the label.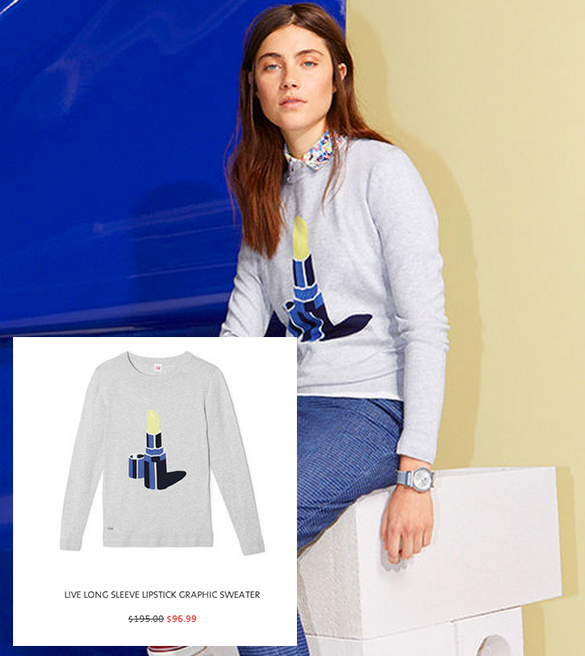 Have you ever found epic designer clothing at a thrift store? Let me know in the comments.
---