Rad.co Review: I Look Cute But My Clothes Smell Like Vinegar
Thursday, January 22nd, 2015
In the past year, have you been inundated with Facebook and banner ads for a company called Rad.co? If you have, you probably frequent fashion blogs, the Forever 21 website, Nasty Gal, Dimepiece, or other sassy girl clothing sites. The reason you can't escape these ads is because back in June of 2013 the Parisian street wear company received $3.3 million dollars in funding, which was used to hammer this website into your brain. After visiting the site many times after it's launch and never actually buying anything, two items I had been keeping an eye on went on sale. So here's my Rad.co review.
I ordered two products, a Fly Art sweatshirt featuring a portrait of Marie Antoinette, emblazoned with Beyonce's famous lyric "a diva is a female version of a hustler," and a Words Brand t-shirt design that I've legit wanted for FOREVER that says "I just want to drink coffee, create stuff, and sleep." The sweatshirt was $23.95, though it's normally $29.99, and the t-shirt was $12.95, normally $19.90.
They took about a week and a half to arrive. I ripped open the package, to be welcomed by the overwhelming smell of vinegar. 
I assume the reason my two tops smelled like a middle school science experiment is because of the chemicals they use to screen print their clothes. Nonetheless, when I buy new clothes, I immediately want to wear them. If I didn't live in New York City, or work a day job, or work on my own website at night, or have a significant other who I enjoy spending my time with…basically, if I had a free hour to spare and an apartment building with a laundry machine, no big deal. Throw that ish in the washer. But going to the Laundromat means I'd have to spend an hour there waiting for my smelly sweatshirt to get clean. Time is money, people…and if I drop cash on your clothing, I expect it to be odorless. I don't think that's very much to ask.
That being said, the Fly Art sweatshirt is awesome. Fly Art sells exclusively from Rad.co, so I can accept that it smells kinda weird since it looks fabulous.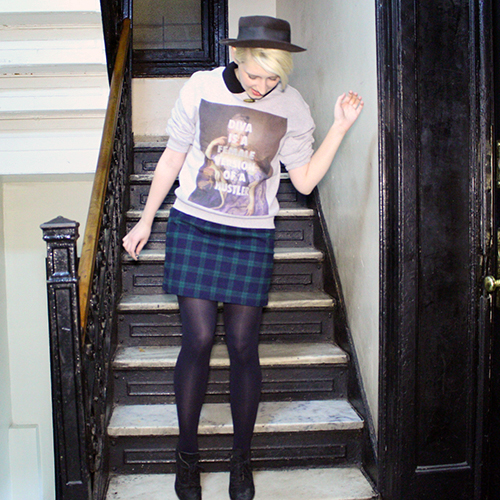 Did you guys also know that if you forget to put your camera on auto-focus when you take pictures with your remote, it won't focus? That's a free pro tip for you.
The next item I bought I am pretty disappointed with, but to understand why, you need some backstory. I ordered a t-shirt the same day I put in my Rad.co order from the Words Brand website that says "young, wild, and freelance." I'm obsessed with this shirt. It does not smell like vinegar, as clothes should, and the screen print is true black and looks pretty heavy-duty. The Words Brand t-shirt I bought from Rad.co not only smells weird (incase that wasn't clear from the first 100 times I mentioned it), but the print is not true black and looks more like a very dark brown. The screen print is not as thick or as big as the print from the Words Brand website. You can tell just by looking at the Rad.co version that it's going to fade dramatically after one wash.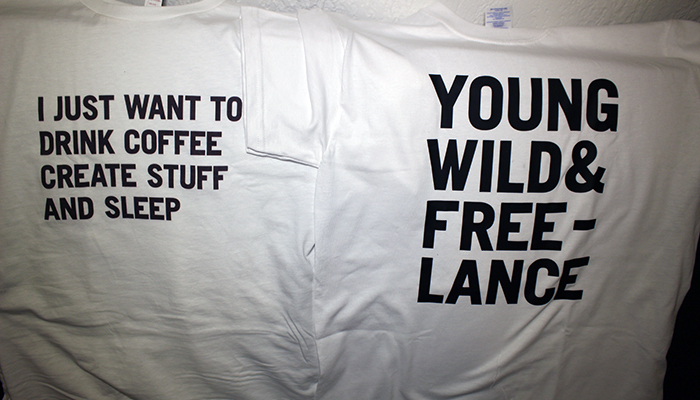 I'm not sure how well you can see the difference in the picture, but it exists, I swear!
I reached out to Words Brand and asked why the products looked so different, and here was their response: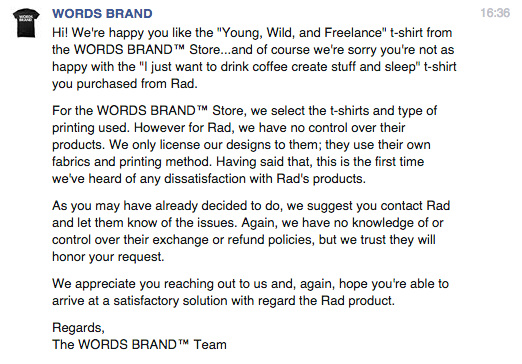 This is why I avoid shopping online at all costs. Even though I'm not happy with Rad.co's version of this shirt, it cost $4 just to ship. If I pay to ship it back and return it, I've paid almost as much as the shirt itself cost in shipping fees.
I'm expecting to get a few wears out of t-shirt before it starts fading and becomes a sleep t-shirt. You can see pretty well in this picture that the ink is not true black.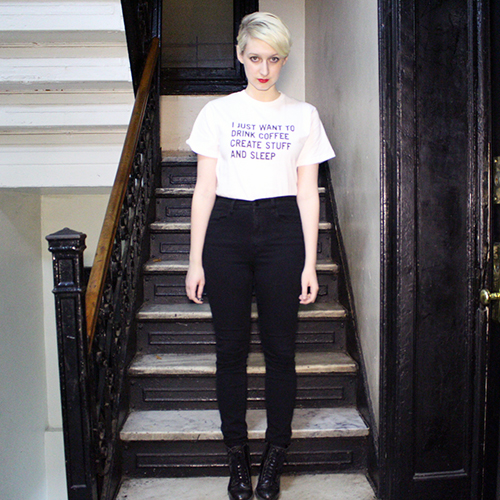 Final verdict: If you don't have to order from Rad.co, don't. Head to the independent website of the street wear brand itself. Buy the Fly Art sweatshirts from Rad.co because you can't them anywhere else, and Words Brand is awesome. 
---