Manic Panic Enchanted Forest Review: I Turned My Whole Body Blue
Wednesday, March 11th, 2015
For a hot minute now, I have been hankering for teal hair. I was inspired by Kylie Jenner's greenish-blue locks, as embarrassed as I am to admit it, and decided to get the job done with trusty ol' Manic Panic's Enchanted Forest hair dye. Since I have used Manic Panic time and time again, I had no inhibitions about going green…but I should have. Dying my hair with Manic Panic Enchanted Forest was, in fact, no walk in the park. Here's my Manic Panic Enchanted Forest review.
Enchanted Forest is easily the darkest color of dye I've used from the Manic Panic line yet. I assumed I would have to use more hair conditioner to dilute the dye than I usually do with pastel shades…I wanted a more vibrant color, anyway. To give you an idea of what my hair looked like before I used Enchanted Forest, here's a picture before I got started. It's been about a month and a half since I bleached it last. The ends of my hair are looking quite ratty. Bleach will fry your hair, kids.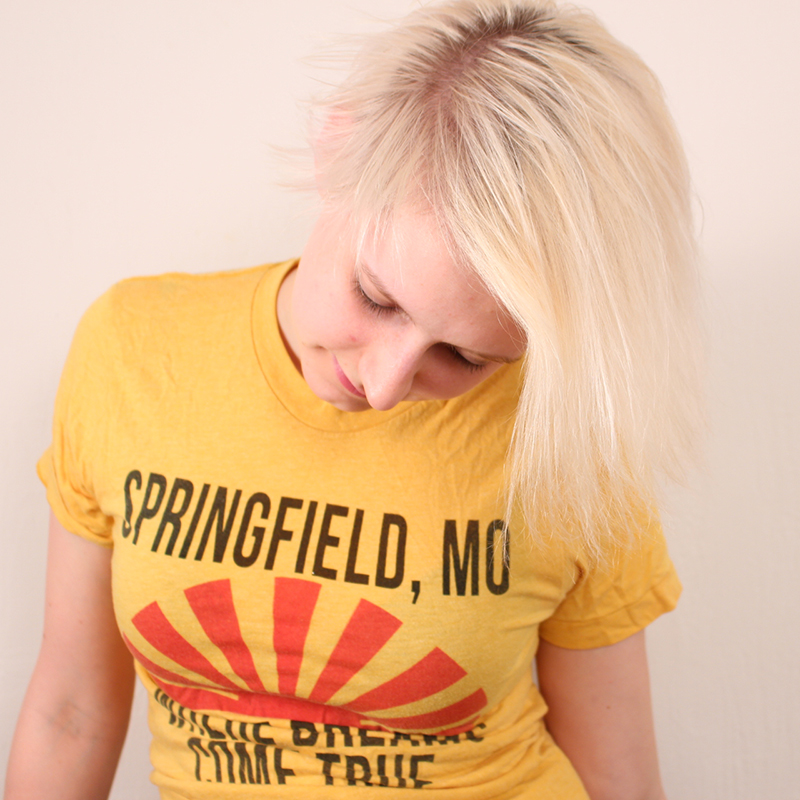 As recommended on the M.P. bottle, I washed my hair with a clarifying shampoo before I applied the dye. The color of my towel actually represented the color I wanted on my head pretty accurately. The dye in the bottle looked quite a bit darker than the teal I was going for, but I had no fear that a cup of conditioner per spoonful of dye would give me the color I wanted.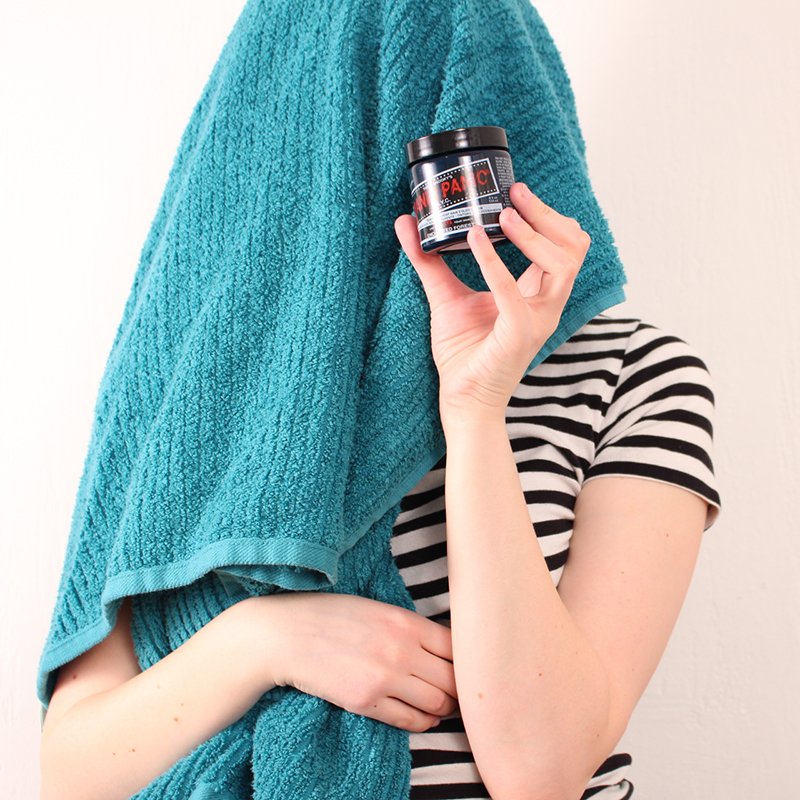 I started mixing up the hair conditioner + hair dye combo. It was immediately clear that this stuff was not to be fucked with. Per teaspoon of hair color, I needed about a cup and a half of white conditioner to dilute it. I got a little bit on my hands, and it stained immediately. I still didn't let this frighten me, as I always dye my hair in a shirt I don't care too much about, and after I shower any dyed parts of my skin tend to disappear.
Hint: If the bottle says "wear gloves," you should just buy a damn pair of gloves. I applied the dye with a tint brush and my bare hands. After applying the color, this is what my hands looked liked: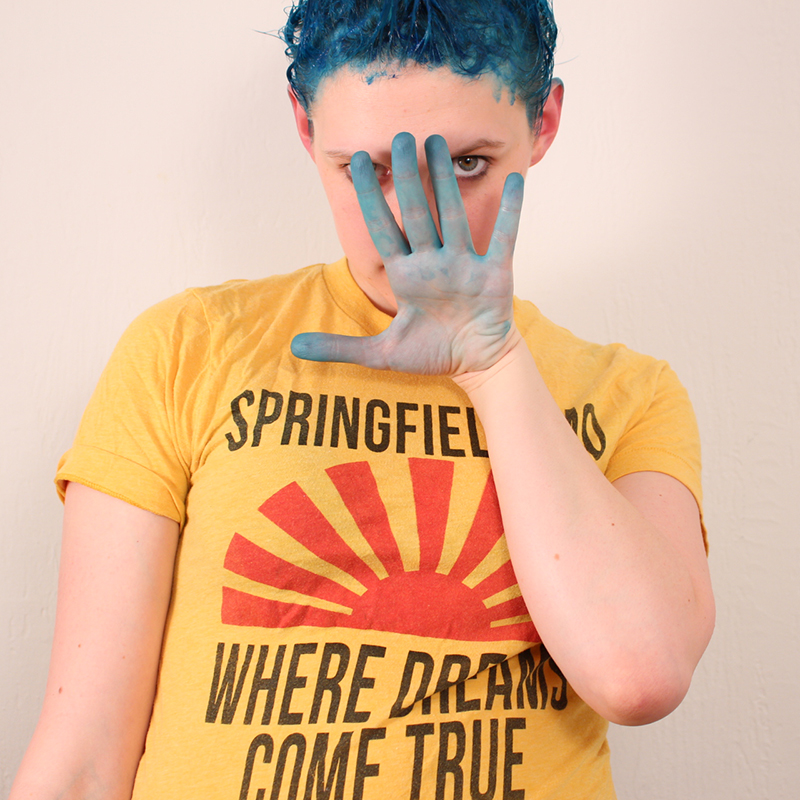 I decided to wait only 20 minutes before washing the dye out, in comparison to my typical 45 minutes. While I waited for the timer to buzz, I scrubbed my hands with a variety of ultra-drying products. I mixed up Head and Shoulders and baking soda, my tried and true method of removing Manic Panic from hair. It didn't do much. I mixed hand soap with baking soda. I scrubbed my hands with hydrogen peroxide. I used dishwashing detergent to remove the color. No luck.
By the time I got in the shower, I was freaking out. If this is what the dye did to my hands, what was my hairline going to look like? How about the back of my neck? I was frantic that I'd have to call in sick to work the next day and wallow in embarrassment in the privacy of my own home, scouring my skin with Soft Scrub and sleeping in a cocoon of saran wrap and Vaseline to re-hydrate my skin. Just rinsing the dye out started to give my whole body a blue tint. The water never truly ran clear, and after about an hour of soaking in hot water and various soap mixtures, I gave up.
So HERE'S THE SILVER LIVING OF THIS TRAGIC HAIR DYE STORY. As soon as I got out of the shower, I started applying some generic brand "advanced therapy lotion" for super dry skin. Maybe this goes along with the "oil removes oil" theory when removing stains from clothes, but my Target off-brand moisturizer completely dissolved the blue dye from my skin. I couldn't believe it, especially after the harsh chemicals I used did damn near nothing. When I was rinsing my hair out, I swore I was never going to touch Enchanted Forest dye ever again. By the time I went to sleep that night, I was thrilled with my hair color and free of any blue remains.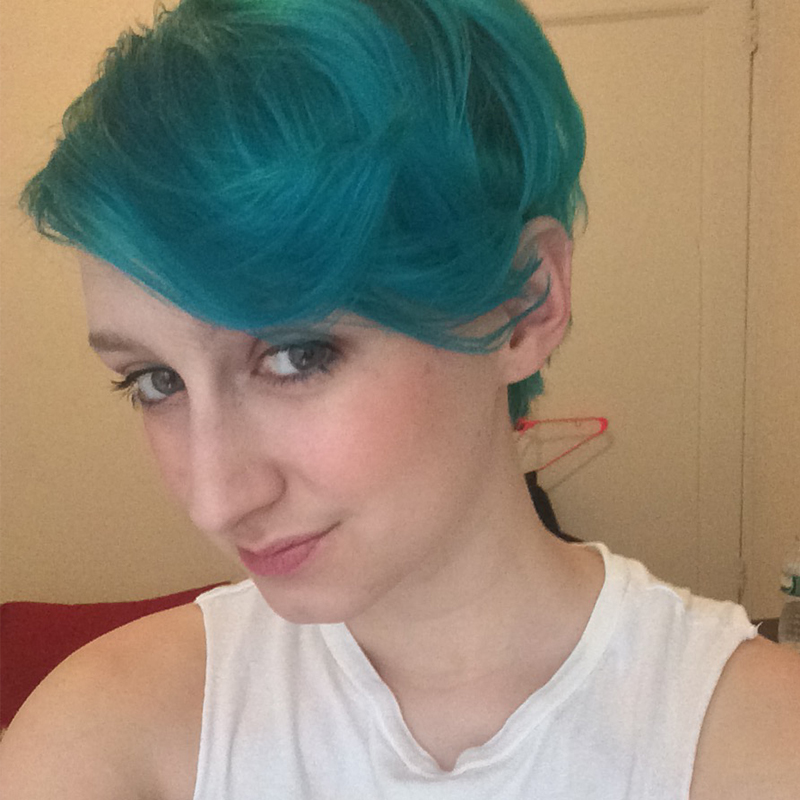 My apologizes for this pixilated picture, I was so tired by the end of the night, that I forgot to take a high-res one with my DSLR. 
Despite my stressful situation, I'd still recommend Manic Panic Enchanted Forest to anyone who wants Kylie Jenner hued hair. I'd also recommend they buy a pair of latex gloves and a big bottle of body butter beforehand. So if you're planning on purchasing this color, listen to the directions and get ready to slather on the lotion.
Would you ever dye your hair teal? Let me know in the comments.
---