How I Turned A Kid's Piggy Bank Into Glittery Grown-Up Decor
Thursday, March 12th, 2015
A few weekends ago, my roommate and I decided it was time to make our apartment look like a home instead of a storage unit. After a trip to the thrift store and a run to Michael's crafts, we were ready to get our craft on. My favorite project from our 12 hour craft bender so far is definitely this piggy bank refashion.
I started out with a fox (or, maybe a cat, but I've decided it's a fox) piggy bank that I bought from Goodwill for a few dollars. I've named her Foxy, and she was in need of a fabulous makeover.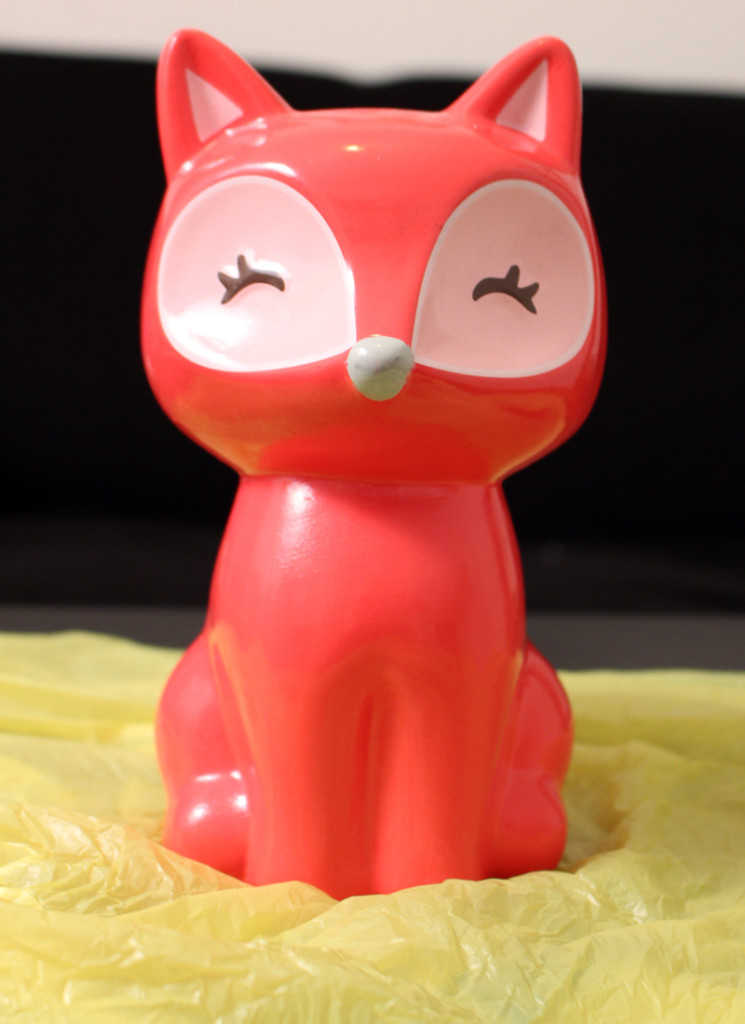 Using Martha Stewart glass paint in white, I painted on a quick coat to prime her. I didn't pay much attention to the brush strokes. If you try this at home, you could probably cover your piggy bank much faster with spray paint. But with a small apartment, no yard space, and freezing temperatures, I didn't have anywhere that I could use spray paint without inhaling fumes.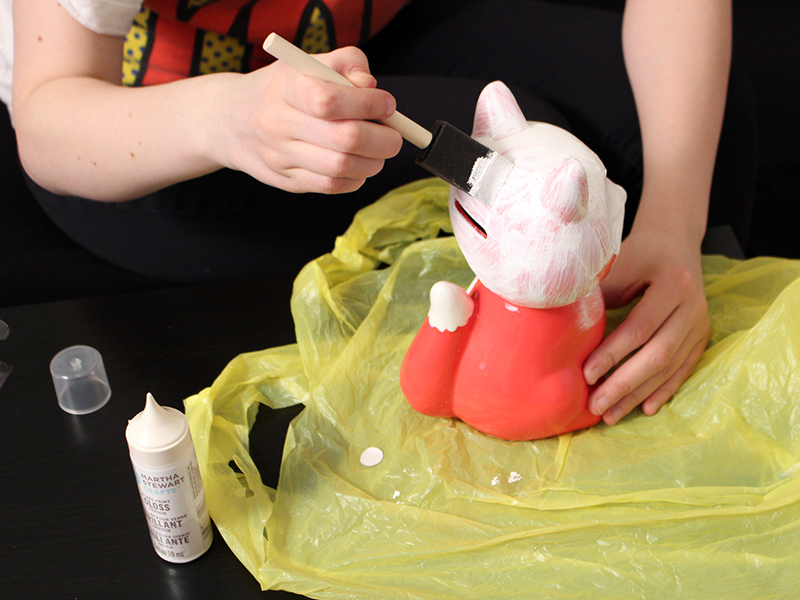 After the first coat, I used my foam paint brush to dab on another layer of white paint. Dabbing it on with the sponge brush gave Foxy a soft texture, and the coverage was great. Spray painting Foxy would have given her a totally smooth finish, but I think it ended up looking like fur, so it worked out just fine. Here's what she looked like after the last coat of paint.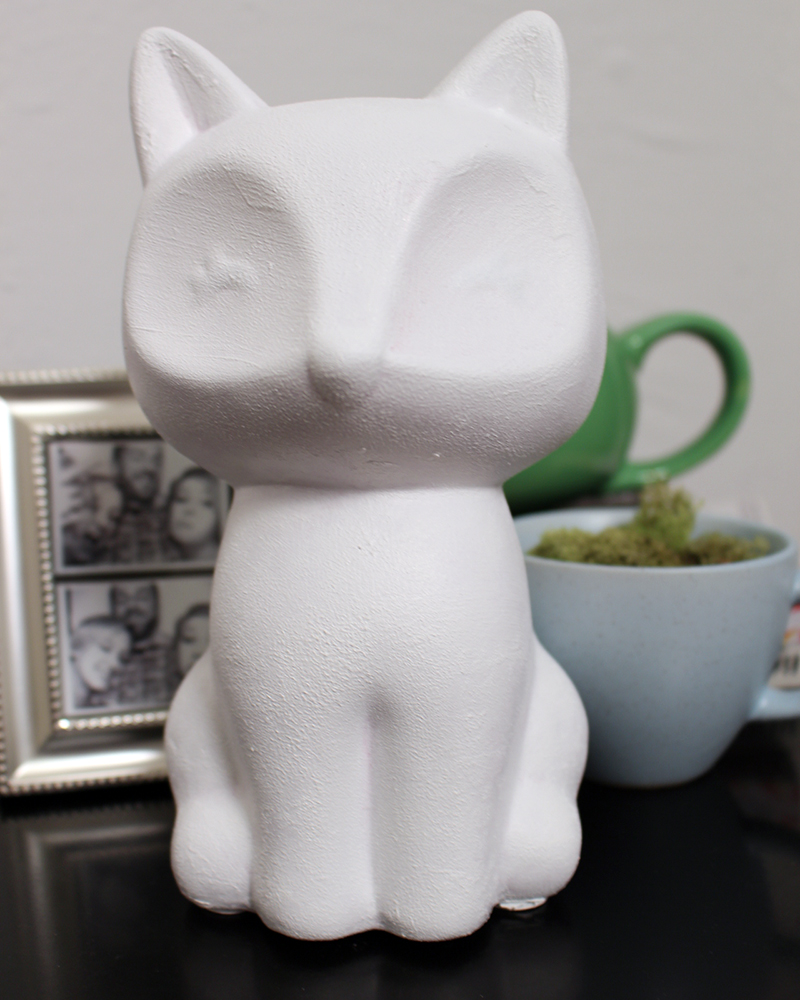 I liked how clean the piggy bank looked, but "clean" and "sleek" are not adjectives that I particularly identify with. I missed Foxy's cute eyelashes, and wanted to give her some color. I used a small paint brush and painted over her eyelashes and the inside of her ears with ModPodge. Then I sprinkled on some Martha Stewart fine gold glitter. This article might seem like an advertisement for Martha Stewart craft supplies, but it is not. She just makes adorable shit.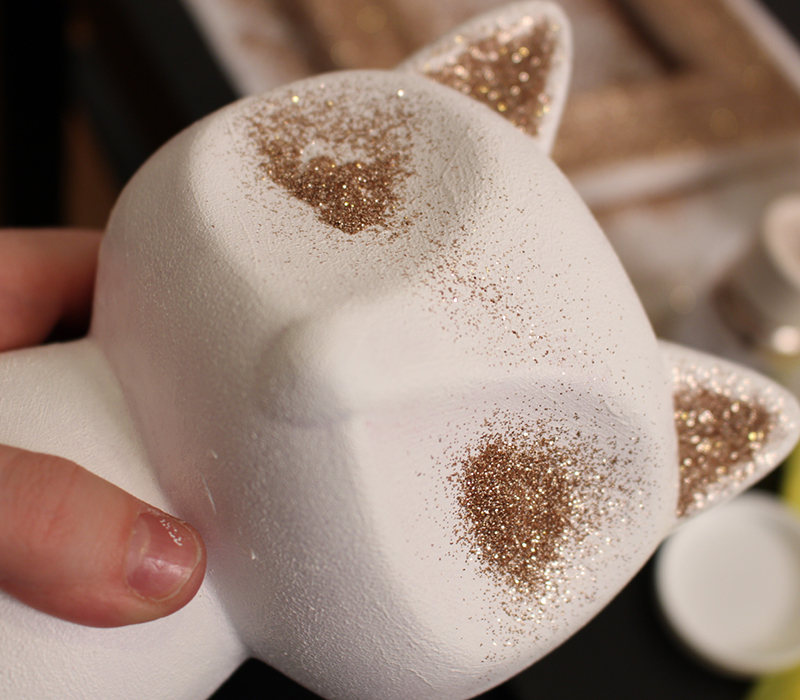 Lastly, I brushed off the excess glitter with my sponge brush and let it dry. After it was firmly stuck there, I painted over the glitter with ModPodge to set it. The eyelashes aren't totally perfect, but I'm not beating myself up over it. Love your imperfections, yo! Foxy is basically a role model for body positivity now.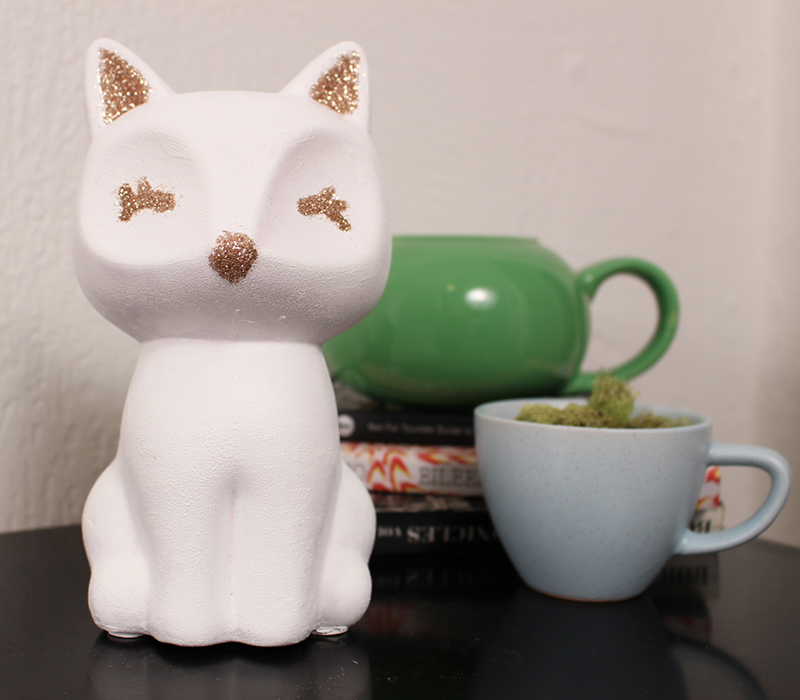 I love the way Foxy looks in my living room, and I give myself a pat on the back every time I see her. Go me!
---