You Need A Long Shirt For Spring From Uniqlo, Because of France
Monday, March 23rd, 2015
Ines de La Fressange is a person. She is a French person, and she has a collection at Uniqlo. And this sums up pretty much everything I knew about Ines de La Fressange until I read her Wikipedia page.
Ines de La Fressange was the first woman to exclusively model for Chanel, and was Karl Lagerfeld's muse in the 80s. She's a French style icon, and American girls are obsessed with "dressing like a French girl," whether that's a valid thing to aim for or not. So I'm guessing her new Uniqlo collection will do quite well. I for one, am a fan.
The new Uniqlo collection introduced to me a wardrobe staple I didn't know I needed: the long shirt. At first I thought this blue and white color-blocked oxford was a shirt dress, but it's really too short to wear even with tights. I love the crisp, clean style, so tried it on with a pair of black skinny jeans. I immediately knew this top would be my go-to easy chic piece for the spring. Plus, at only $19, I'm sad they don't make it in a million other color combinations.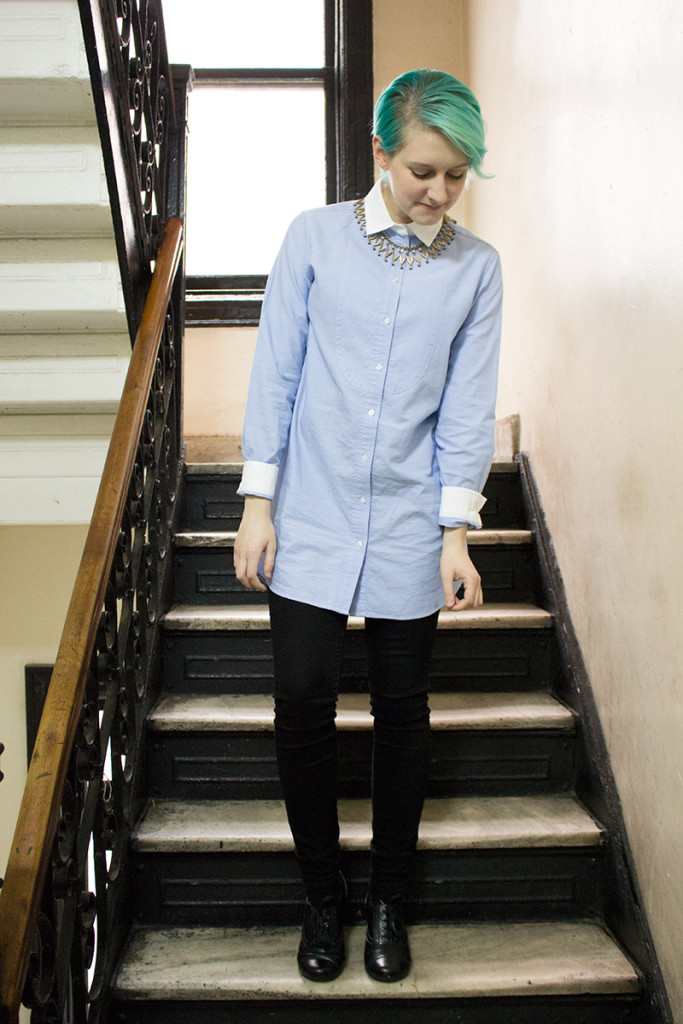 This top is super versatile and flattering.It's light enough to wear in warmer weather, but I'm not freezing when it's my only layer under a coat. I love wearing it with my favorite J. Crew necklace (which I stole from my girlfriend, thanks Ari), and I love how the classic style contrasts with my brightly colored hair. I could also ditch accessories all together and dress it up only with a a solid red lip.
I have my eye on a few other pieces from the Ines de La Fessange collection, like this linen v-neck pink sweater, and a very Audrey Hepburn navy and white tea-length dress. I will be stopping into the Uniqlo by my work this week to see if these pieces are in stock.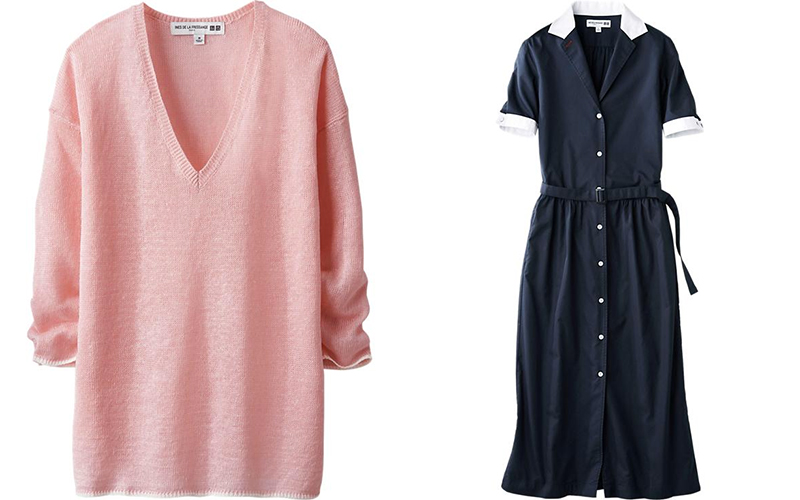 ---