Lizzie McGuire A.K.A. Hilary Duff Is Your New Style Inspiration
Sunday, April 5th, 2015
If you grew up in the 2000's, you probably worshiped Lizzie McGuire…and were significantly jealous of Hilary Duff's basic cable sweetheart status. Lizzie was the perfect amount of relatable and cool. I definitely imagined myself as a sassy, tiny animated cartoon, attempted to wear chopsticks in my hair, and desperately wanted a bra without having to ask my mom to take my shopping. Lizzie/Hilary got to rock awesome early aughts teen style staples like butterfly hair clips and clothes from the Limited Too catalog. Basically, she was the coolest.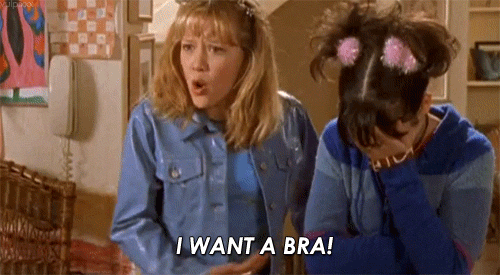 (source)
Just incase you haven't been bombarded with advertisements for TVLand's new show, Younger… FYI, Hilary Duff is back. And now that the spotlight is back on Lizzie, she is absolutely KILLIN' IT WITH HER STYLE GAME.
My girl Hildawg took a page out of the Cheap Bitch handbook for her new hair color, going with a shade that looks quite a bit like Manic Panic's Enchanted Forest. The shade is GORGEOUS on her, and her long flowing locks keep the look classy and not overtly Hot-Topic-esque. I never thought about pairing an orangey-red lip with aqua colored hair, but Hilary rocks it. I'm getting a shade just like this ASAP.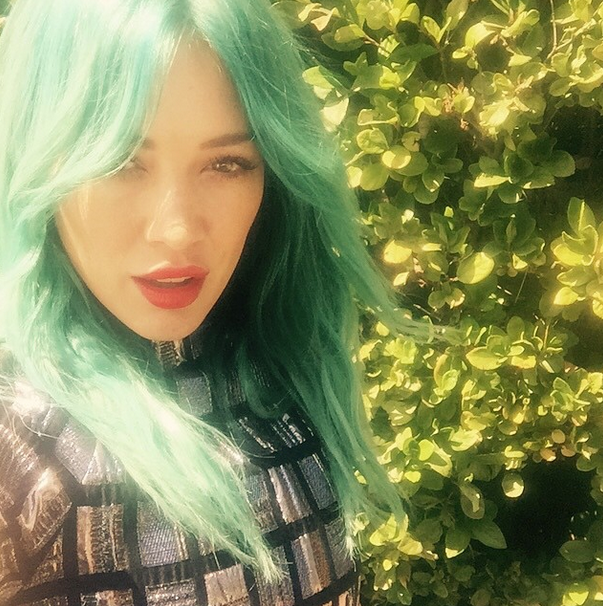 Even when our girl is chillaxin', she's stylish. This oversized cardigan/duster coat combo is something I need in my closet right now. With the destroyed denim jeans, vintagey oxford shoes, and waist-tied flannel, this look says "even when I'm lazy, my style's giving you LIFE." I also have mad respect for anyone who can shamelessly post a mirror selfie. #DontHateMeBecauseImBeautiful.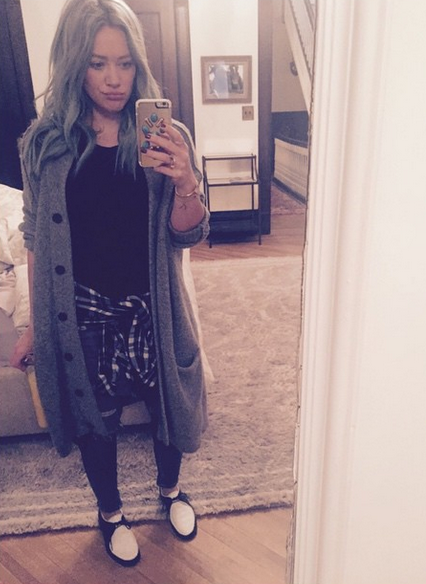 THAT GEOMETRIC PATTERNED COAT, THOUGH. STOP, HILARY, I can't with this, I'm going to spend all of my money attempting to recreate your wardrobe. And those are either harem pants or trousers underneath, and I approve of both. Can someone please push me around the grocery store on a cart and take adorably candid pictures, please?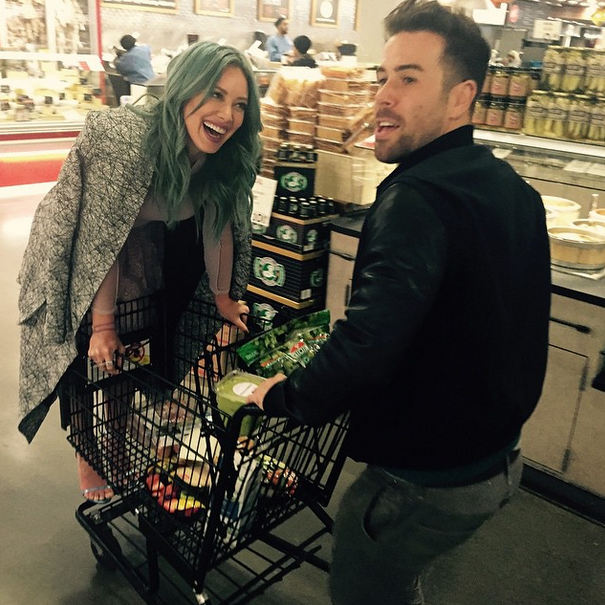 This is too much. That red dress. I'm dead because you SLAAAAAAY, Hilary Duff. Can we run into each other in Brooklyn and bond over our turquoise hair, Hil? Then we will become best friends and I can borrow your clothes.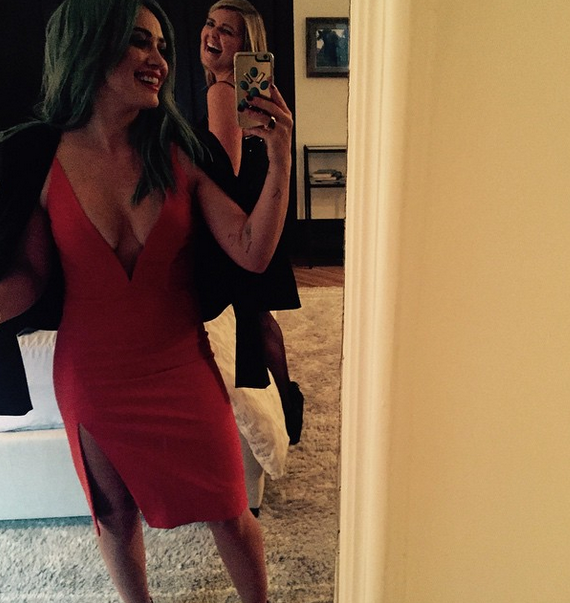 To check out more of Hilary Duff's awesome style, check out her Instagram page, where I found all of these images.
---