I Went To My First Sample Sale And Now I'm Hooked
Monday, April 27th, 2015
Before last week, whenever I heard "sample sale," I thought, "designer things that are really expensive are marked down to prices that are still really expensive, especially in the eyes of those who prefer shopping at thrift stores." But when I accidentally walked into the Rebecca Minkoff sample sale at the aptly named 260 Sample Sale, (the address is 260 5th Avenue) my opinion changed forever. Now I'm a sample sale addict.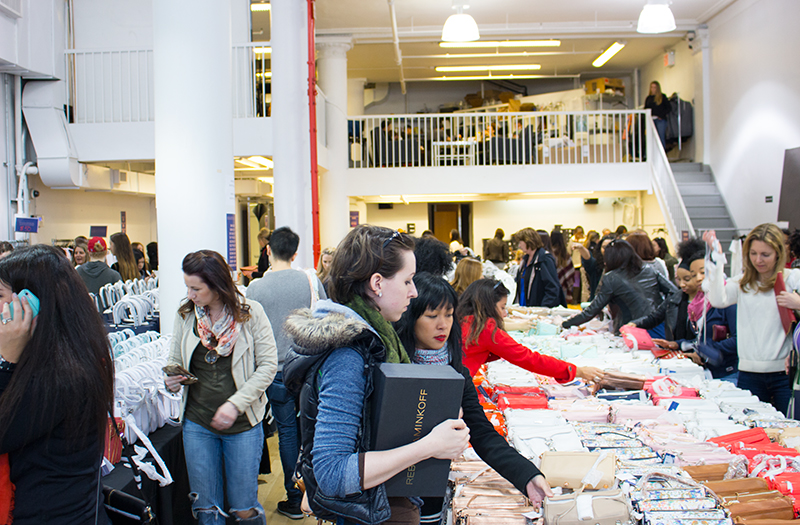 I consider myself a pretty fashion-industry-savvy young woman, but for this article I had to google "what is a sample sale?" I knew that sample sales are limited-time-only pop-up stores where you can grab designer duds for a fraction of the cost, but wasn't sure what the purpose or idea behind them is. According to the Internet, brands will sell excess merchandise for around 70% off in hopes of acquiring brand loyal customers who will one day pay full price for their merchandise. I always thought that sample sales would only have sample sizes, a.k.a. runway-ready merchandise for tiny beanpole supermodels that I would never fit into, but sample sales tend to have a range of sizes, much to my excitement.
Rebecca Minkoff is best known for her handbags. The handbags at the sale were still pretty expensive – a backpack I wanted that retails for around $375 still cost $175. I wasn't looking to drop that much cash on a sale I accidentally happened upon, but there were definitely diamonds-in-the-rough for those who weren't looking to spend over $100. There were true "sample" handbags, a.k.a. single bags used for vendor shows or fashion shows, that cost $50 flat. All heels cost $100 flat, and then were marked down to $50 flat on the last day of the sale. All flats and booties were $50 flat, which is how I got this pair of Macy cut-out Oxfords that normally retail for $275 for $50. They're perfect for that in-between spring weather. If it's cold, I can just wear them with a pair of black socks, and no one has to know they have cut-outs!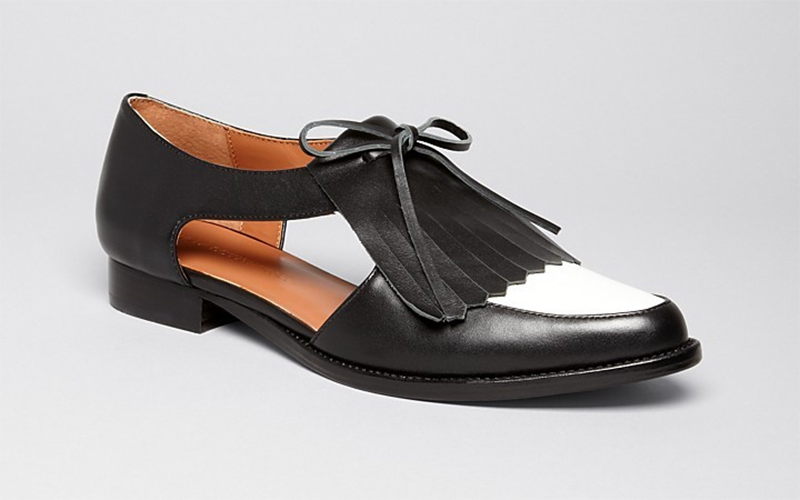 Wondering how I knew the heels were marked down to $50 on the last day? That's because I went twice. I happened upon the sale on its first day (Monday) and bought these shoes, and figured on the last day, the prices would go down even further. Hoping to score one of the MAB backpacks for cheap, I went back on Saturday. The backpacks had, in fact, been marked down to $100 flat, but had already been cleared out by earlier-than-me shoppers. All dresses were marked down to $50, versus $100 at the start of the sale. The handbags weren't specifically marked down, but for every $100 spent, they took 15% off your overall purchase, and the percentage went up depending on how much you were willing to shell out.
My plan of attack for sample sales in the future is as follows:
Check out the sample sales in NYC on Racked NY, keeping an eye out for my favorite designers.
Hit up the first day of the sale to grab the things I just can't live without.
Hit up the last day of the sale to purchase super low-priced leftover merchandise.
Even though most of the selection is still expensive, I figure I can justify it since I shop at thrift and consignment stores 90% of the time. I would easily pay $50 for a pair of quality shoes at a department store, and if they're from a classy, high-end designer, even better! The shoes look great with my thrifted plaid trousers ($10 at Buffalo exchange), Urban Outfitters utility jacket ($20 at Refresh STL), Forever 21 graphic cat tee ($5 at Buffalo), and a clearance rack bejeweled collar from Urban Outfitters ($10).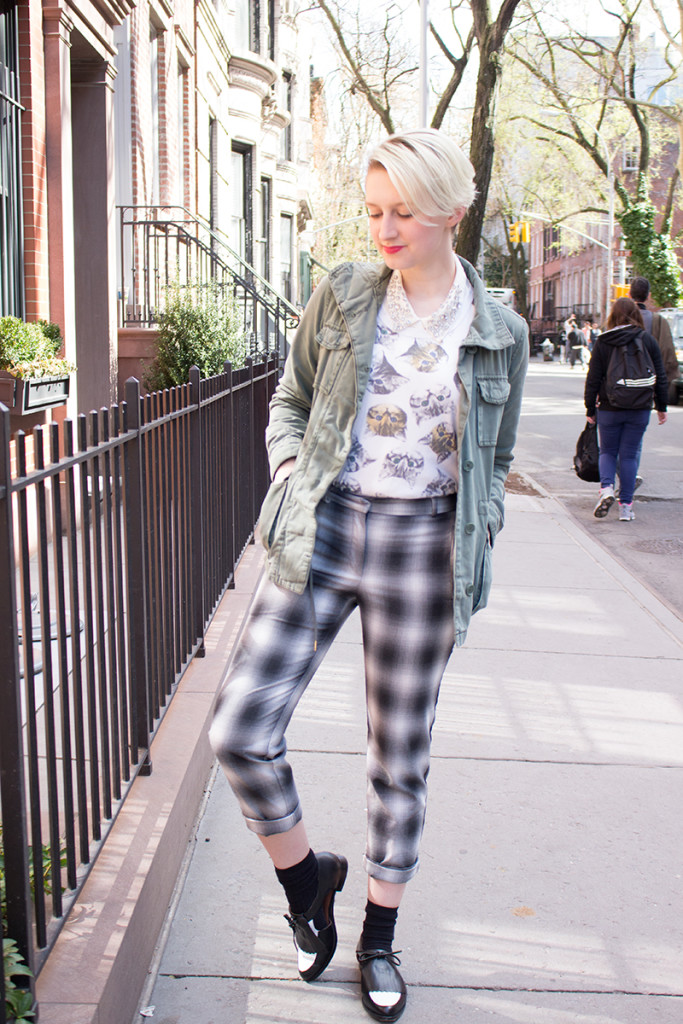 How would you style these shoes? Or do you have any sample sale tips and tricks? Let me know in the comments.
---