Flying Tiger US Flagship Store: Cheap, Cute, Adorable Things
Friday, May 29th, 2015
If H&M and IKEA had a baby, that baby would be Flying Tiger. A home decor and cute junk store based in Copenhagen, Flying Tiger opened it's first US store at 21st and Broadway in the Flatiron District in Manhattan, so obviously I had to stop by and check out what was hailed as "NYC's cutest and cheapest new store," by Racked NY. It lived up to the hype. 
Most of Flying Tiger's merchandise ranges from $1-$10, and it's all absolutely adorable. I had a difficult time discerning between what I wanted to buy or not, because I could have easily dropped $100.
Here's the coolest stuff I found:
I decided to wait on dishes, which range from $1 to $7 at the most expensive, since I really don't need to buy them until just before I move into my new apartment come September. I was eyeing a set of pastel blue and green geometric ones, but they'll probably be gone by moving day. Flying Tiger restocks with new designs every month. I'm sure they'll be something just as cute replacing it.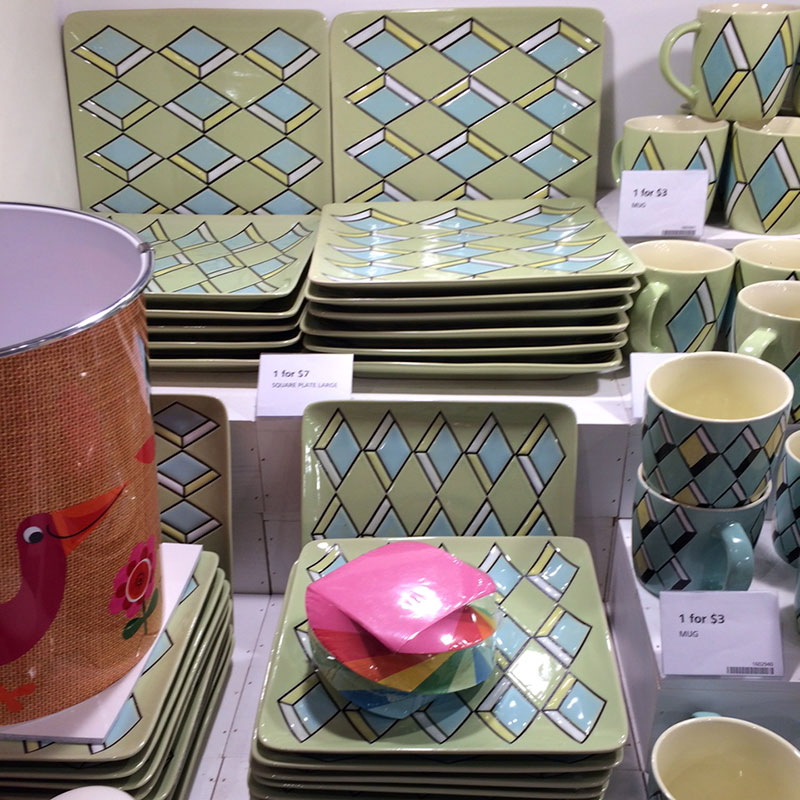 I was impressed by the low price of everything in the store, and even more awe-struck when a quick Google search didn't bring up any news stories about sweatshops or unfair labor practices. This meant I could enjoy my shopping experience without having the weight of 100 underpaid children on my conscious, which is always a good thing. Anyway, back to the fun stuff. 
I was really impressed by the prices of their large, collage picture frames. It's difficult to find frames under $20, but this big one was only $7. I passed on the frames, too, and will wait until I move. Hopefully they will stick around since they're pretty basic.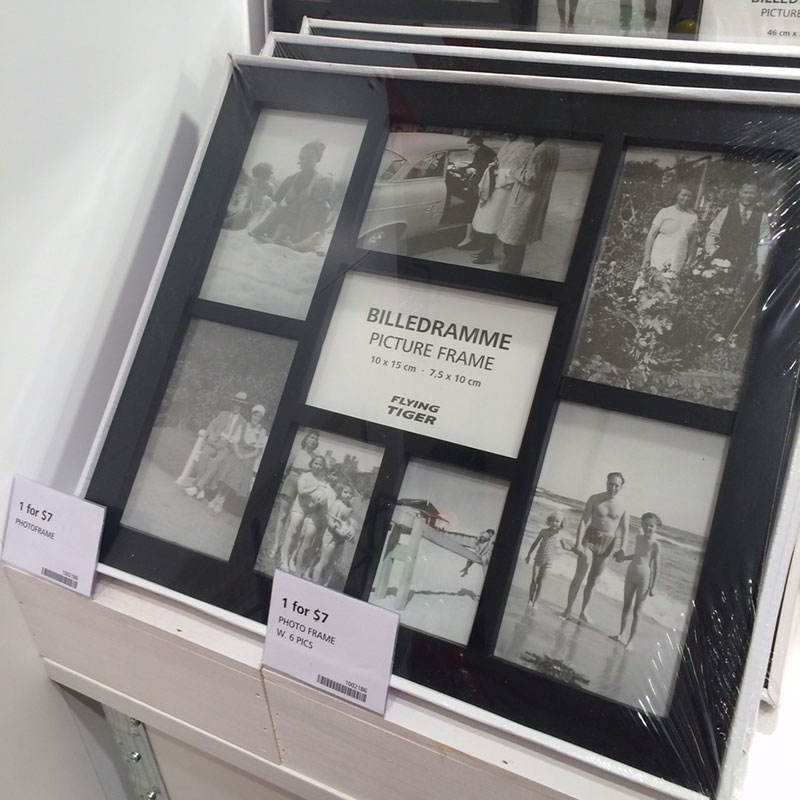 It took every ounce of willpower in my body not to buy a bunch of these geometric shadowbox shelves. Think of all the colors you could paint them! Think of all the shapes you could build on your wall! And they were only $8 a piece! I may have to go back and buy these, since their merchandise changes so often. I'm not sure I could live with myself if I revisited, only to find they're gone.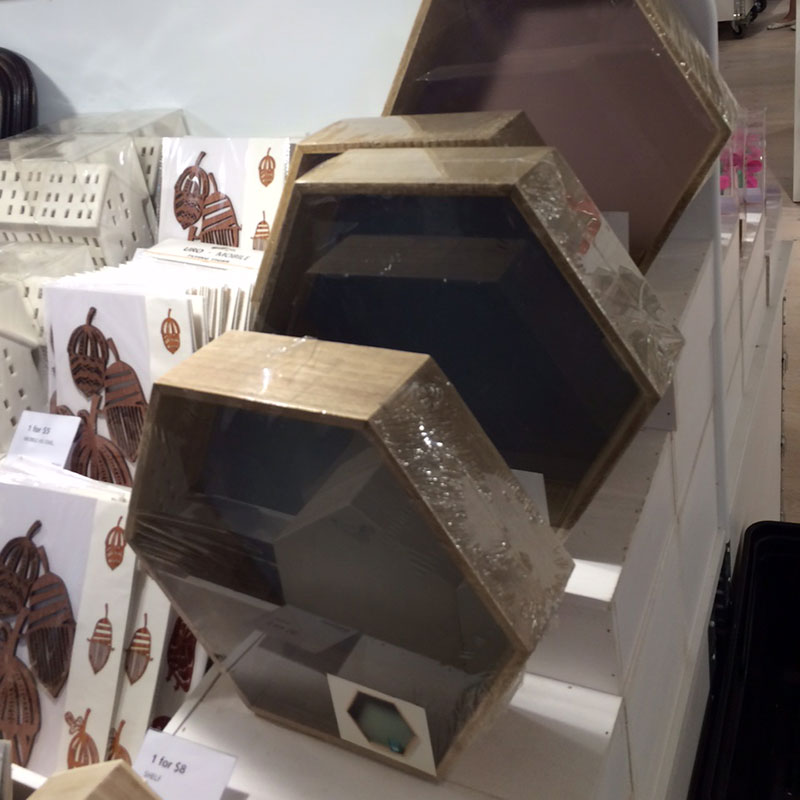 Speaking of DIY, this place is a crafter's dream. They have a wall full of candles in every color of the rainbow in the back of the store, each $1 a piece, for endless melty wine bottle candle perfection. I bought myself two sets of googly eyes at $3 a pop, one large set and one small, so I can stick them to some album art I want to hang on my walls. What's funnier than Bob Dylan with giant googly eyes? Absolutely nothing.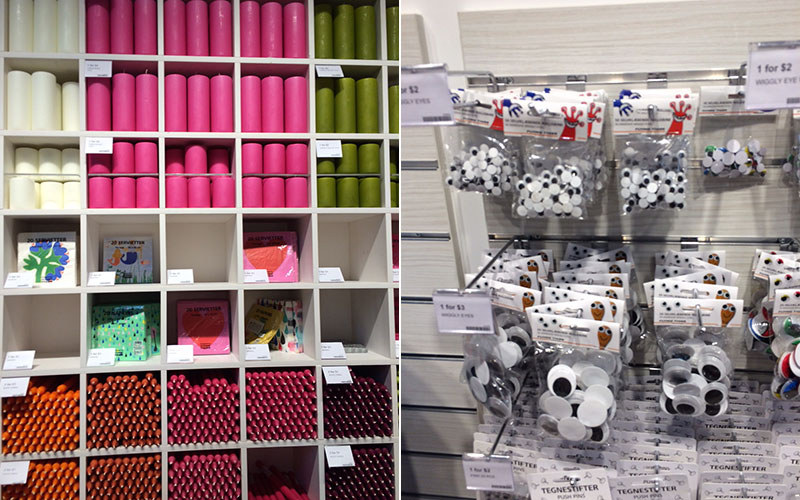 They also had a MASSIVE sketchbook for $15, for the illustratively inclined out there. Not me, but know they can be quite expensive, and $15 is a steal. Although I didn't purchase any today, I was thrilled to see that Flying Tiger had small canvas for only $4 a piece. Also, OMG TINIEST CANVAS EVER SO CUTE STAAAAHP.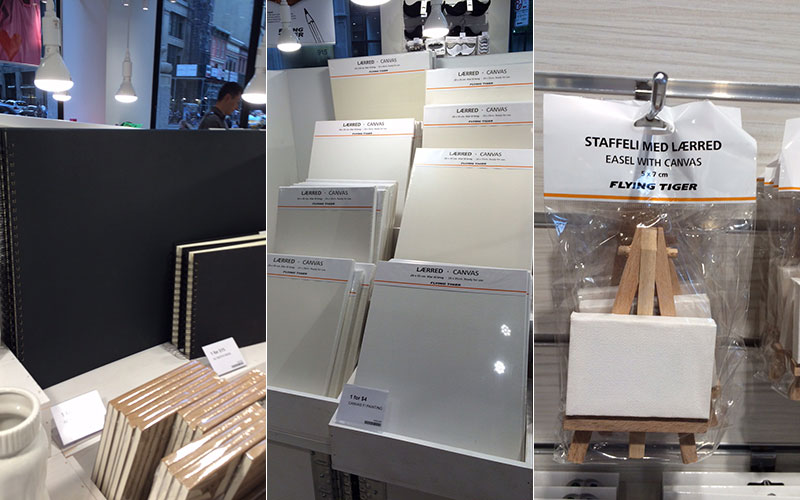 Other highlights included a toothbrush holder that looks like potted grass, plastic vases for plants that you can hang on the wall (I might have to go back tomorrow and buy those, along with the shadowboxes), and a hilarious iPad case that expresses how we all feel when we have the newest gadget in tow.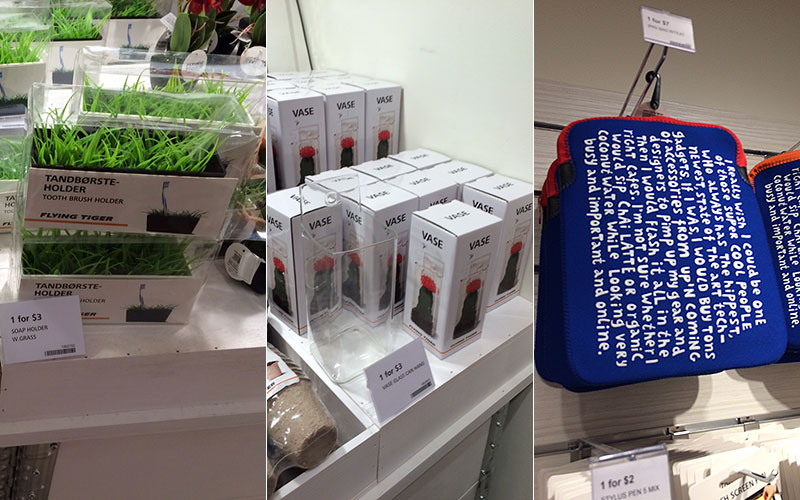 BUT MOST IMPORTANTLY, here's what I left with:
A mint green five pocket folder that cost $4, a set of strawberry string lights for $6, two sets of the aforementioned googly eyes, a phone case that looks like candy for $5, a heart-shaped chalkboard for $3, and a kitty cat sleeping mask for $3. With tax, it cost only $30. Money well spent, IMHO. Cute junk is always good to have around!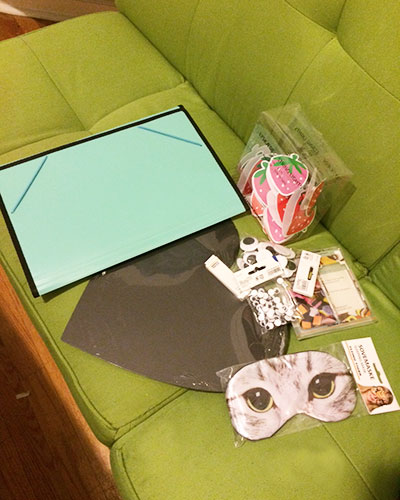 VERDICT: Flying Tiger is awesome, and if you're in NYC you should go spend your money there. I plan on giving them a whole lot of hard-earned cash in the future.
---