Does Manic Panic Work On Red Hair? An Experiment
Wednesday, June 24th, 2015
I have to be honest with you, dear blog readers: I really miss having platinum blonde hair. Only because I could change the color whenever I wanted to with Manic Panic, but nevertheless, I miss it. I went back to being a redhead because my hair was totally fried from all of the bleach I'd used to keep it pure as the driven snow, but I miss cotton candy pink, I miss ice queen blue, and I most of all, I miss purple. OHHHHH purple, my long-lost hair color love. How I long for the days you sat atop my head. **SOBS DRAMATICALLY**.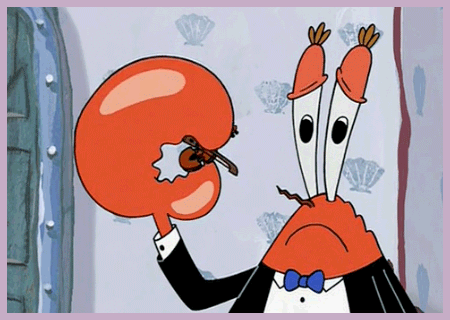 Although you have to bleach your hair to get pale pastel colors with Manic Panic, you don't have to bleach your hair to use it altogether. Desperate to add some flair to my boring strawberry blonde locks, I decided to use a combination of Pretty Flamingo (a peachy pink, orangey dye) and Cotton Candy Pink dye to create some ombre/highlights/color streaks (I'm not quite sure what to call them, really). I'd tried doing streaks and highlights with Manic Panic before, and it didn't work particularly well. But Pinterest says it's possible! And everything you read online is true, obviously. So I took a leap of faith by trying again.
Let me take you through my process…
In an attempt to get the purest color possible, I used Shimmer Lights purple shampoo as a toner. The shampoo is supposed to take out red and yellow tones from blonde hair. I put it all over my hair and planned to let it sit for about 30 minutes. Instead, I got sucked into working on this very blog, and it ended up working it's magic for about 2 hours. And by magic, I mean it didn't really work. It left random patches of my hair looking gray and dull. This is step is unnecessary. But if you ever ask yourself, "what does purple shampoo do to red hair?", then here's your answer: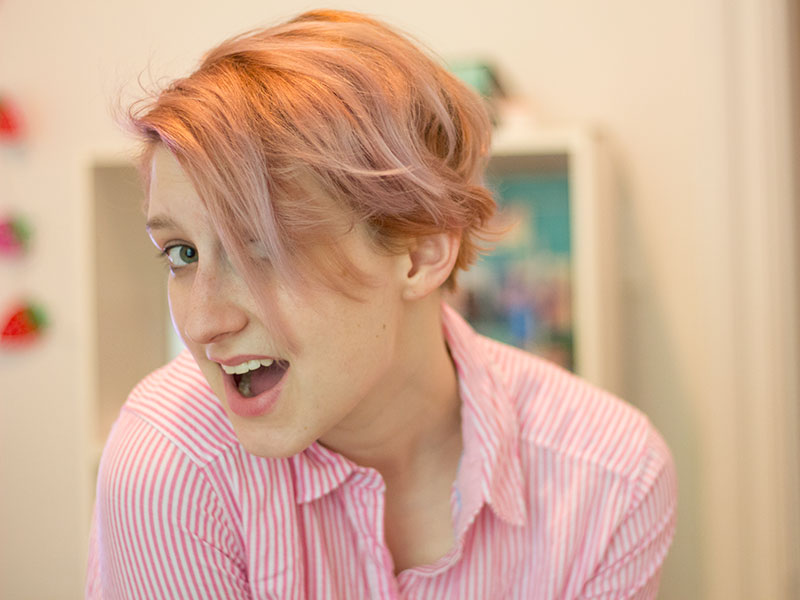 Let's move on to the part that actually matters. Before I applied the Manic Panic dye, I washed my hair and blow dried it. You should not use conditioner before applying Manic Panic. Your hair needs to be totally clean and free of product build-up.
After it was clean and dry, I parted my hair down the middle. I separated my hair into sections and secured them into twisty little buns using bobby pins. I planned on dying most of the hair on the very top of my head with the Pretty Flamingo dye and pinned it all together. Then I randomly sectioned off the hair on the sides of my head into twists, with no real visual plan, because I live on the edge.
The hair at the back of my head towards my neck was too short to pin. From past experience, I've learned that the hair back there doesn't soak up dye as quickly as the front. I applied cotton candy dye back there first. Then I pulled the sections on the side of my head out of their twists and applied either pink or peach dye, alternating colors. I finished off the application by saturating the top twist with peach dye, and a little bit of pink in my bangs.
I let the dye sit on my head for a full 2 hours. When I jumped in the shower to wash it out, I saw that the dye remnants were totally white – a sign that all of the pigment stuck to my hair.
After it was dried and styled, it looked like this:
From the front it looks just a tad pink…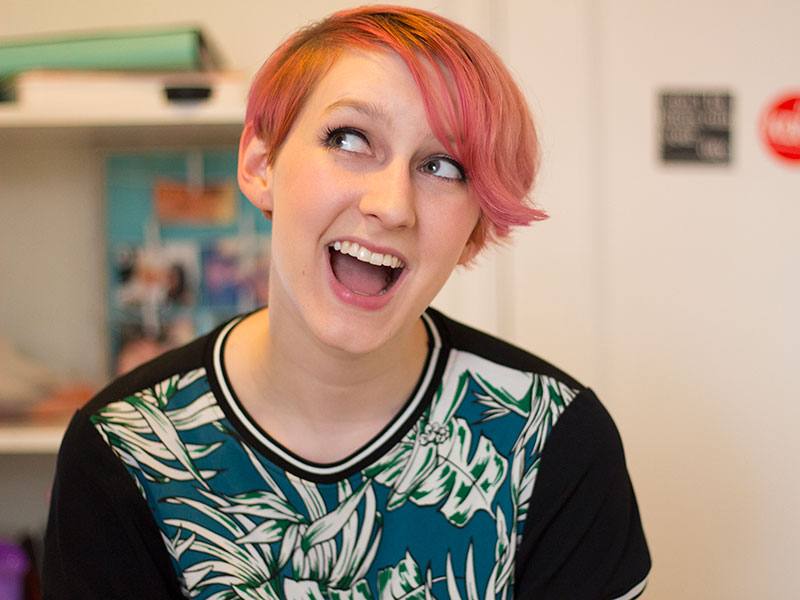 …until I turn to the side. WHA-BAM! Peek-a-boo pink realness.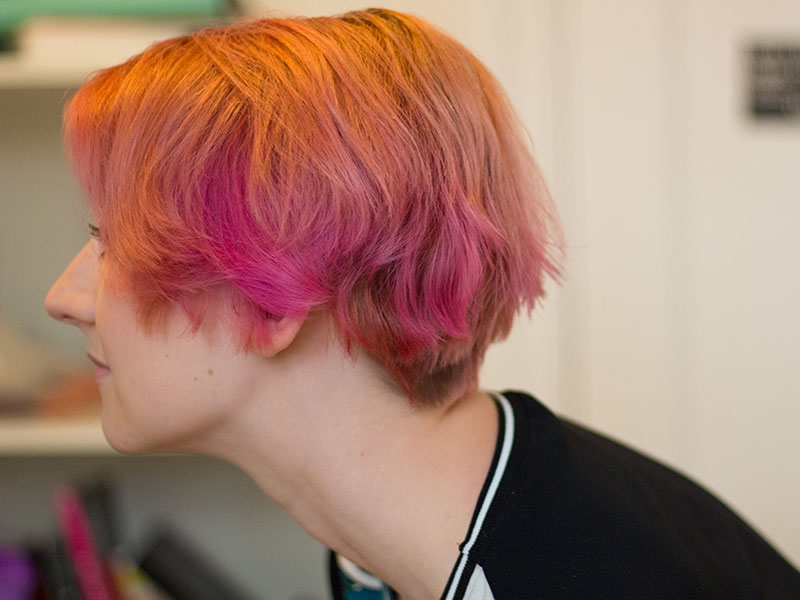 The fade in the back looks even and matches the rest of my hair.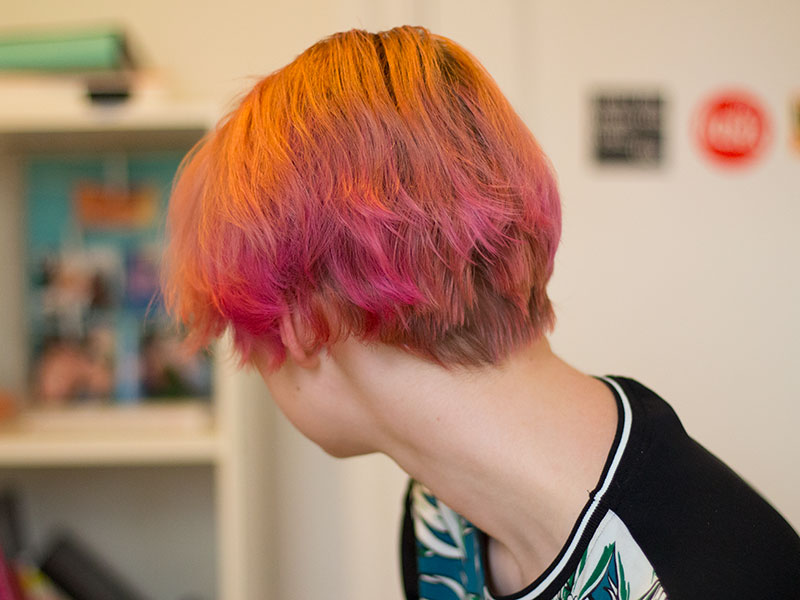 When I part it on the opposite side, you can really see the pink. I really love this vibrant pink shade. The Pretty Flamingo dye definitely made my hair a lot more strawberry than blonde, but the color isn't stand-out neon like I had hoped. Next time I try this, I'm going to use Electric Tiger Lily dye for a more intense orange, and apply the cotton candy dye more liberally.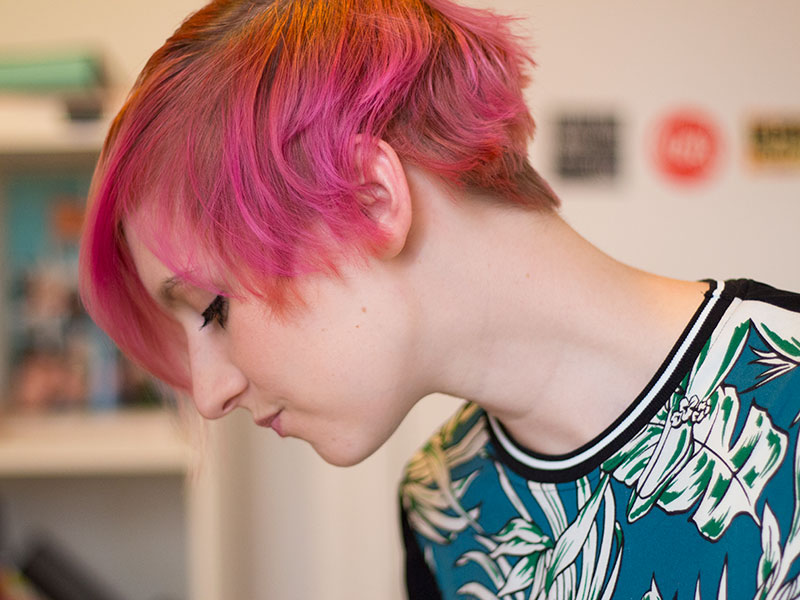 Overall, I'm really happy with these results. I'm not mourning the loss of my platinum quite as much as I was before. I'm thinking this color scheme is going to become my signature look for awhile.
Let me know what you think in the comments below. 
---