23 Important Questions To Ask When Cleaning Out Your Closet
Monday, July 20th, 2015
Outside of my full-time job, my occasional part-time job, and running this blog, my only consistent extracurricular activity is shopping. As a result, I find myself with a closet that is bursting at the seams…er, hinges…pretty much all of the fucking time. It might sound like a lot, but I clean out my closet just about every 3 weeks. If you find yourself yelling at your closet, "how do I have so many clothes and nothing to wear?!" on a regular basis, then I fully suggest you do the same. Not sure how to get started? Lucky for you, I've written a handy guide on how to clean out your closet in 23 thorough steps. LET'S GET IT STARTED…in a cool way, not a Black Eyed Peas kind of way.
This is actually how much shit I had in my closet that I don't wear anymore. It was a lot.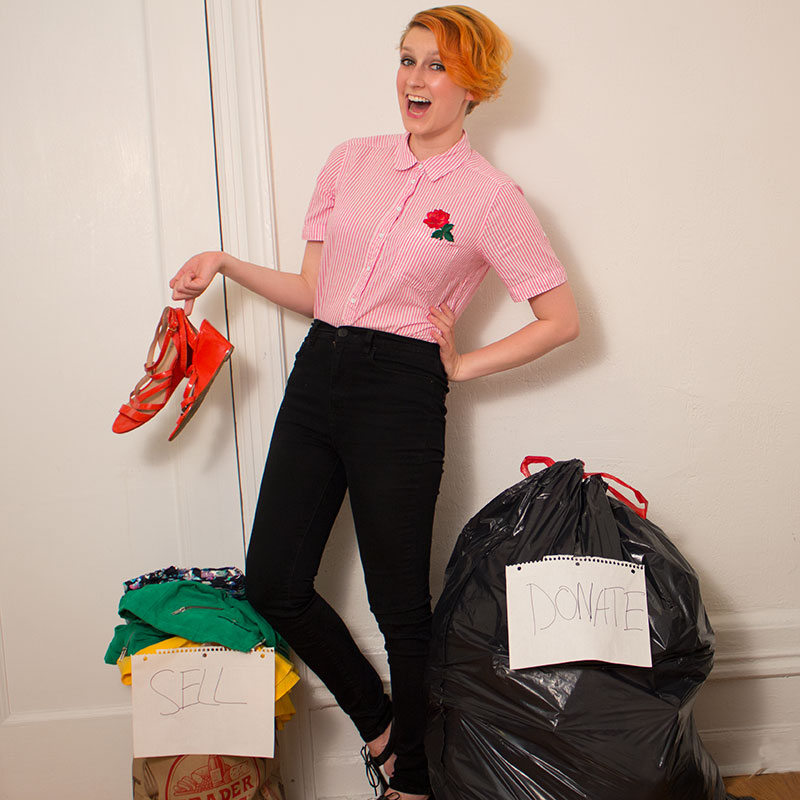 Is it in season? If it's in season, have you worn it this year?

Did you wait all winter for sunny skies and the ability to wear your crocheted kimono? Well, now it's July, and it hasn't made its way out your closet. It's pieces like these make you feel like you have a closet full of clothes and nothing to wear. It's time it finds a new forever home. 

Is it out of season?

It's difficult to decide what sweaters you'll wear in the winter when it's 80 degrees outside. Put them in a box until November, but keep these babies.

Is it out of season and in poor shape?

If it's out of season but in poor shape, you might as well toss it now. Even when it's below freezing, you don't want to be seen in an uber-pilled coat with a hole in the sleeve. If it's still wearable but not for you, donate it.

Is it damaged, but fixable?

Maybe you haven't worn your favorite blouse in weeks because of a seam rip. Keep it, but put a reminder in your calendar to bring it to a tailor ASAP. 

If you fix it, will you wear it?

If you don't think you will, donate it. Maybe someone else will love it and fix it!

Is it damaged without hope?

A hip vintage t-shirt isn't quite as cool when it has a big coffee stain on the front. Throw it the world's shortest trash can funeral and then toss it.

Does it fit you?

I bought this H&M faux-suede green moto jacket at a thrift store after a particularly boozy brunch. I can hardly get it onto my body, let alone wear it all day. It's nice to think that one day you'll be two sizes smaller, but let's be realistic. Say goodbye. Unless…

Can it be altered?

If a piece is too big, there's a good chance it can be taken in by a tailor. If you think it's worth shelling out the cash, keep it.

Did you DIY it, and then never wore it?

If you DIY-ed a piece of clothing, it's likely not quite up to the standards of those shopping at consignment stores. If it looks like a kindergarten craft, throw it out. If you're a particularly talented seamstress, donate it.

Is it uncomfortable?

I know it's hard to give away or sell a gorgeous dress, but if it's so tight around your legs you can hardly walk, give it or sell it to someone who's willing to suffer for their lewk.

Can  you wear it to work?

The importance of this question depends on your occupation. But for me, if I can't wear an item to work, it clouds my closet judgement. I love this handmade beaded lace crop top, but I can't wear it to work. Time to sell.

Is it still your style?

There's probably 3 to 4 items in your closet that were once major staples of your wardrobe. For me, those items are graphic tees with cats or food on them. Now that I've moved on to more sophisticated pieces like silk skunk blouses (that I got on super-sale), DJ cat has no room in my grown-up aesthetic. Donate or sell those pieces.

How many times have you said "well, maybe I'll wear it in the future?

If it's been a year and you're still waiting for that weird occasion you'll need red drop-crotch trousers, donate or sell it. 

Did you pay a lot for it?

This one is a trick question. If you don't wear it, it doesn't matter how much you paid for it! Let's sell that $200 Kate Spade top you bought after a few too many margaritas.

Is it from a high-end brand?

Consignment stores will pay good money for the big-name designer duds you just HAD to have from that sample sale. If your Rebecca Minkoff bag is collecting dust, head to Buffalo Exchange for a quick buck.

Is it from a store that's exclusively online?

Consignment stores will buy up clothes from Nasty Gal, ModCloth, Pixie Market, and other online stores in a heartbeat. If you don't wear it anymore, sell that shit, girl.

Is it from a department store?

Re-sell shops tend to be choosy about department store brand clothing. If it's from a designer collaboration like Simply Vera Wang from Kohl's, Alexander Wang for H&M, 3.1 Phillip Lim for Target, etc., you can probably sell items in good condition. If it's a lackluster piece from a no-name label, donate that ish.

Is it from Forever 21, H&M, or Zara?

Buffalo Exchange and the like are out-of-this-world picky about buying clothes from fast fashion brands. If it's not a new-with-tags item, or in mint condition, it goes in the donate bag.

Did you used to really love it and just can't bear to part with it?

Get a grip, woman! It's time to make room for new loves. BYEEEEE.

Is it vintage?

This is where things get tricky for me. It's much harder for me to give away cool vintage pieces, but just because it's vintage doesn't mean should keep it around.

Is it vintage and on-trend?

If your vintage pieces happen to be trendy at the moment, like fringy jackets, printed maxi dresses, or leather bags, try selling these items on a niche app like Depop. Depop is my favorite resell app. It looks like an Instagram feed!

Is it vintage and not-so-on-trend?

I bought a vintage velvet shrug at a thrift store. I dig it, but it's not particularly stylish and doesn't match the rest of my wardrobe. The style isn't popular enough to sell, so off to Goodwill it goes.

Do you have plenty of pajamas?

If you don't have any space in your closet for gym shorts, college sweatshirts, etc., save a few for pajamas and donate the rest. You don't need ten sleeping sweatshirts.
If you take anything away from this article, it should be that you shouldn't keep anything you don't wear. I don't give a shit if it's Proenza Schouler, Thakoon, or one of those other designer brands that no one has heard of and thus is fancy and pretentious. Get rid of the old and welcome the new, whether that's new-to-you thrifted duds or sample sale treasures.
What's your best piece of closet cleaning advice? Let me know in the comments.
---