Flares Are Cool Again, But NOT In The Way You're Thinking
Sunday, August 23rd, 2015
Have you heard that flares are going to be super trendy this fall? If you haven't, go check out a Forever 21 or H&M storefront window. They're everywhere.
If you grew up in the early aughts, when you think of flared jeans, you think tacky. You think of a Delia's catalogue (fun fact, I worked at Delia's for one holiday season). You think of low-rise jeans that gave everyone a muffin top. You think of Britney Spears in the Slave 4 U music video wearing a $5 Rue 21 thong over a pair of metallic bell bottoms. Well, as a big fan of the coming flared jeans trend, I am here to tell you that your school of flared jean thought is just plain WRONG. 
First off, let's think about some fall trend context clues. What else is showing up in every store window? Suede everything, button-up girly chiffon blouses with pussybows, oversized collars, and fringe on everything. What era do these trends allude to?
The 70s!!! Not the aughts!!!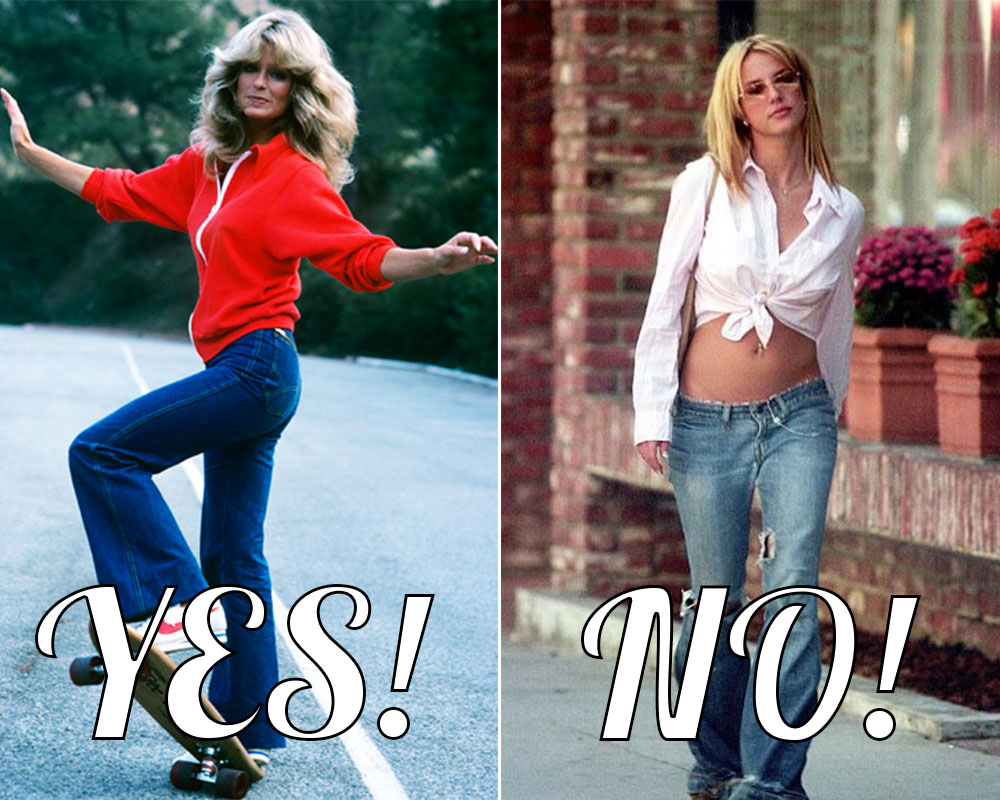 If the idea of wearing bell bottoms that look like they jumped out of a 2001 Abercrombie and Fitch catalogue scares you, the solution is simple. Stick with high waisted, non-destroyed denim. I found this pair at Urban Outfitters last week, and I'm looking forward to styling them in countless different ways. Here's a few looks I've been able to get away with at the end of summer, along with some styling tips.
Here I am casually hanging out in front of some apartment buildings and recycling bins wearing an Urban Outfitters fitted crop top (it's on sale for $19 bucks right now guys, click that link if you want it), my high-waisted super-70s flares, a quarter-length sleeve black blazer that was found in the storage locker of the TV production company I used to work for, black mules from Aldo, and bangles and necklaces I stole from my girlfriend.
I wasn't a fan of the crop top trend when it first came on the scene, but now that I wear exclusively high-waisted jeans, I'm into it. I like showing just a little bit of skin, and lucky for me my office is more than down with the crop top. One of the many benefits of working at a body positive feminist publication.
I'm also OBSESSED with this blazer, shout out to my friend and once boss Christine who gave it to me for freeeeeee. I've always had issues finding blazers that I like, but once I put this quarter-length sleeve version on, it was like, DUUUUH why did I never think of this style as an option before? Quarter-length sleeve blazers look a little bit less masculine than a full sleeve, if like me, girly takes on menswear are your jam.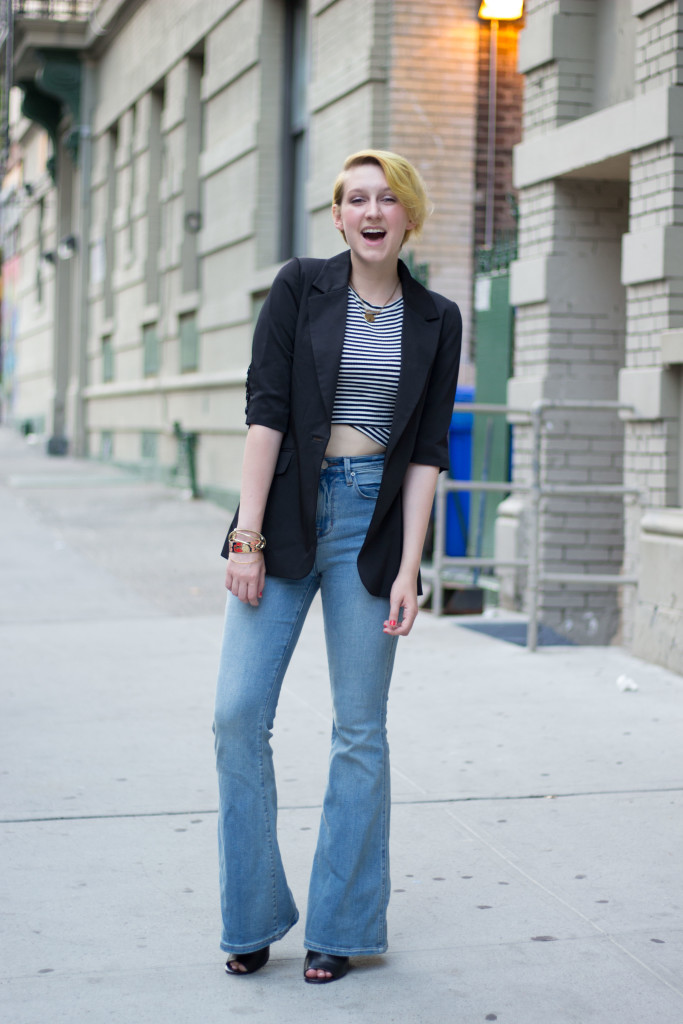 Style tip: wear bangles as often as you can. I searched for a cool set of bangles for quite awhile, inspired by Leandra Medine of The Man Repeller like every other fashion blogger on this planet, and never found a reasonably priced pair I liked. So when I found these collecting dust in my girlfriend's dresser, I decided to call them my own. They've become a staple of my wardrobe in the past couple of months. I want to get a big clunky gold watch in Chinatown to pair with these babies, and scour some thrift stores for $1 additions to my collection.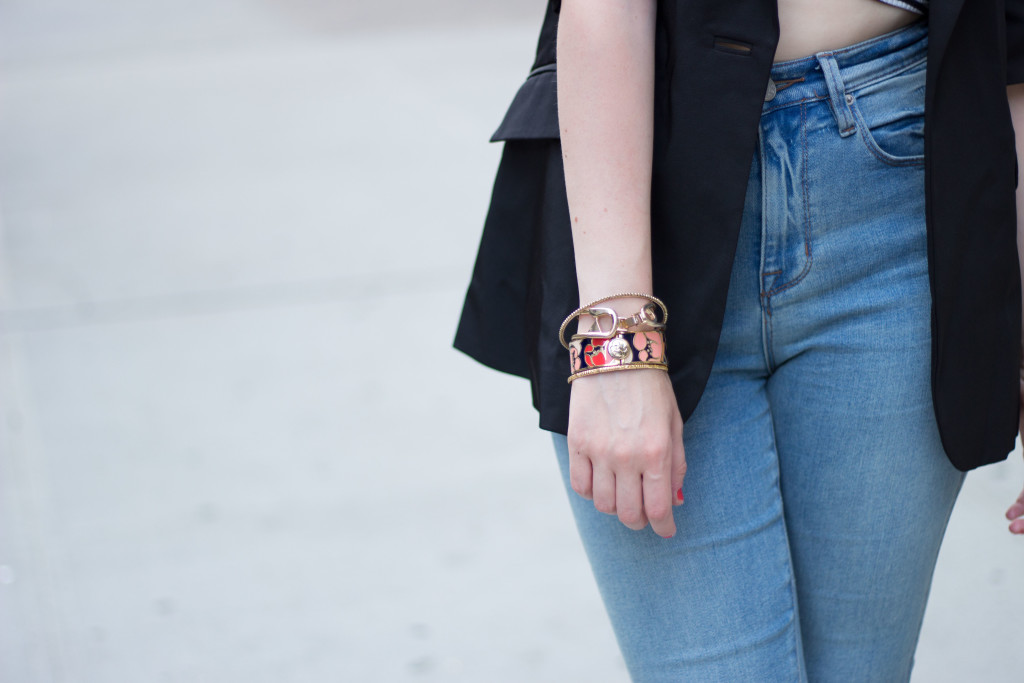 I'm also wearing my girlfriend's necklaces, because I've yet to find dainty gold jewelry that I like to stack for a reasonable price. Instead I occasionally don her initials and a necklace I bought her for Christmas with the day after our anniversary engraved on it in Roman numerals. When I got her the necklace I thought it was our actual anniversary date, but an evening spent reading my old tweets made me realize our anniversary is actually the 29th of July, not the 30th, because on the cab ride home from our date, I tweeted about a weird commercial featuring donuts being fried to elevator music. Whoops.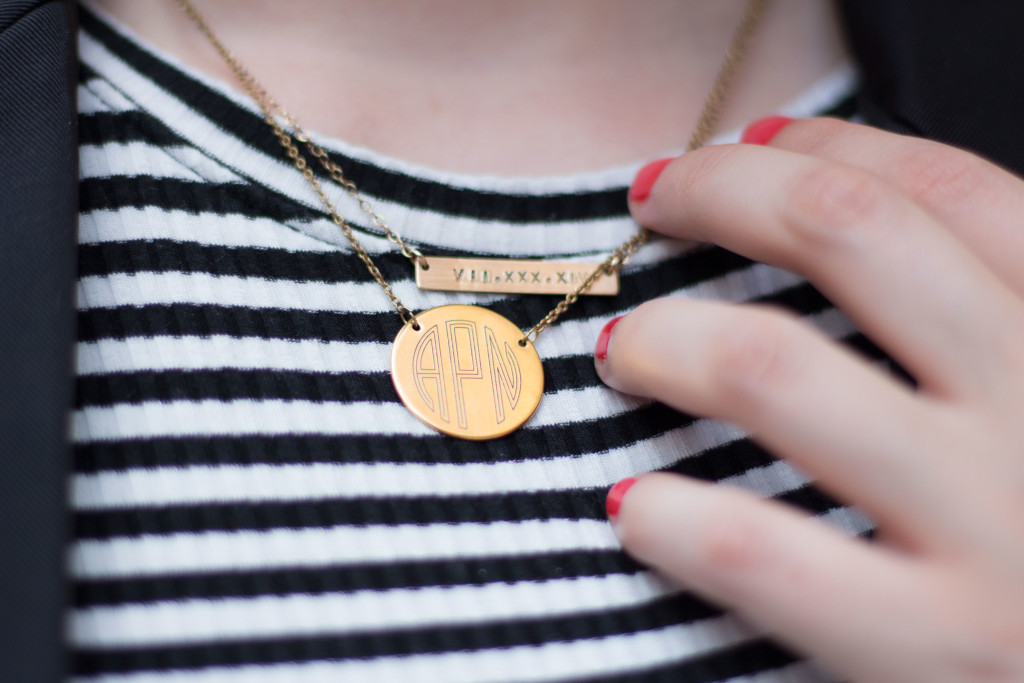 If the previous outfit says "I am stylish and fun but I also mean bizness," than this outfit says "I am stylish and fun and I also, I am hungry." Or something like that. ¯\_(ツ)_/¯. Idk. Blouse from Pixie Market, UO flares again, bangles, and leopard print stiletto mules from Chinese Laundry. I thrifted them for $19, but if you really love them, you can buy the same pair here.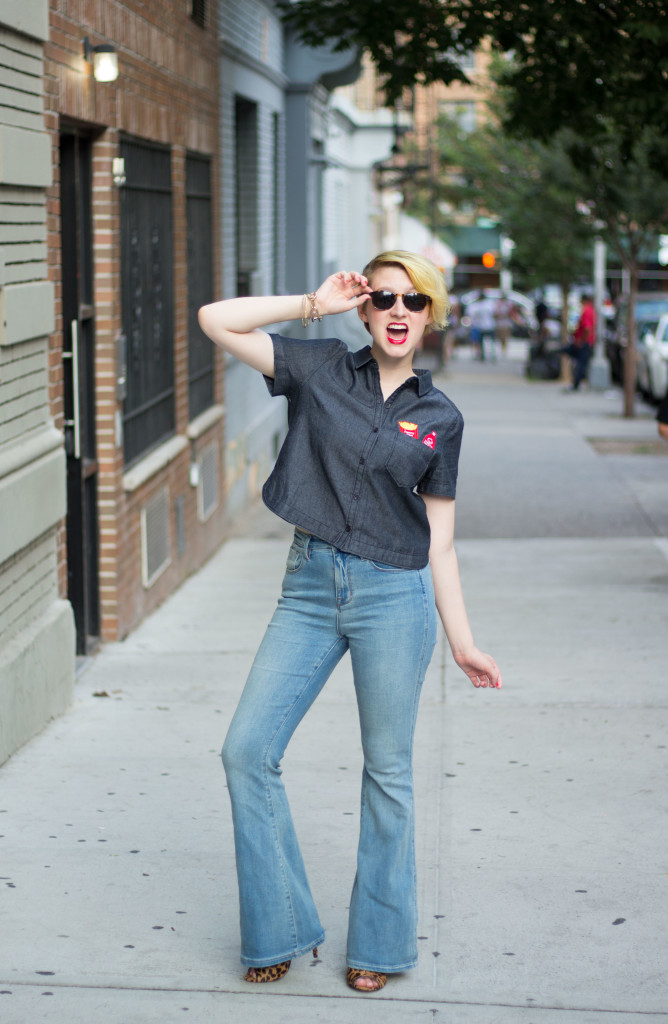 I very rarely buy anything full price, but when I saw this cropped, chambray, french fry and ketchup patched button-up from Pixie Market, I bought it on the spot. I didn't even do that thing where you stare at the items in your shopping cart for awhile and hold your credit card like "UGH do I really want to spend this money?" and almost put your card back in your wallet.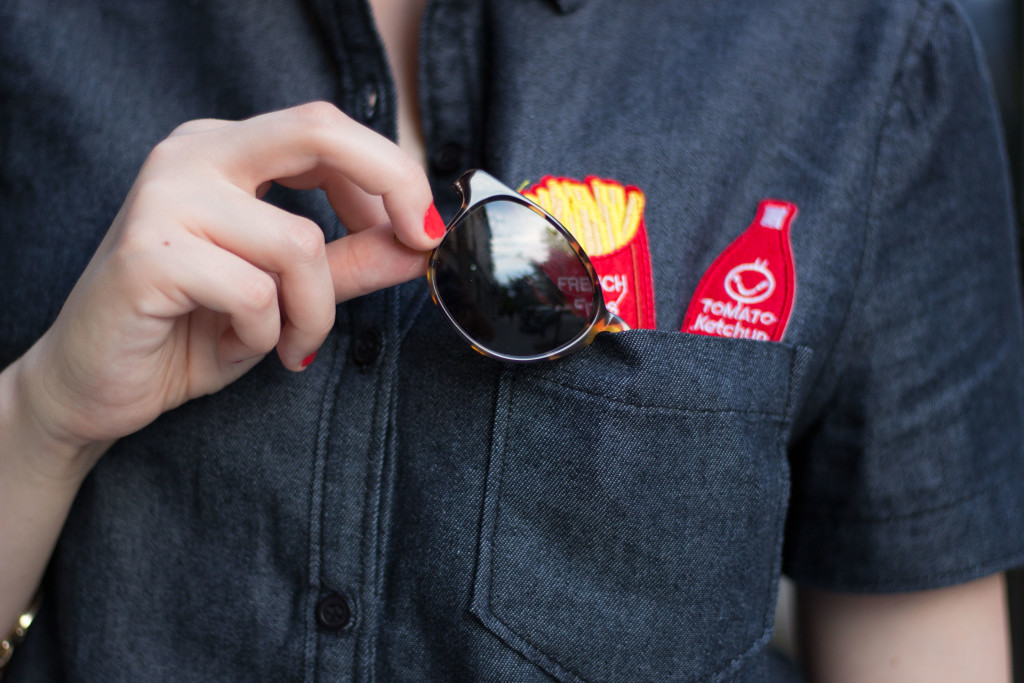 The sunglasses are Warby Parker and also belong to my girlfriend. Even though they are brand new and I have a habit of breaking sunglasses, she was so kind as to let me wear them for these photos. However I will not be borrowing them for reasons previously stated. BUT LOOK AT THOSE AWESOME PATCHES, AMIRITE?! $45 well spent.
Bottom line: flares are cool. I'm wearing mine as a write this post, plan on wearing them to work tomorrow, and were worth every penny of the $65 price tag. I can't wait to wear them with my heeled combat boots and leather jacket in the fall.
---