Mermaid Hair Is Over, Make Way For Sunflower Hair
Sunday, August 2nd, 2015
Back in May, I decided to go back to red after rocking a platinum/pastel pixie cut for about a year. I have been in mourning ever since. I will never stop talking about how much I miss the ability to dye my hair any color of the rainbow whenever I want. If you're sick of hearing me talk/write about it, TOO BAD. Go find another hip lesbian with a blog.
Even though I don't have virgin snow colored hair anymore, I still like to layer warm-hued Manic Panic colors over my strawberry blonde base. I've experimented with pink, orange, and peach, but I think I've found my new favorite color. It's called Electric Banana, and it makes me feel like a human-sized, talking sunflower. Move over, mermaid hair trend…sunflower hair is about to become a thing.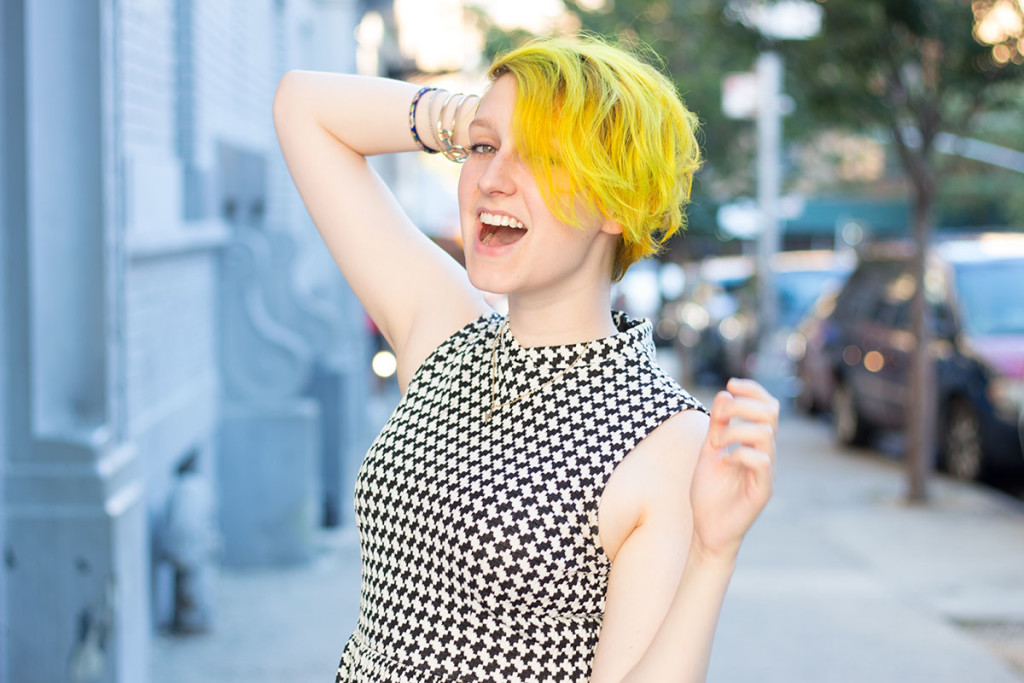 Why do I love my yellow hair so much? Let me count the ways…
1.  I've yet to see anyone else with yellow hair. Which is kind of surprising, considering how trendy rainbow hair is these days. I like the feeling that I'm going against the grain but still on trend with this shade.
2. It's ultra-summery. A darker red will be fun for fall, but for hot-as-balls August days, this sunny shade is perfect.
3. It's low maintenance. This color lasts surprisingly long, and fades evenly to a more natural gold hue. Even though my roots are pretty long right now, they don't looks awkward with this color.
4. It glows under black lights. I'm not under black lights on a regular basis, but today I happened to be and it looks really f**king cool.
5. It doesn't clash with my wardrobe. This color goes with everything. When I had blue hair there were a few pieces in my closet I couldn't wear, but I've yet to have that problem with yellow.
What do you think of my cartoon-yellow hair? Let me know in the comments. 
---