Does Manic Panic Work On Red Hair? An Experiment
Wednesday, June 24th, 2015
I have to be honest with you, dear blog readers: I really miss having platinum blonde hair. Only because I could change the color whenever I wanted to with Manic Panic, but nevertheless, I miss it. I went back to being a redhead because my hair was totally fried from all of the bleach I'd used to keep it pure as the driven snow, but I miss cotton candy pink, I miss ice queen blue, and I most of all, I miss purple. OHHHHH purple, my long-lost hair color love. How I long for the days you sat atop my head. **SOBS DRAMATICALLY**.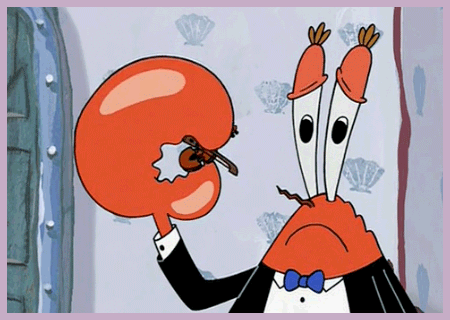 Although you have to bleach your hair to get pale pastel colors with Manic Panic, you don't have to bleach your hair to use it altogether. Desperate to add some flair to my boring strawberry blonde locks, I decided to use a combination of Pretty Flamingo (a peachy pink, orangey dye) and Cotton Candy Pink dye to create some ombre/highlights/color streaks (I'm not quite sure what to call them, really). I'd tried doing streaks and highlights with Manic Panic before, and it didn't work particularly well. But Pinterest says it's possible! And everything you read online is true, obviously. So I took a leap of faith by trying again.
Let me take you through my process…
In an attempt to get the purest color possible, I used Shimmer Lights purple shampoo as a toner. The shampoo is supposed to take out red and yellow tones from blonde hair. I put it all over my hair and planned to let it sit for about 30 minutes. Instead, I got sucked into working on this very blog, and it ended up working it's magic for about 2 hours. And by magic, I mean it didn't really work. It left random patches of my hair looking gray and dull. This is step is unnecessary. But if you ever ask yourself, "what does purple shampoo do to red hair?", then here's your answer: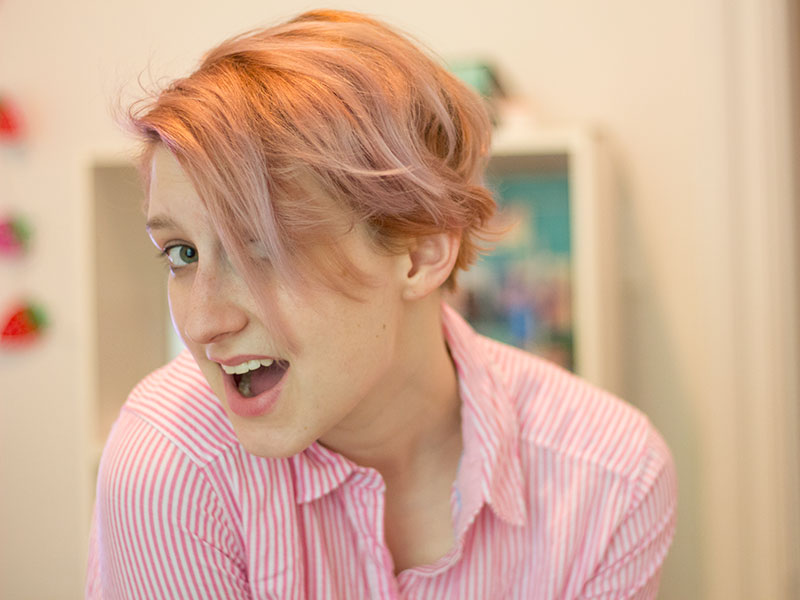 Let's move on to the part that actually matters. Before I applied the Manic Panic dye, I washed my hair and blow dried it. You should not use conditioner before applying Manic Panic. Your hair needs to be totally clean and free of product build-up.
After it was clean and dry, I parted my hair down the middle. I separated my hair into sections and secured them into twisty little buns using bobby pins. I planned on dying most of the hair on the very top of my head with the Pretty Flamingo dye and pinned it all together. Then I randomly sectioned off the hair on the sides of my head into twists, with no real visual plan, because I live on the edge.
The hair at the back of my head towards my neck was too short to pin. From past experience, I've learned that the hair back there doesn't soak up dye as quickly as the front. I applied cotton candy dye back there first. Then I pulled the sections on the side of my head out of their twists and applied either pink or peach dye, alternating colors. I finished off the application by saturating the top twist with peach dye, and a little bit of pink in my bangs.
I let the dye sit on my head for a full 2 hours. When I jumped in the shower to wash it out, I saw that the dye remnants were totally white – a sign that all of the pigment stuck to my hair.
After it was dried and styled, it looked like this:
From the front it looks just a tad pink…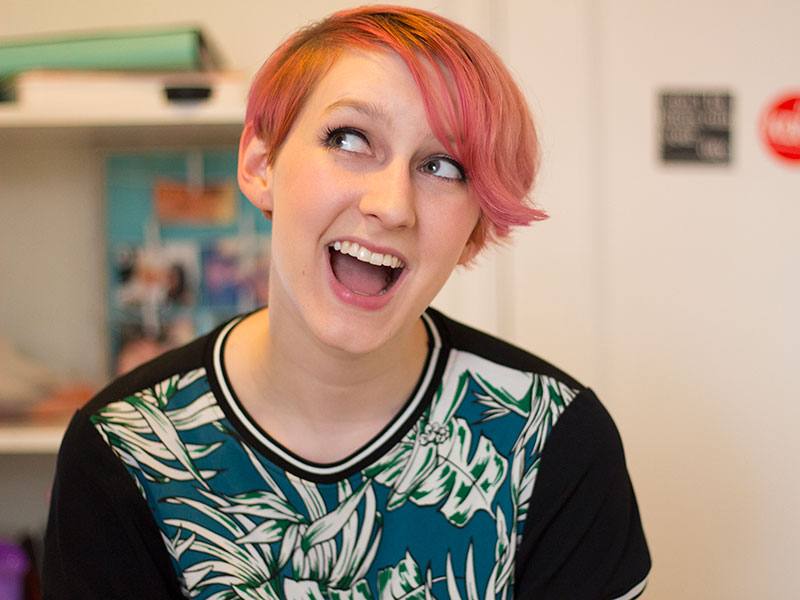 …until I turn to the side. WHA-BAM! Peek-a-boo pink realness.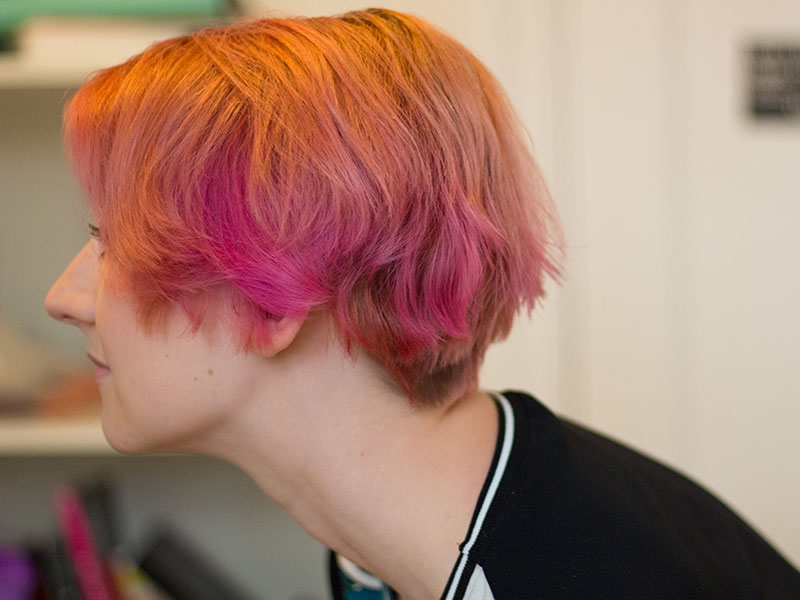 The fade in the back looks even and matches the rest of my hair.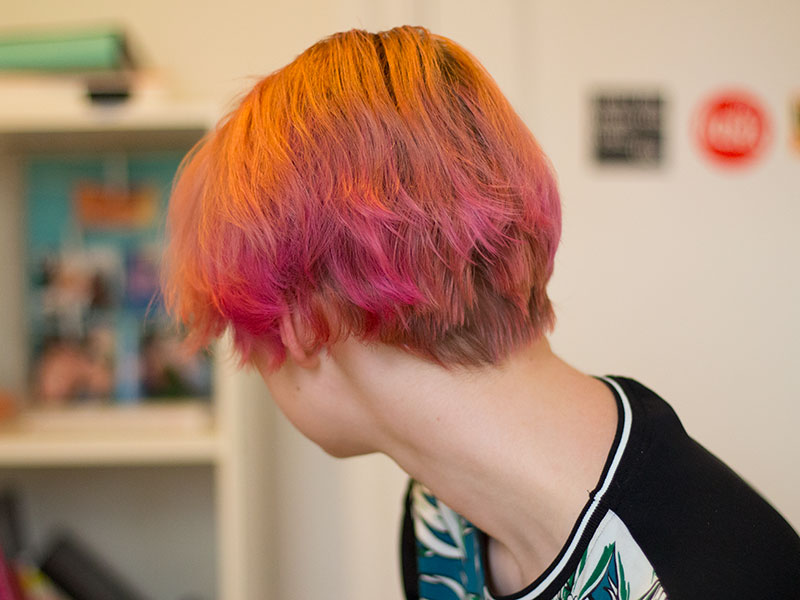 When I part it on the opposite side, you can really see the pink. I really love this vibrant pink shade. The Pretty Flamingo dye definitely made my hair a lot more strawberry than blonde, but the color isn't stand-out neon like I had hoped. Next time I try this, I'm going to use Electric Tiger Lily dye for a more intense orange, and apply the cotton candy dye more liberally.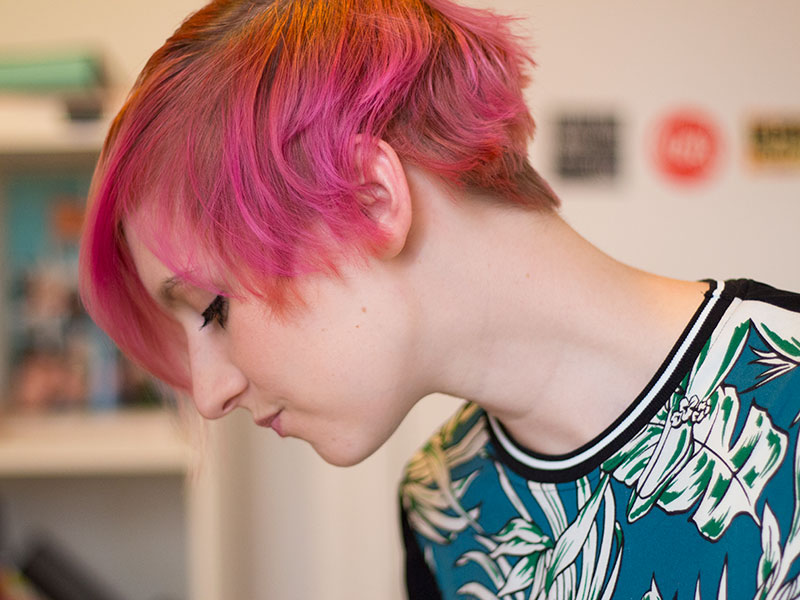 Overall, I'm really happy with these results. I'm not mourning the loss of my platinum quite as much as I was before. I'm thinking this color scheme is going to become my signature look for awhile.
Let me know what you think in the comments below. 
A DIY Pride Tee That Doesn't Look Like A Unicorn Vomited On Your Clothes
Sunday, June 21st, 2015
Guys – I was waiting FOREVER for June to roll around so I could do five million LGBT pride month crafts. But if you've been following along with TCB for a hot minute, you know that it's been pretty quiet on the blog this month. Life has been busy as f********k lately…in a good way! Luckily, a combination of being finished with freelance projects, a job switch, and plans to collaborate on a DIY pride tee with M.E. of We Can Make Anything has once again kicked me into high-gear for this lil' blog.
Most gay pride gear looks like a unicorn vomited all over your ensemble. Yes, I'm down with glitter and multicolored clothing. No, I am not bathing in craft glitter, or wearing a rainbow tutu with rainbow Mardi Gras beads, all while carrying a rainbow flag. This is my first Pride after being all like "mkay, I'm going to let the Internet know about my queerdom now," so I'm down to rock some rainbow, but I'll be doing it in a classy way, thank you very much.
I decided to make a white, tie-front crop top with a geometric confetti pattern on it for this year's NYC parade. I started with a set of multicolored fabric paint ($6 at Michael's), and a plain white tee ($3 at Michael's).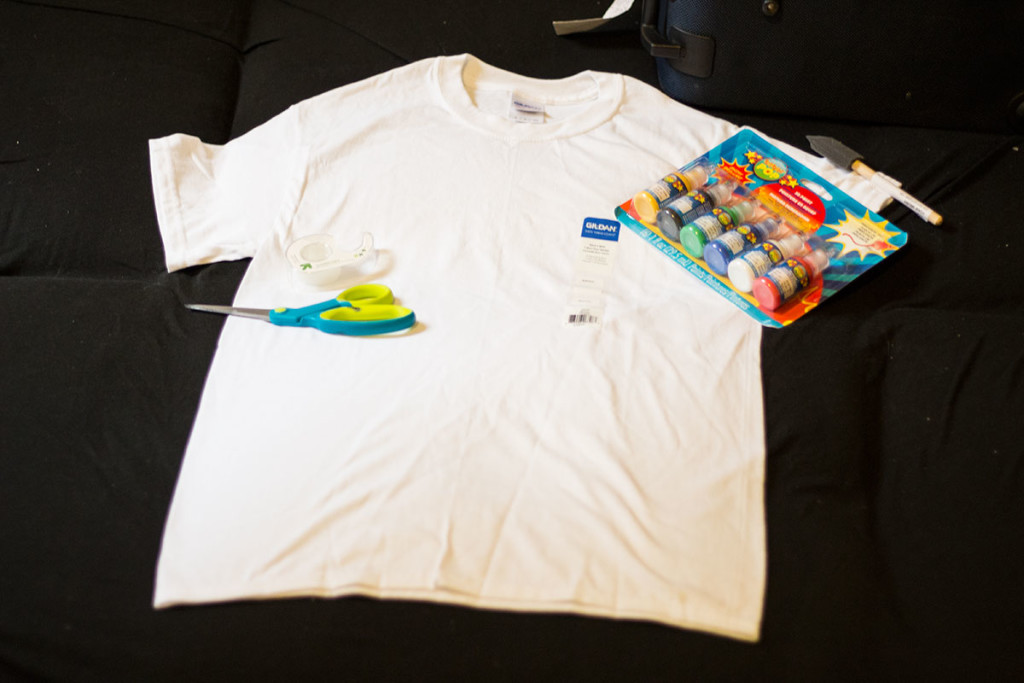 Before I started painting my shirt, I made the tee into a kind-of-cropped, tie-front shirt using this method.
My original plan was to use Scotch tape to stick triangle stencils onto my shirt, but I found it quite difficult to get each triangle in the same size and shape. Instead, I ended up cutting up some cardboard and making stencils. Each triangle side was 2 inches, measured out with a ruler, which is about as detail-oriented as I get.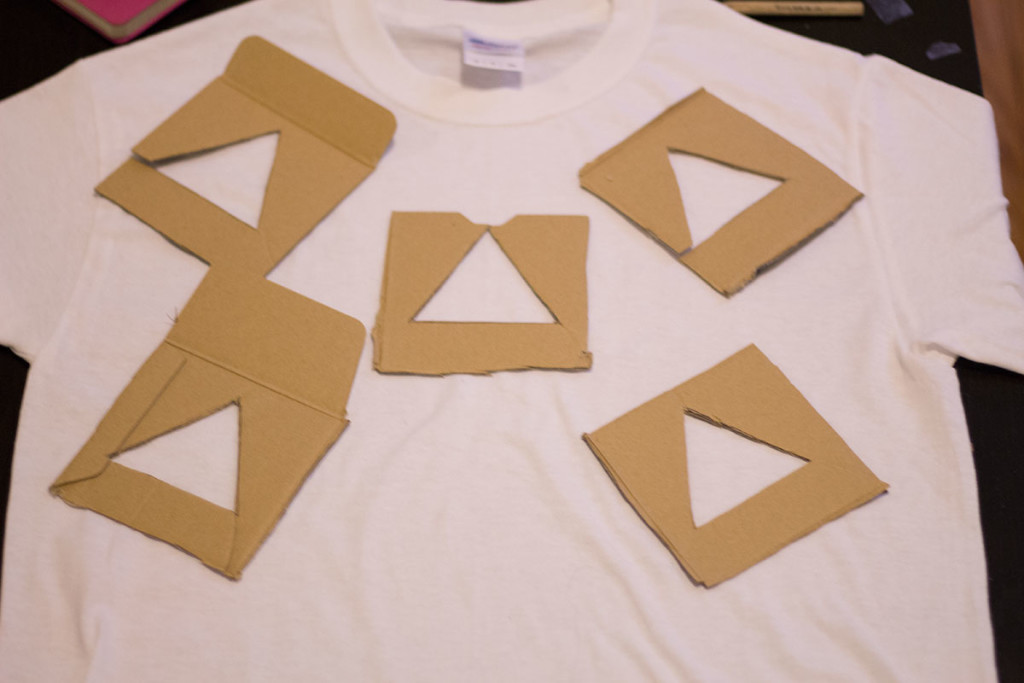 After I made my stencils, it was time to fill them in with paint. My fabric paint kit only came with red, yellow, blue, and green, so I had to mix up some orange and purple myself. I also ended up running out of cardboard and reused some of the stencils.
Before you start painting, make sure to put paper in the shirt so the paint doesn't bleed through to the back. I used a sponge applicator to brush the paint on. It gave the finished product a very smooth look. The cardboard stencils worked really well. The triangles didn't end up looking totally perfect, but I can live with that.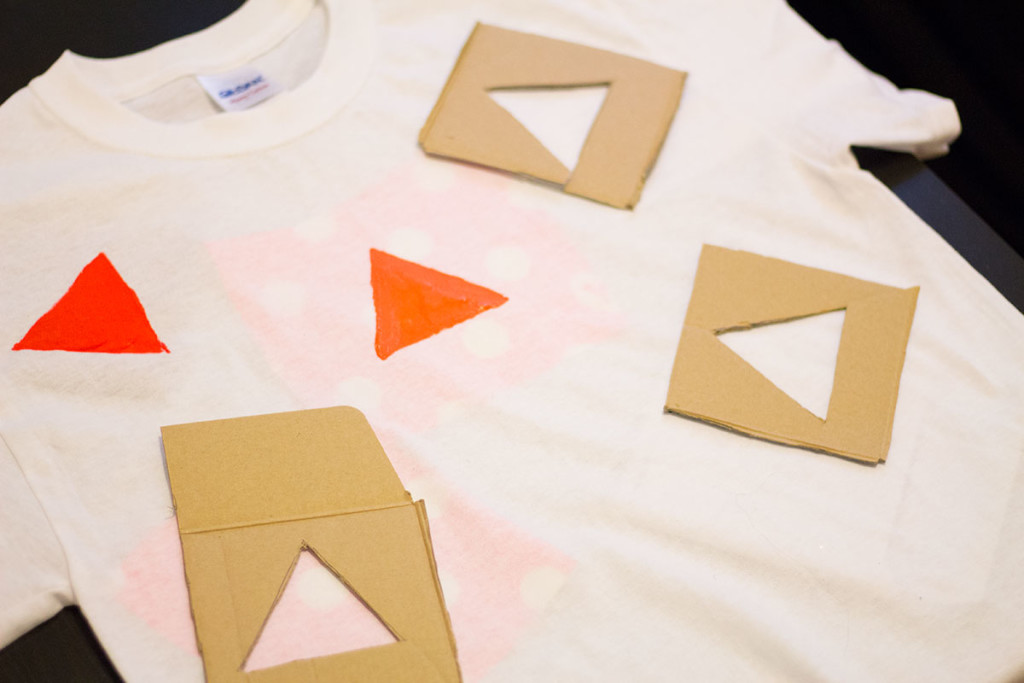 After a few hours, it was dry and ready to try on. I think the pattern looks a bit like confetti. I'm really happy with how it turned out. So happy, in fact, I'll probably wear it all year round. In fact, I'm wearing it RIGHT NOW AS A WRITE THIS POST.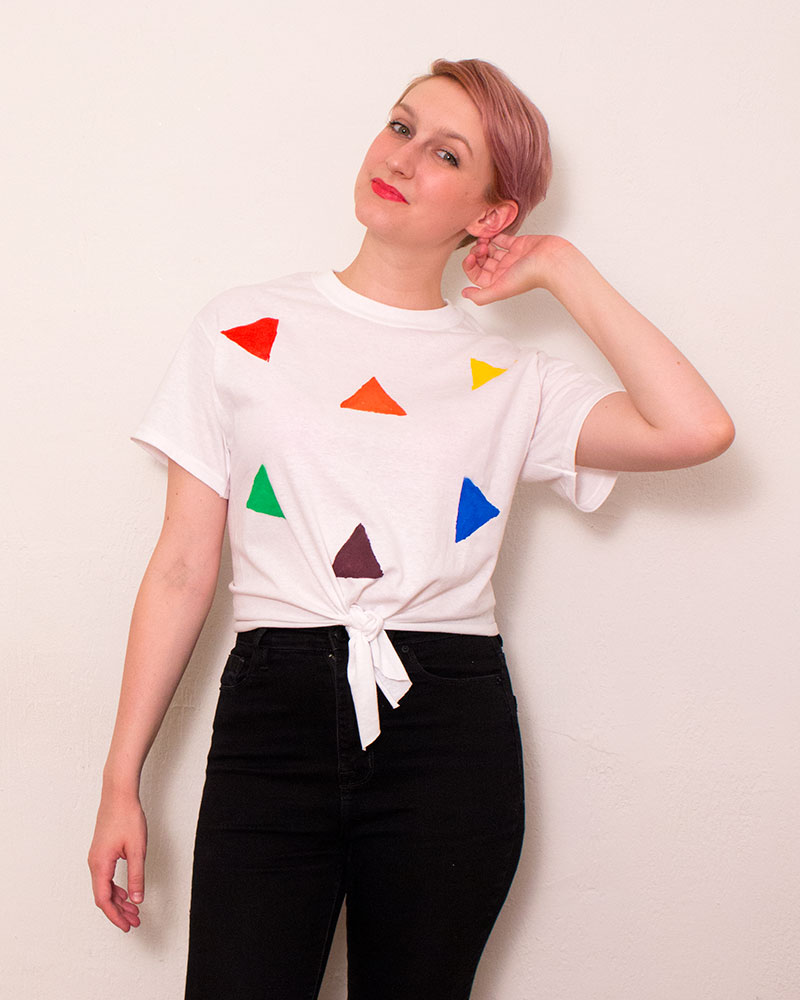 Also, don't ask me why my hair looks purple. It was an accident. I'm upset about it.
Now that you know how I made my top, head over to We Can Make Anything to see M.E.'s super-cute, musical theater reference pride shirt. IT'S SO CUTE I CAN'T EVEN HANDLE IT, I'M HAVING A CRAIG-FROM PARKS-AND-REC-LEVEL REACTION.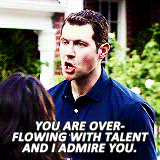 Here's her super cute tee, and here's a link to her post. Read it!!!!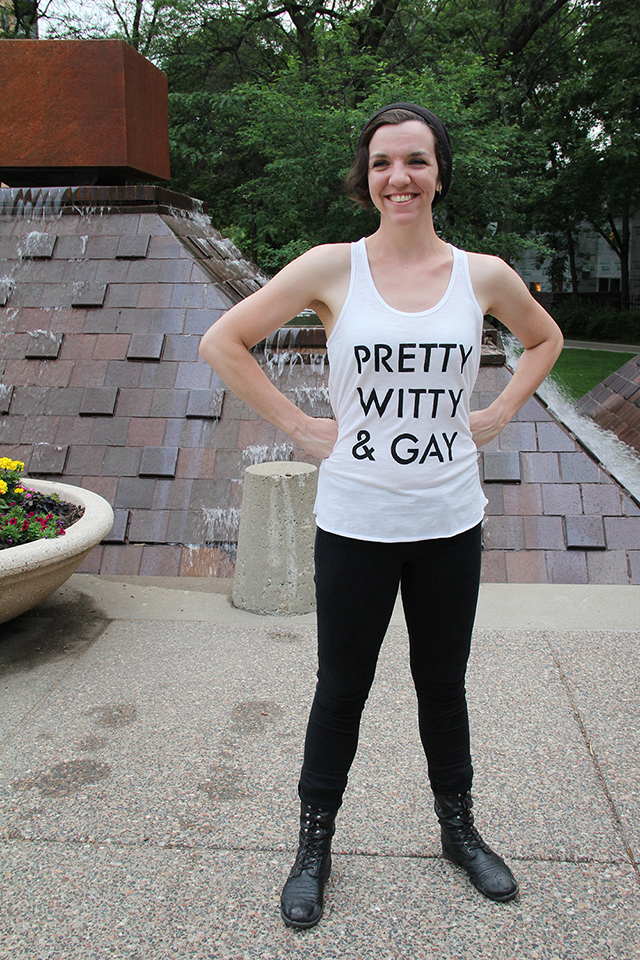 I Glued An Old Scarf To My Shirt And Made An Adorable Pocket
Thursday, May 28th, 2015
It's pretty rare that I see a cute DIY project online and say to myself, "hey! I already have all of the supplies I need for this!" Most of the time, I go to Michael's Crafts, get frustrated because everything is so GOD DAMN EXPENSIVE, and end up cutting corners or giving up entirely. THAT BEING SAID, it's a beautiful thing when I see a project that I don't have to spend a single cent on to make. When I saw Ashlee's DIY vintage hankie pocket tee and said, "I should try and make a no-sew version of this!" I had an epiphany. "OMG. I ALREADY HAVE AN OLD SCARF AND A GLUE GUN. I WILL DO THIS RIGHT NOW." In case you noticed, I've been pretty stressed as of late, and as a result, I've been talking to myself a lot. I'm pretty sure everyone in NYC think I'm just a very well dressed homeless person as I walk by mumbling to myself.
AAAAANNNYWAY… let's get started on the how-to for this no-sew, DIY, vintage scarf statement pocket.
I started out with a scarf I've had since college. I believe I got it at a thrift store in Springfield, Missouri for 50 cents. I used to wear it in my hair pretty often, but my hair is so thin that it doesn't really stay in place, and I eventually got annoyed with retying it a million times a day. And so, it collected dust in my closet. First, I ironed that bitch so it was straight as an arrow. Unlike myself, LOLZ.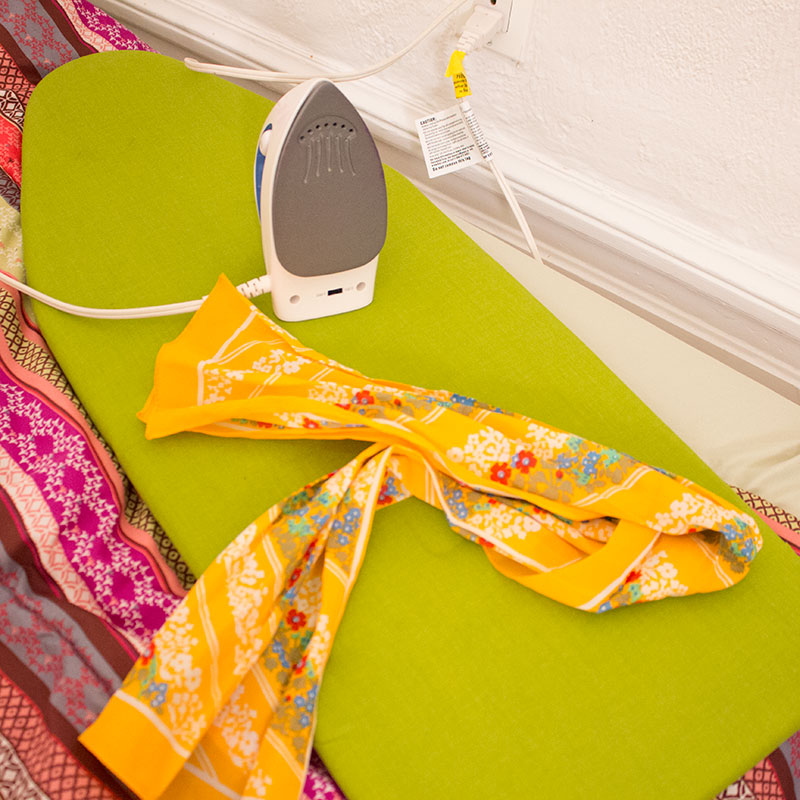 After it was wrinkle-free, I put the scarf over the breast pocket of a pink oxford shirt I got at Housing Works for $10. The color of this shirt is bright, bright, BRIGHT – so bright that I don't wear it very often. I figured it was a good test subject for this project.
The scarf was thin enough that I could feel and see the outline of the pocket. I used a pen to lightly trace around the edge of the pocket…not ON the edge of the pocket, but just OUTSIDE of it. If you're following along at home, this is important. Once you're done tracing, you'll cut out the shape and cut off the pen marks.
To finish it off, I applied hot glue directly to the shirt on every side of the pocket and pressed the now pocket-shaped scarf bit into the glue.
A FEW QUICK TIPS:
When you're tracing with the pen, start at the edge of your scarf and not in the middle. If you fuck up, you can try again with the rest of the fabric. I had to trace my pocket twice.
Some fabrics may react in a weird way with hot glue. It could discolor the fabric and leave you with an ugly shirt you don't want to wear. Before I glued on my scarf scrap, I cut two little pieces of the scarf off and glued them together, just to see how they reacted with the glue.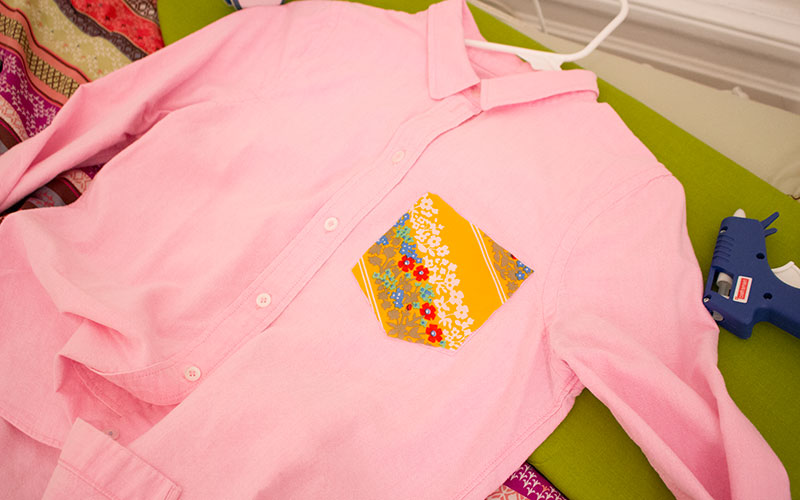 The finished product is super cute! In this picture, I'm wearing the shirt with a red suede skirt. I think all that pink and red with my red hair is a lot of warmth, but I'm planning on wearing this shirt with a pair of my signature high-waisted black jeans and the top buttoned all the way up. That's for it's official real-life debut. I'd also love to try this again with a white shirt instead of a pink one, because it a whole lot of bright colors. Overall, I'm happy with the way it turned out, and I think I'll get more use out of this top now that it has a bit of DIY embellishment.
What do you think of my no-sew top? Let me know in the comments.
10 DIY Projects I Can't Wait To Make For My New Apartment
Monday, May 25th, 2015
Every time I've moved into a new space, I have come up with many, many grandiose ideas for how to decorate. When I was a senior in high school dreaming about my college dorm room, I spent hours online deciding which posters I would buy. When I moved into my first apartment in college, I scoured thrift stores for diamond-in-the-rough furniture and tchotchkes. My current apartment, which is also my first New York City apartment, suffered from a lack of decor for a good long while, due to the stress of moving, running a blog, working for a demanding job, etc, etc. But now that I'm moving in with my favorite girl come September, I'm back on the DIY decorating Pinterest grind. FYI…I am going to make ALL OF THE THINGS. And you know there is going to be a blog post for each and every creation. 
Although I can't get my DIY decor on just yet, here are 10 quirky and colorful DIY projects I intend on eventually carrying out.
1. Concrete end table top
Incase you're out of the loop when it comes to serious crafters, covering your tables in concrete is all the rage. It's simple, it's inexpensive, and it makes for a super sleek looking piece of furniture. Aimee of The Crazy Craft Lady covered her dining set in concrete, and I intend on following her instructions to revamp an unfinished wood end table I already have.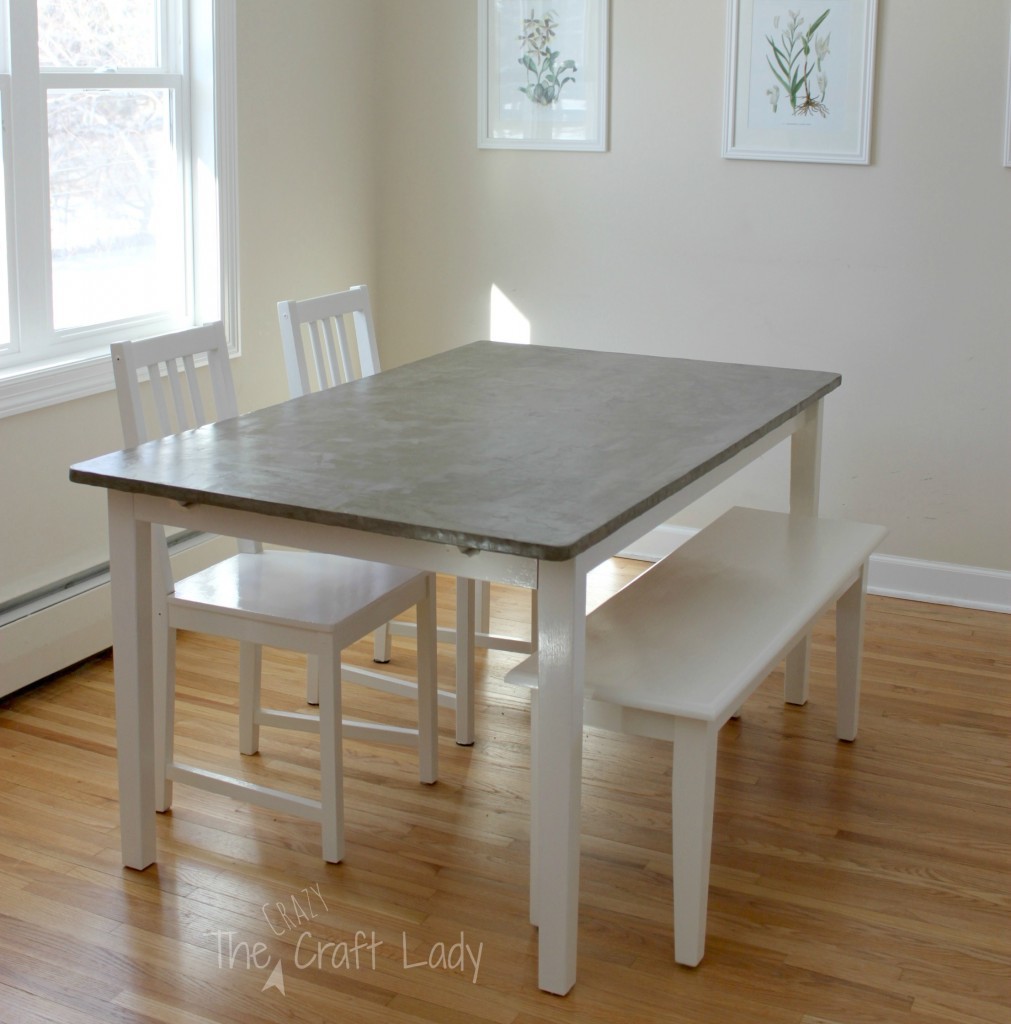 2. DIY Ikea Bar Cart
Because I intend on making my new apartment all kinds of grown-up sophisticated, I'm definitely turing this $30 Ikea utility cart into a retro-chic bar cart with some spray paint. At our housewarming party people are going to be like, "whoa. There is a bar cart in this apartment. That is some fancy shit." You can check out the tutorial from Lindsey at The Curly Diaries.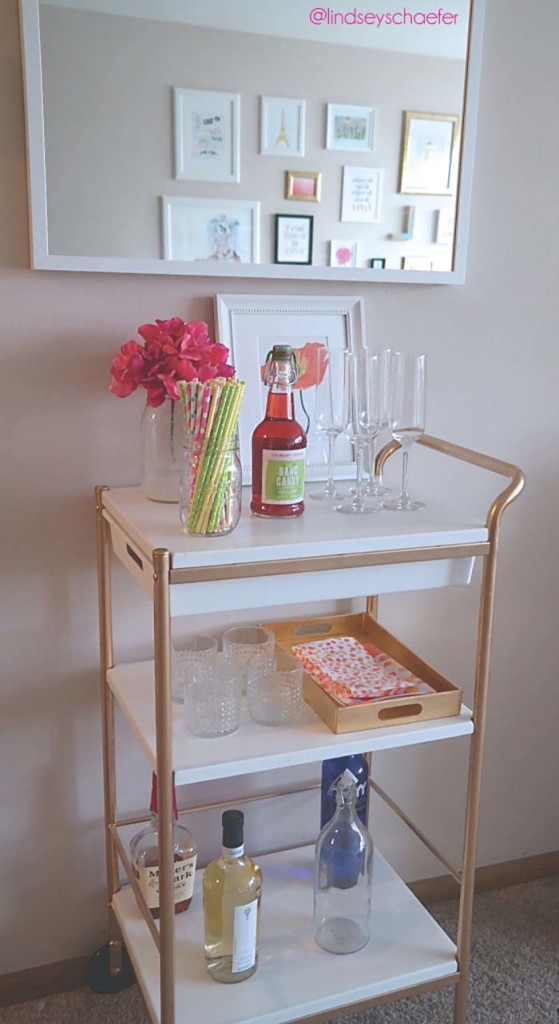 3. Upcycled pickle jar containers
Starting now, I will be saving all of my glass jars and their lids. With a coat of rubber paint, hot glue, and a drawer pull, you can make old jars into apothecary-esque creations. The jars in this photo are used for bathroom supplies, but I'm going to use mine in the kitchen for salt, sugar, coffee, and spices.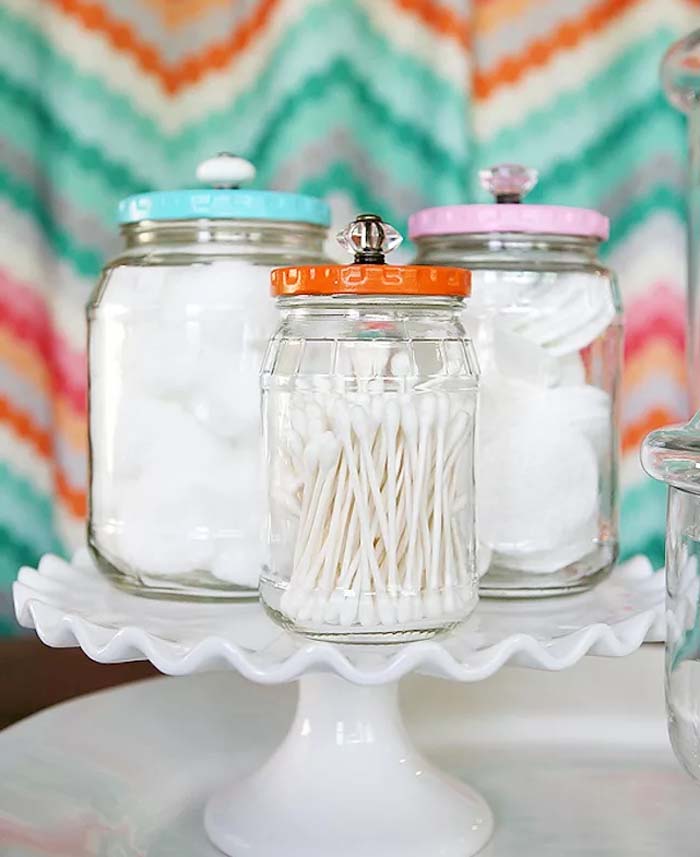 4. Ombre fake flower wall hanging
This photo doesn't come with much of a tutorial, but it seems pretty self-explanatory. First, acquire a canvas and some fake flowers. Then, hot glue the fake flowers to the canvas. Then spray paint the shit out of it with some bright colored spray paint. Voila! It's art. Put it in your entryway, you crafty bitch.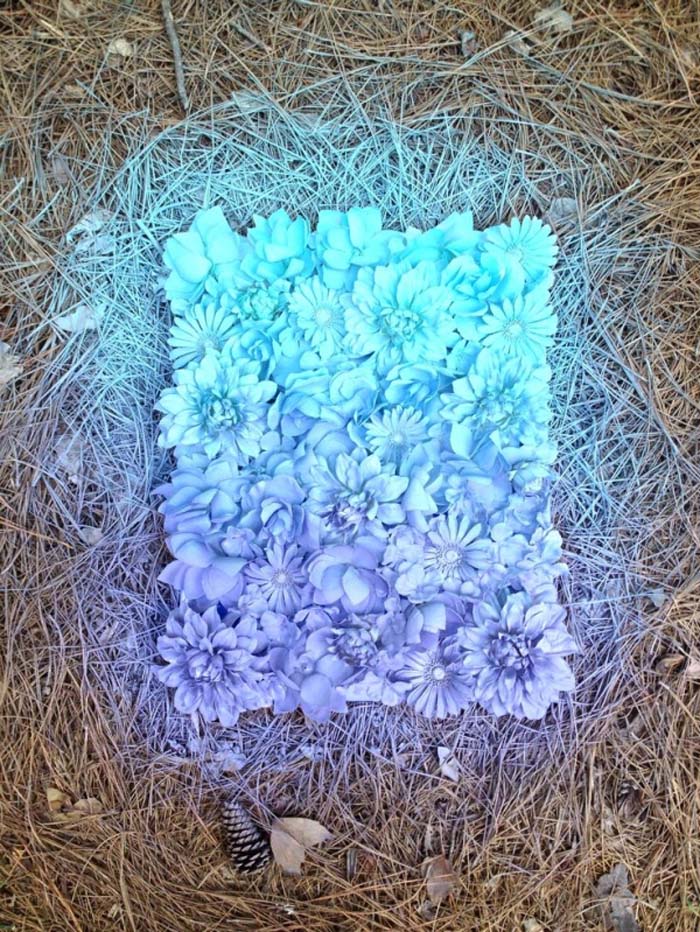 5. Bleeding tissue paper canvas art
This idea from Fiskars is actually recommended for kid's crafts, but I think it looks cool so I'm doing it for my grown-up apartment anyway. All you need is special bleeding tissue paper, which you can find at most craft stores, a white canvas and water. You cut shapes out of your tissue paper (or strips), wet the canvas, stick on your paper and then remove it after it sits overnight. So easy! So pretty! ONE-OF-A-KIND! My girlfriend claims she doesn't like being crafty, but I am forcing her to do this with me.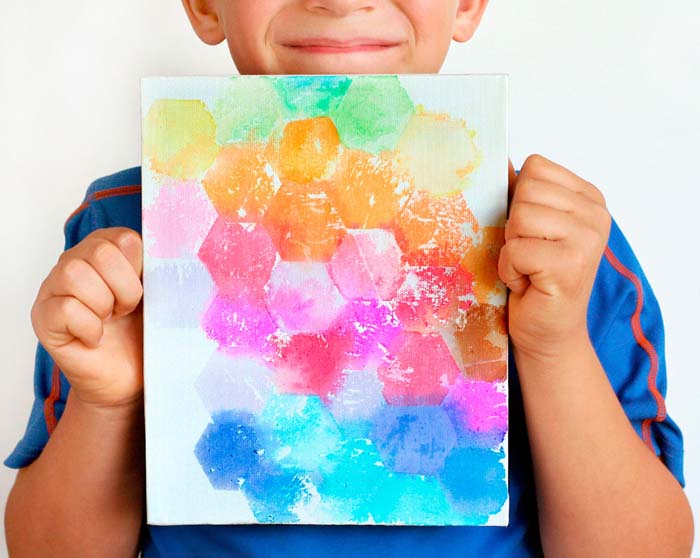 6. Hanging copper pipe garment rack
I already know that no matter how great of an apartment we end up in, there is not going to be enough closet space for two girls with a whole lot of clothing. Since I have a lot of vintage clothes I'd love to show off in a cool way, this DIY hanging coat/garment rack will be practical and sleek. The instructions are simple: get tube. Get wire cable. Get two hooks. Hang it. If you feel you need more detailed instructions, check out Love Aesthetics.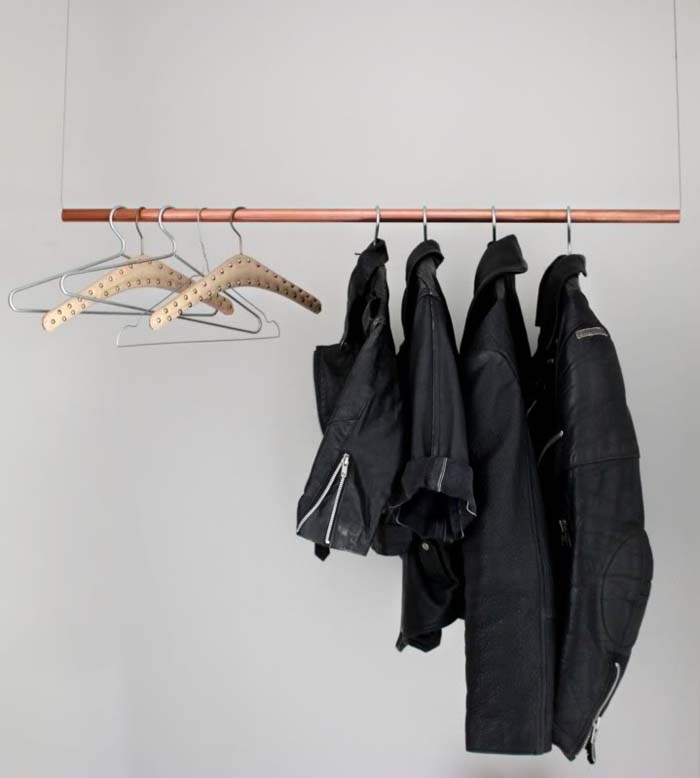 7. Giant shower curtain art
This giant piece of octopus art is actually a shower curtain, and this idea is absolutely genius. Big wall art is so expensive, but all you need to make your own is a shower curtain and some plywood boards from Home Depot. Kirsten over at 6th Street Design School says this project only took her and hour of work. I say YAAAAAAAS to everything about it.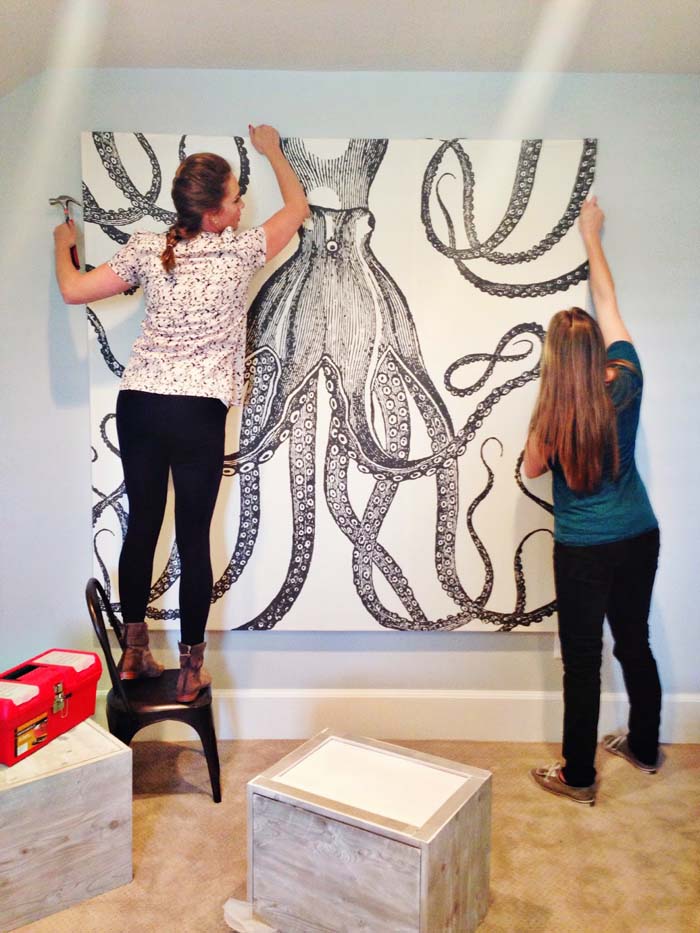 8. Hanging mason jar makeup organizer
Not only will we have a fuck ton of clothes in our new apartment, we're also going to have a whole lot of makeup. This mason jar bathroom organizer is not only easy to make, but it will also be easy to clean with a quick swipe of a Clorox wipe. You can read the whole tutorial over on The DIY Playbook.

9. Hula hoop chandelier
I'm not sure how I feel about using Christmas lights for this project, but I'm thinking I'll use wiry string lights like these instead. I'll also paint the hula hoop gold and use gold wire to hang it from the ceiling instead of lace like Sarah from Sarah With An H did. I'd rather have a sleek chandelier than a shabby-chic one, but to each their own.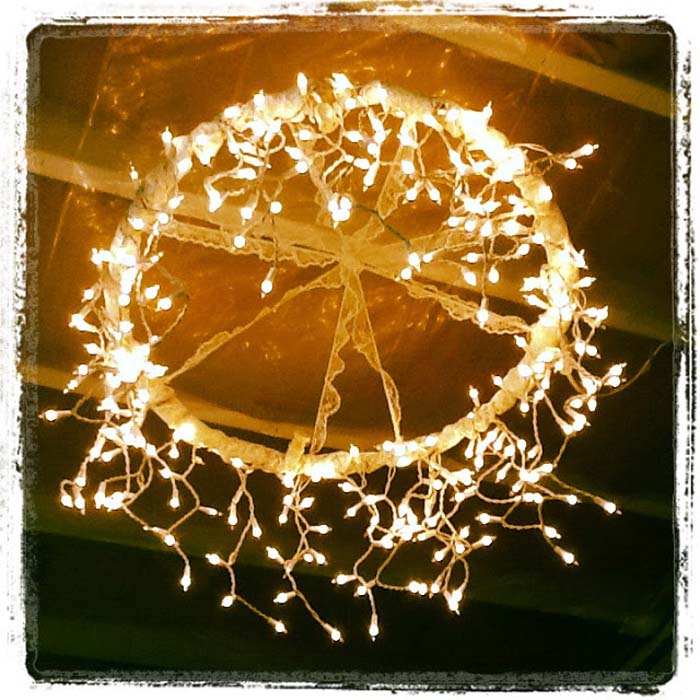 10. Washi tape accent wall
In most rented apartments, you can paint the walls, as long as you paint them back to white before you move out. That sounds like a whole lot of effort to me. Instead I'm going to opt for a less permanent accent wall and use decals or washi tape like Emily of Everything Emily did for her son's room. Washi tape comes in so many colors, you could create endless patterns with it…and if you get bored, just create another one! Plus, she has a cool name, like me. Nice job, Emily.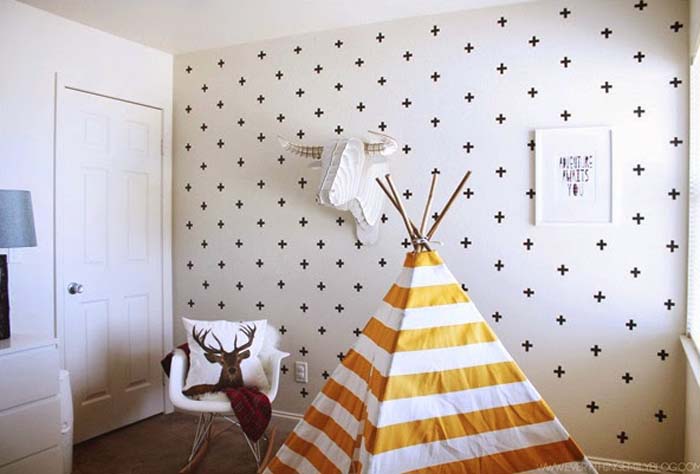 Did any of these projects give you the crafting itch? Let me know in the comments.
DIY "My Cardio Is Crushing The Patriarchy" Jacket
Saturday, May 9th, 2015
In case it wasn't already obvious, I am a feminist. And when I saw a t-shirt that said "My cardio is crushing the patriarchy" on it, I knew I had to make something emblazoned with said quote. Using a Missguided jacket that I picked up at a thrift store and iron-on gold letters, I turned an already eye-catching jacket into a  piece that represents me in a nutshell. When you see this jacket, I know you'll want one…but this is one-of-a-kind, bitch! Go make your own misogyny killing glitter apparel.
Missguided only sells their clothes online, so I was pumped to find this varsity-style jacket at a thrift store for $11. I loved the look of this jacket on its own, but for whatever reason, I hardly wore it.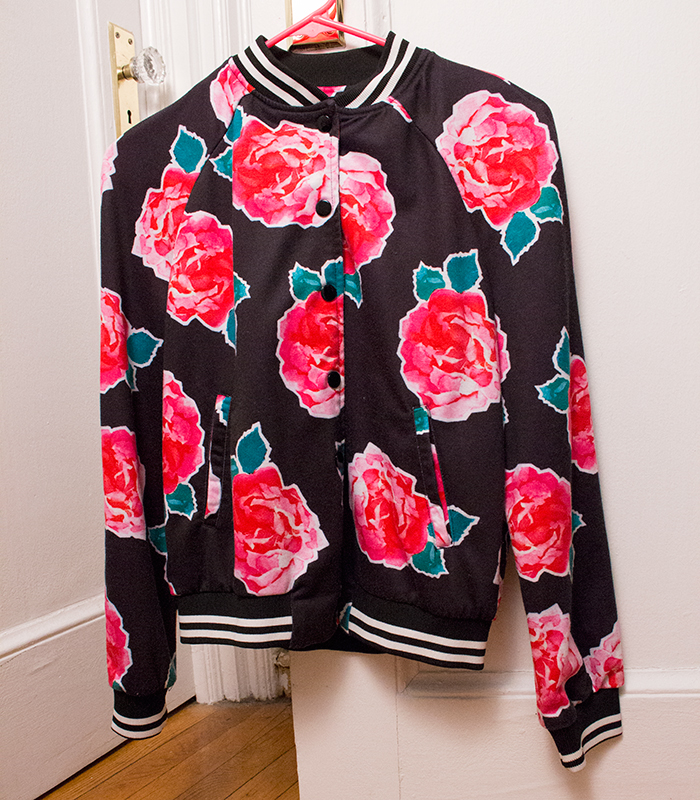 When in doubt, add glitter. I bought these Transfermations iron-on letters at Michael's for $5.49 a set. I needed two sets since the phrase was so long.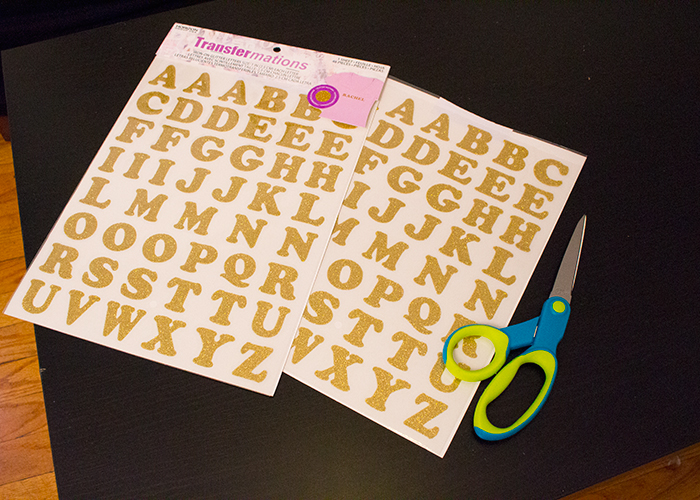 The letters were slightly difficult to work with. The letters had a soft layer of textured plastic keeping them a sheet of harder, smooth plastic. The instructions said to pull off the top layer of plastic, but you actually have to pull off both layers of plastic and set the letter on your fabric. It took me a pretty long time to take the layers off of every single letter.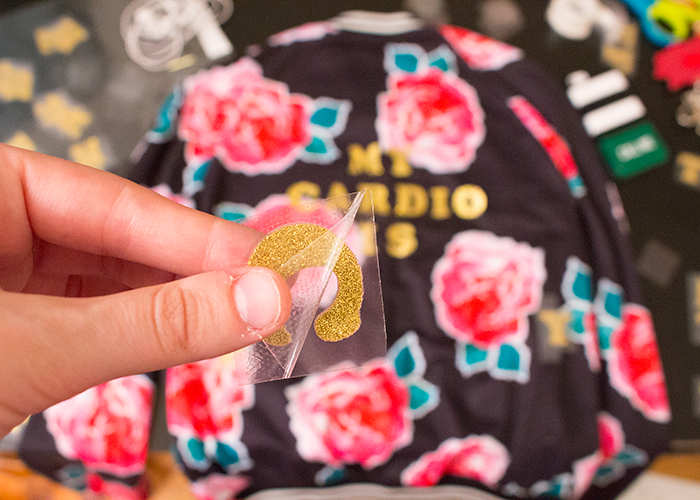 Once every letter was cut out, de-plasticed and in it's correct place (I double checked my spelling so many times), it was time to apply them to the jacket. I ended up grabbing a freebie t-shirt out of my Goodwill bag and cutting a piece of fabric to use a press cloth between the iron and the letters, but you could also use a pillowcase or sheet. I ironed it quite a few sides on the outside of the jacket, and once on the inside for good measure.
Here's the finished product: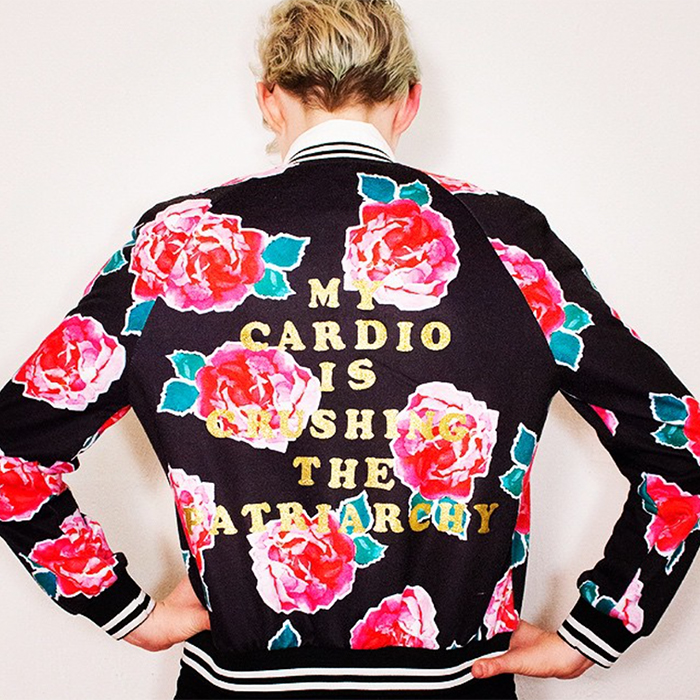 It's a little bit hard to tell in this photo exactly what it says, but in the daylight, you can read it just fine. I'm going to wear this everywhere in the next few weeks, before it starts getting too hot for jackets. I used a few extra letters on the front to write out "TCB" on the upper left side. It's like a fashion blogger letterman jacket!
What do you think of my feminist DIY jacket? Let me know in the comments.
---