Can I Still Shop At Nasty Gal If They Treat Their Employees Like Shit?
Saturday, July 4th, 2015
Generally, firing people because they are pregnant, and therefor cost more to have as an employee, is considered bad and illegal. Unfortunately, Sophia Amoruso, the self-proclaimed #GIRLBOSS and founder of Nasty Gal, figured this out the hard way. Nasty Gal was recently sued for firing 3 pregnant women and 1 man planning to take paid paternity leave.
Oops.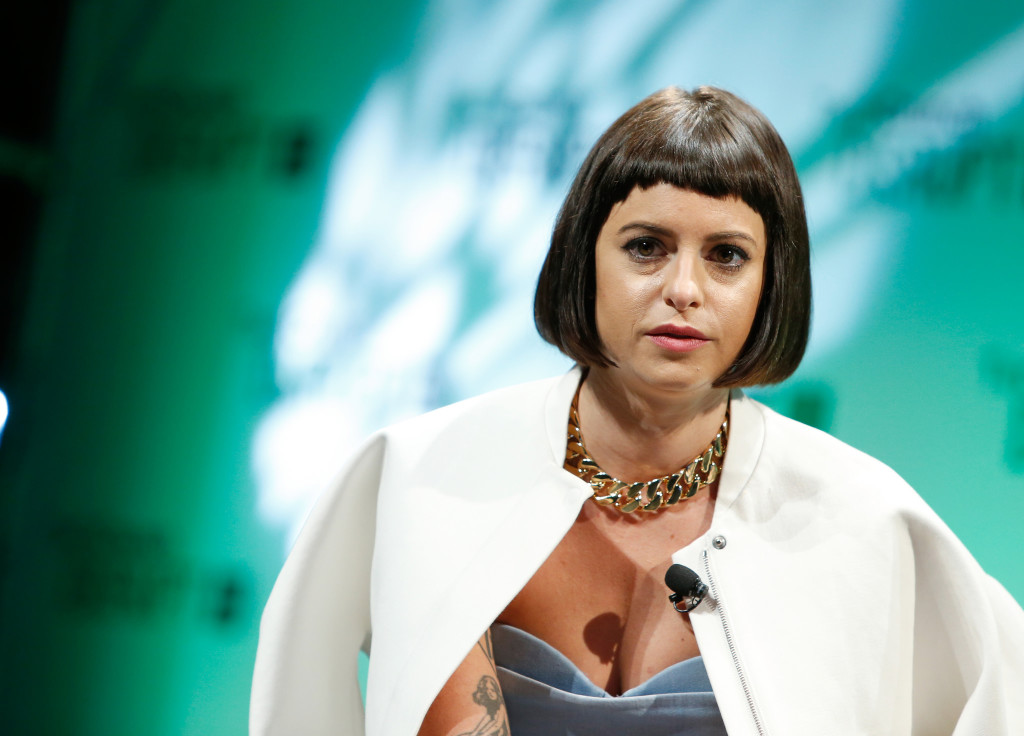 Even before the baby lawsuit, Nasty Gal's poor corporate culture caught the attention of industry insiders. In September of 2014, Racked, sighting anonymous reviews on Glassdoor, wrote that the company suffered from "pervasive low moral," "no employee appreciation," and "no clearly defined goals." As recently as May of this year, an employee lamented that the company is "a sinking ship."

Using context clues, we can go ahead and say that ethically, Nasty Gal lives up to it's name. Nasty.
But then again, LOOK AT THESE AMAZING CULOTTES ON SALE FOR $21 THIS WEEKEND: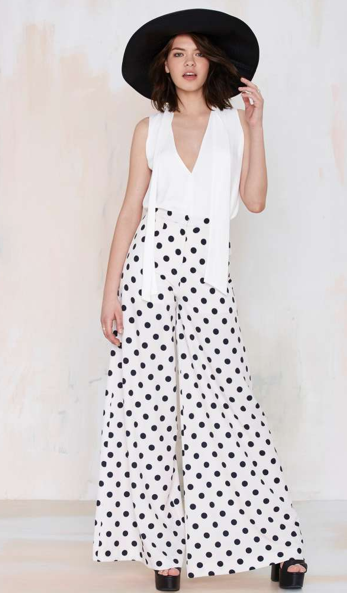 So here's the question…
I'm not a fan of companies that produce their clothing unethically. I don't shop at fast stores anymore for that reason. Fast fashion stores don't treat their employees fairly in factories overseas. Nasty Gal isn't treating their employees fairly stateside…they're just not paying small children pennies to manufacture their merchandise. I don't feel comfortable giving Forever 21 my money…but should I be uncomfortable giving it to Nasty Gal as well? Because honestly I want to buy this, this, and this right now.
Let me know what you think in the comments.
Celebrate Marriage Legalization With These Stylish As F**k Gay Wedding Photos
Friday, June 26th, 2015
Today is a historic day in the United States, because in case you haven't heard, gay marriage is now legal in all 50 states! Obviously the queer girl founder of this blog is jumping for joy, but incase you need a bit more visual stimulation to get the happy tears flowing, here's some STYLISH A F**K same-sex marriage photos to gaze upon.
LOOK AT THAT FUCKING FASCINATOR AND THAT COLOR-BLOCKED SUIT.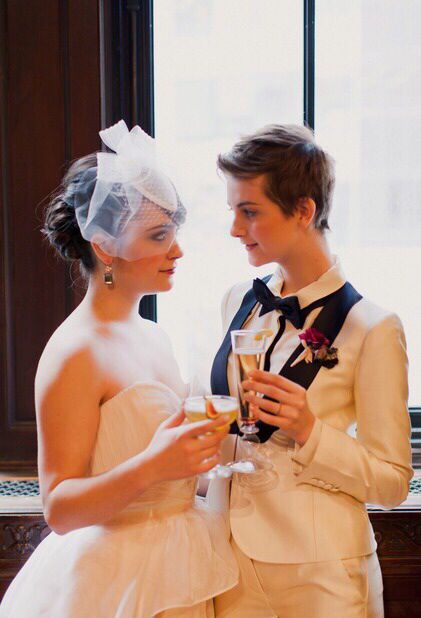 THAT PINK TIE. THAT SKINNY TIE. THOSE SUSPENDERS. THOSE MOTHER FUCKING BANNERS.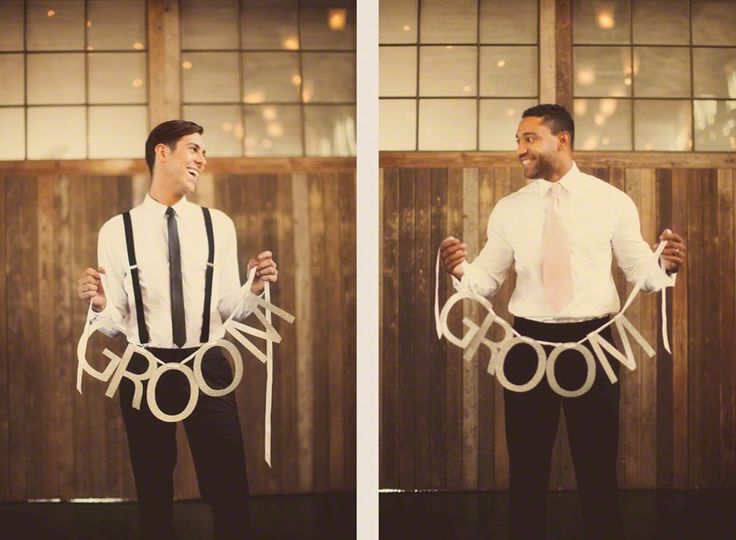 I'VE NEVER LOVED BOHO LESBIAN CHIC SO MUCH.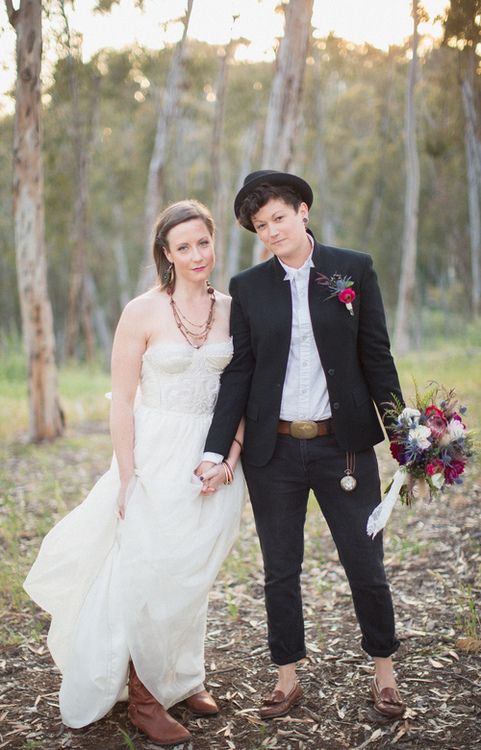 CAN'T GET ENOUGH OF THESE PATTERNED SHIRTS AND BOW TIES RIGHT NOW.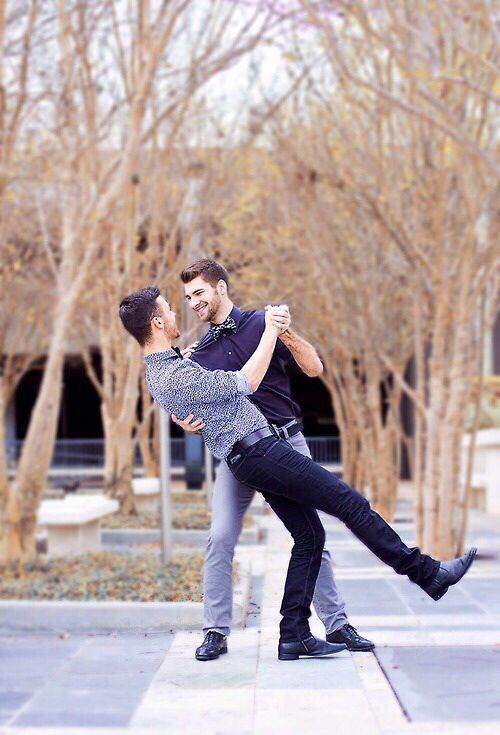 ROMANTIC GAY BEACH VIBES FOR DAAAAAAYZ.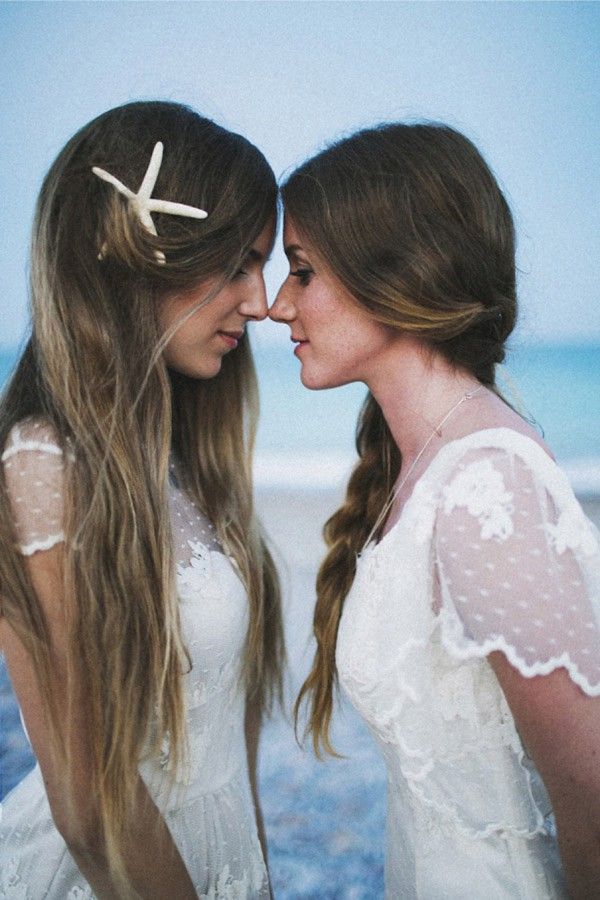 **SO STYLE, MUCH CUTE, WHAT EVEN, CAN'T HANDLE**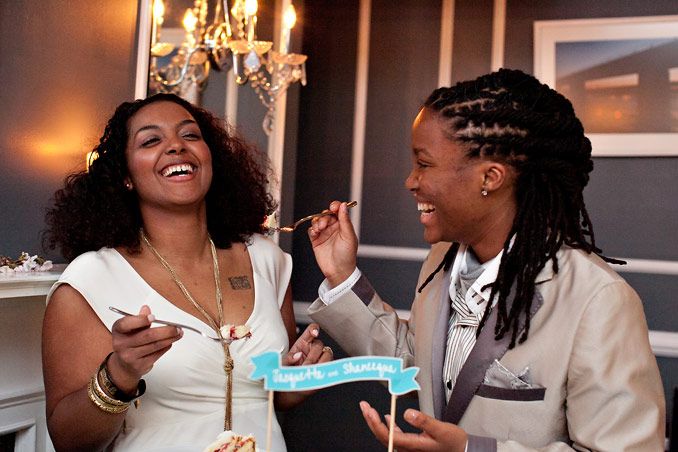 FLOWER CROWNS ARE NOT JUST FOR MUSIC FESTIVALS GUYS, THEY ARE FOR BEAUTIFUL, PROGRESSIVE A.F. WEDDINGS.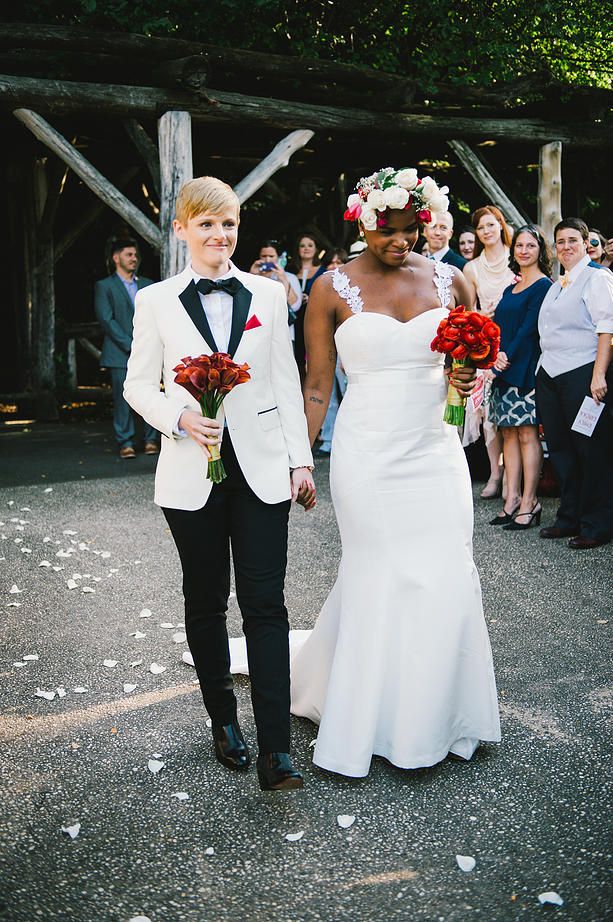 THE BEST POP OF COLOR I'VE EVER SEEN.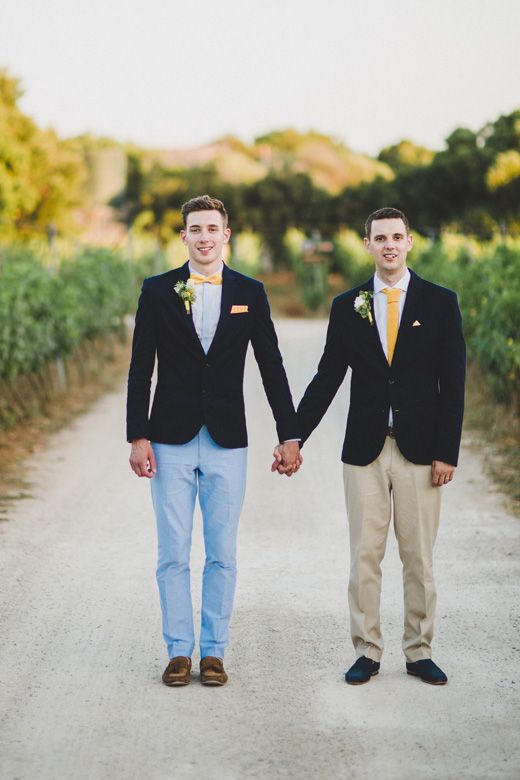 LOOK AT THOSE CROWNS AND THAT TRICKED OUT BROOM.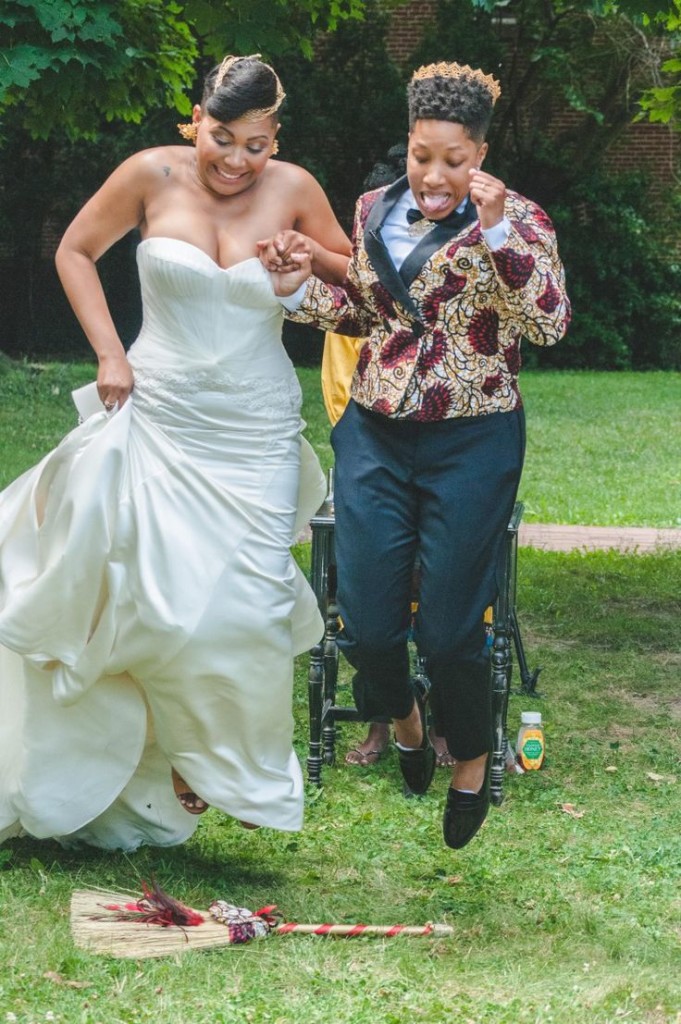 ALL GOLD EVERYTHING AND AWESOME FUCKING BOLEROS FOR THIS LESBIAN WEDDING.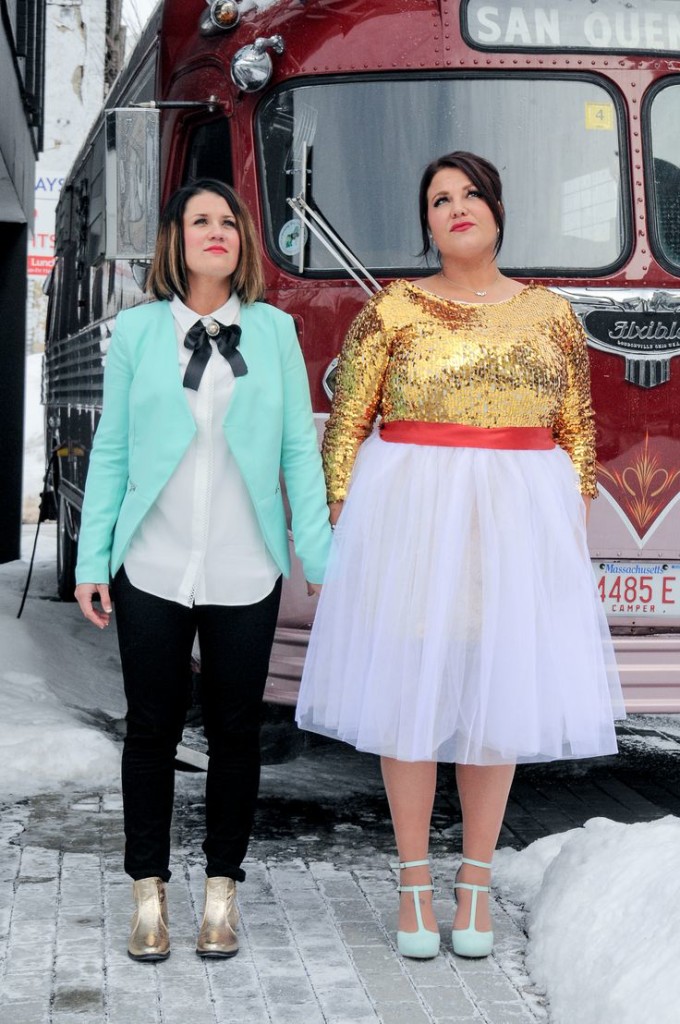 HULA HOOP IT OUT, HAPPY COUPLE, YOU DESERVE IT.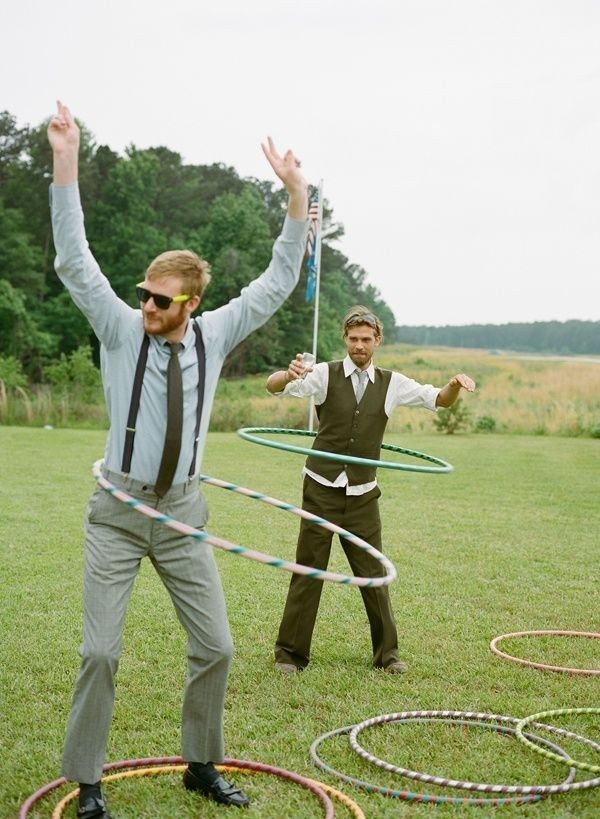 PLZ GIVE ME THOSE SHINY-ASS SHOES RIGHT NOW, SEXY MARRIED MEN.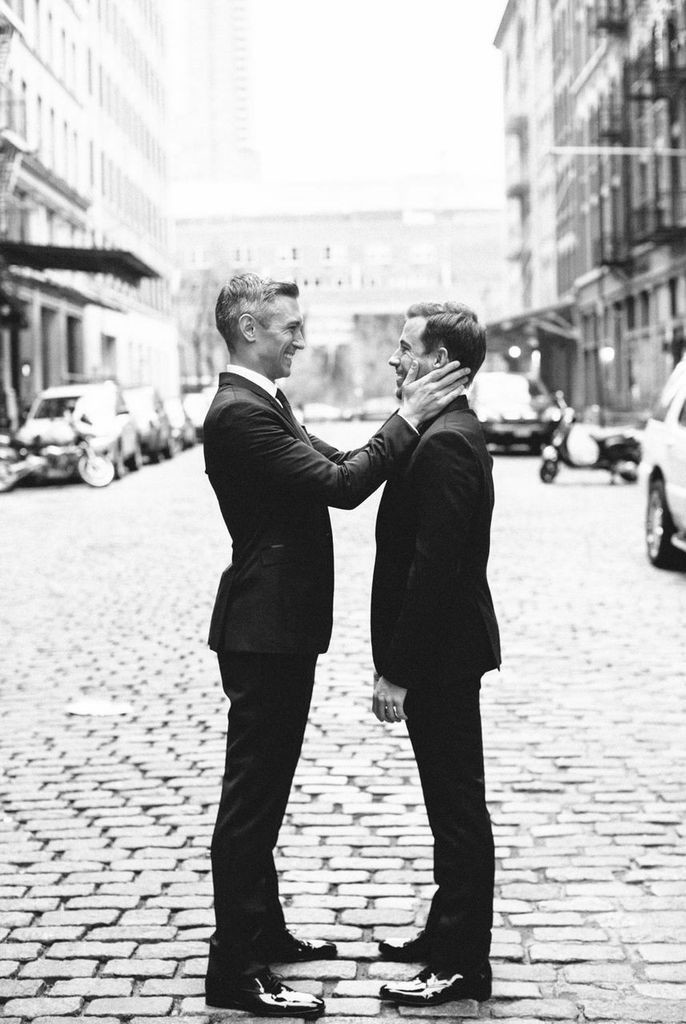 ALL OF THAT TWEED, SO MUCH OF THE LOVE, DAPPER AS FUCK.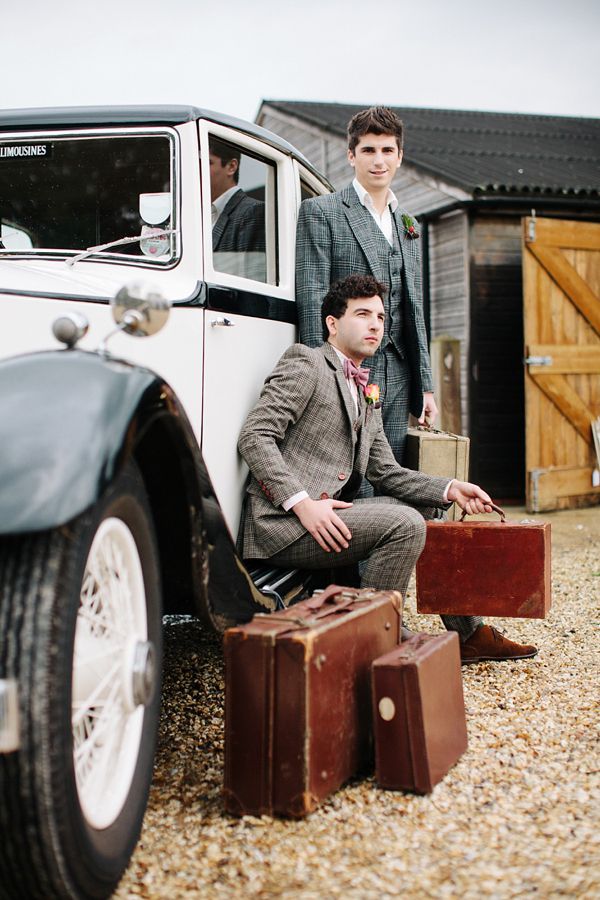 CASUAL GORGEOUS BEACH WEDDING PERFECTION RIGHT HERE.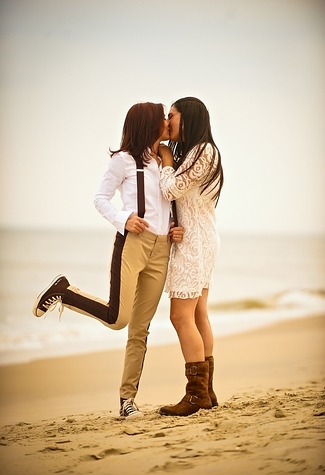 OFFICIALLY OBSESSED WITH FASCINATOR VEILS NOW, TBH.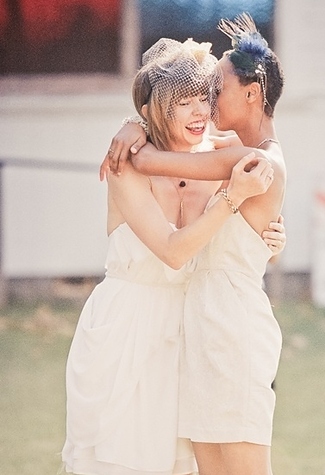 GIVE ME ALL THE DRAMA, CHESSBOARD WEDDING QUEENS.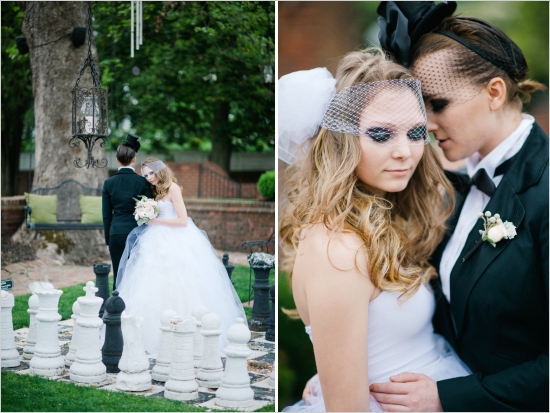 LOOK AT ALL THESE FUCKING SOURCES:
(1, 2, 3, 4, 5, 6, 7, 8, 9, 10, 11, 12, 13, 14, 15, 16)
Is It Weird That I Want To Steal Kate McKinnon's Ghostbusters Costume?
Monday, June 22nd, 2015
If you haven't already heard that there's going to be an all-female Ghostbusters remake, you're living under a rock. The movie has an amazing cast, featuring arguably the most hilarious women on the planet. Last week, some of the first images from the set were released, and I was pumped to see one of my favorite female comedians, Kate McKinnon, in full spirit-stalking regalia. But after I let the look sink in for a minute, I thought…this is actually an awesome outfit, and I want to steal it.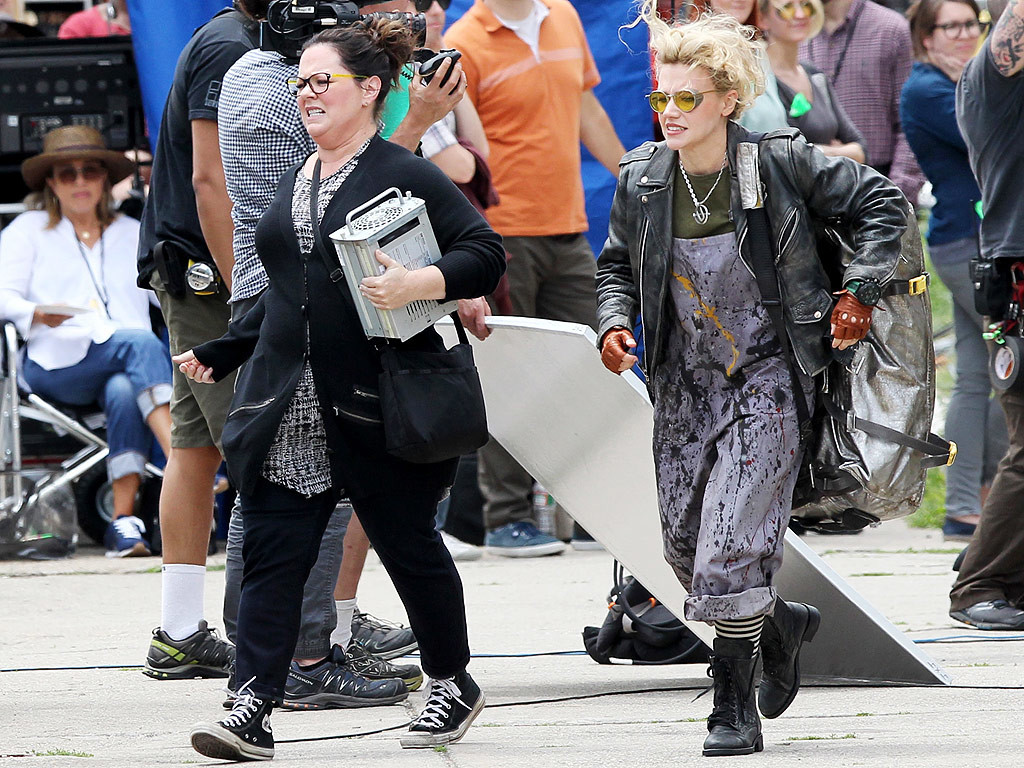 First off, that leather jacket is on point. It definitely looks like it has a backstory. I'd like to think it came from a thrift store, or that her character found it in her grandpa's attic. I recently found a similar one at Buffalo Exchange for a meer $20 by B.B. Dakota. It's not quite as worn-in as Kate's, but it's still perfectly oversized and awesome.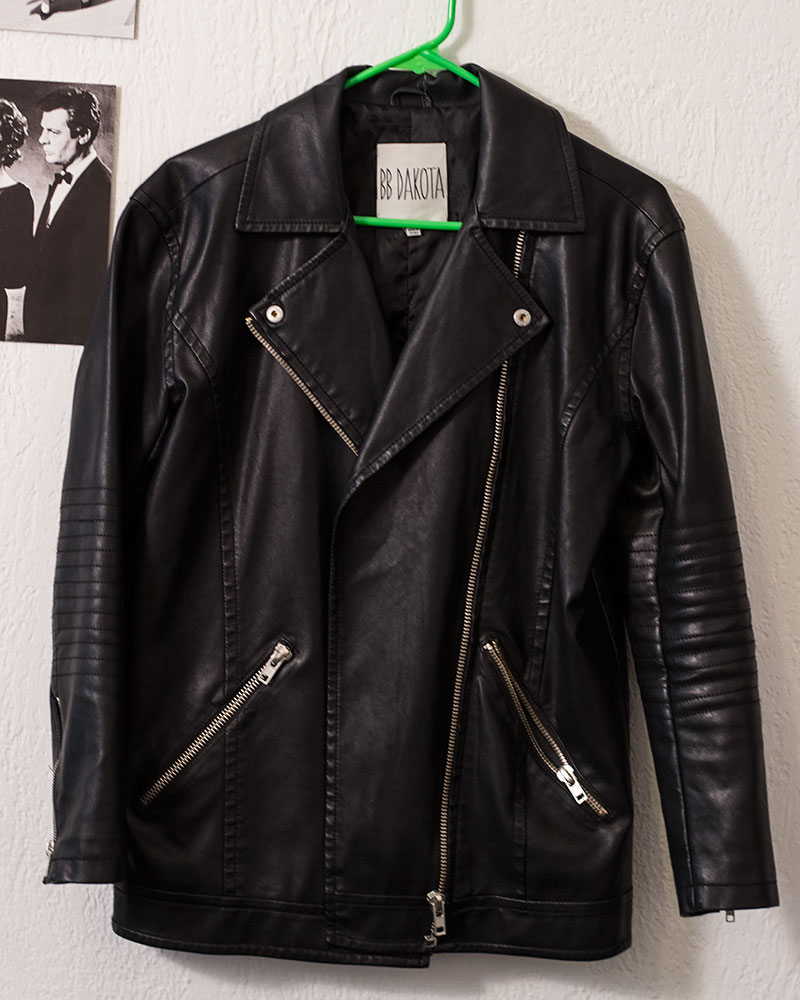 It's hard to find on-trend leather jackets at thrift stores. But if you're looking to buy one second hand, consignment stores like Crossroads Trading or Buffalo Exchange are your best bet. If you're looking for something new, try the options under $100 below. If you buy the fringy one, please send me a photo so I can live vicariously through you.
Kate's splatter-paint overalls reminded me that I've been DYING to make a cool pair of paint-covered boyfriend jeans. I've had this photo saved to my desktop for the past 4 months and haven't gotten around to actually DIY-ing something similar.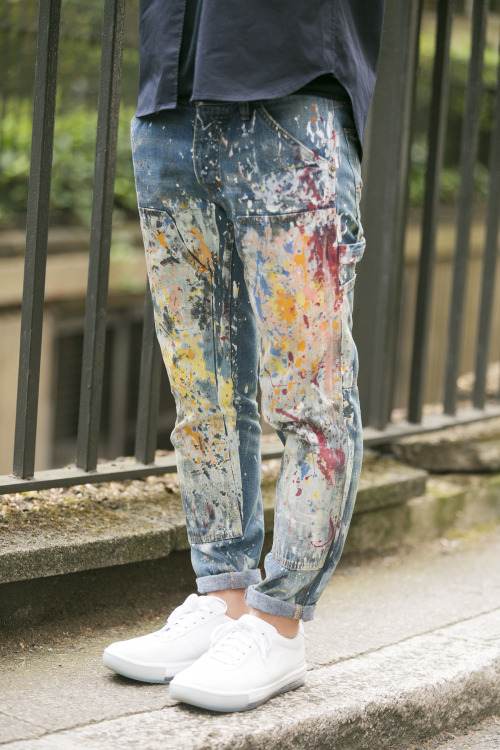 Making a pair of splatter-paint overalls is totally genius, and is more unique than the overdone boyfriend jeans trend. A lot of people are afraid to rock dungarees, so you can typically find a new pair of overalls on the clearance rack at most department stores.
I am ALL ABOUT the combat boots. Every winter, I buy a new pair of combat boots, and by April I've completely destroyed them. Since summer has finally arrived, I'm going to stock up on some cool, clearance combat boot styles while they're cheap. All of these styles are under $50 at the moment (and I just ordered the Topshop pair):
I can't say I'd wear those ghost-busting yellow goggles on a daily basis, but I'd definitely wear these yellow-tinted Janis Joplin glasses from Gasoline Glamour. If embellishment isn't your thing, any old pair of Lennon-style sunnies will do.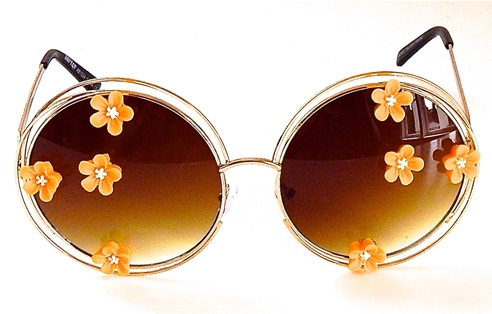 Throw all of these pieces on with a v-neck tee and you've got an epic, Ghostbusters inspired ensemble. I feel confident that this look is a big upgrade from the khaki jumpsuit.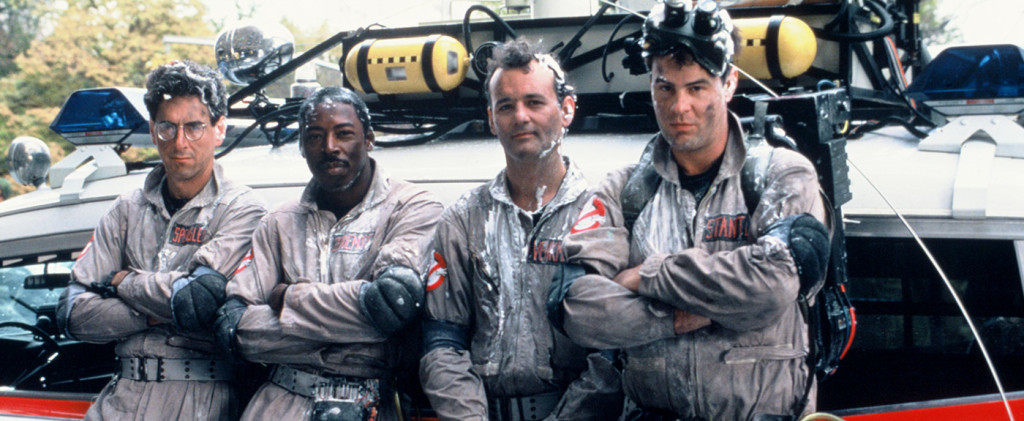 Flying Tiger US Flagship Store: Cheap, Cute, Adorable Things
Friday, May 29th, 2015
If H&M and IKEA had a baby, that baby would be Flying Tiger. A home decor and cute junk store based in Copenhagen, Flying Tiger opened it's first US store at 21st and Broadway in the Flatiron District in Manhattan, so obviously I had to stop by and check out what was hailed as "NYC's cutest and cheapest new store," by Racked NY. It lived up to the hype. 
Most of Flying Tiger's merchandise ranges from $1-$10, and it's all absolutely adorable. I had a difficult time discerning between what I wanted to buy or not, because I could have easily dropped $100.
Here's the coolest stuff I found:
I decided to wait on dishes, which range from $1 to $7 at the most expensive, since I really don't need to buy them until just before I move into my new apartment come September. I was eyeing a set of pastel blue and green geometric ones, but they'll probably be gone by moving day. Flying Tiger restocks with new designs every month. I'm sure they'll be something just as cute replacing it.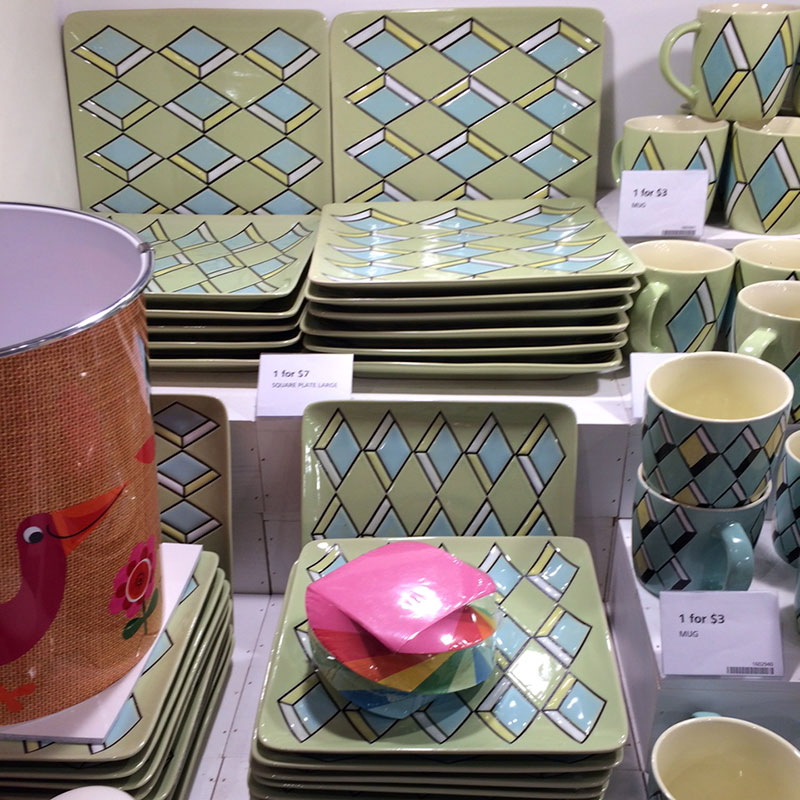 I was impressed by the low price of everything in the store, and even more awe-struck when a quick Google search didn't bring up any news stories about sweatshops or unfair labor practices. This meant I could enjoy my shopping experience without having the weight of 100 underpaid children on my conscious, which is always a good thing. Anyway, back to the fun stuff. 
I was really impressed by the prices of their large, collage picture frames. It's difficult to find frames under $20, but this big one was only $7. I passed on the frames, too, and will wait until I move. Hopefully they will stick around since they're pretty basic.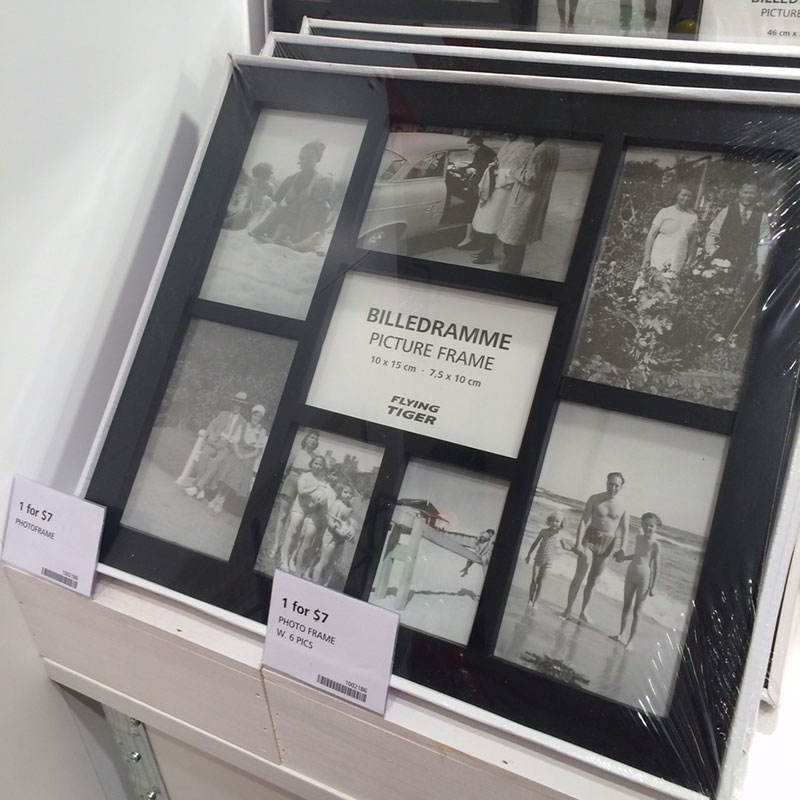 It took every ounce of willpower in my body not to buy a bunch of these geometric shadowbox shelves. Think of all the colors you could paint them! Think of all the shapes you could build on your wall! And they were only $8 a piece! I may have to go back and buy these, since their merchandise changes so often. I'm not sure I could live with myself if I revisited, only to find they're gone.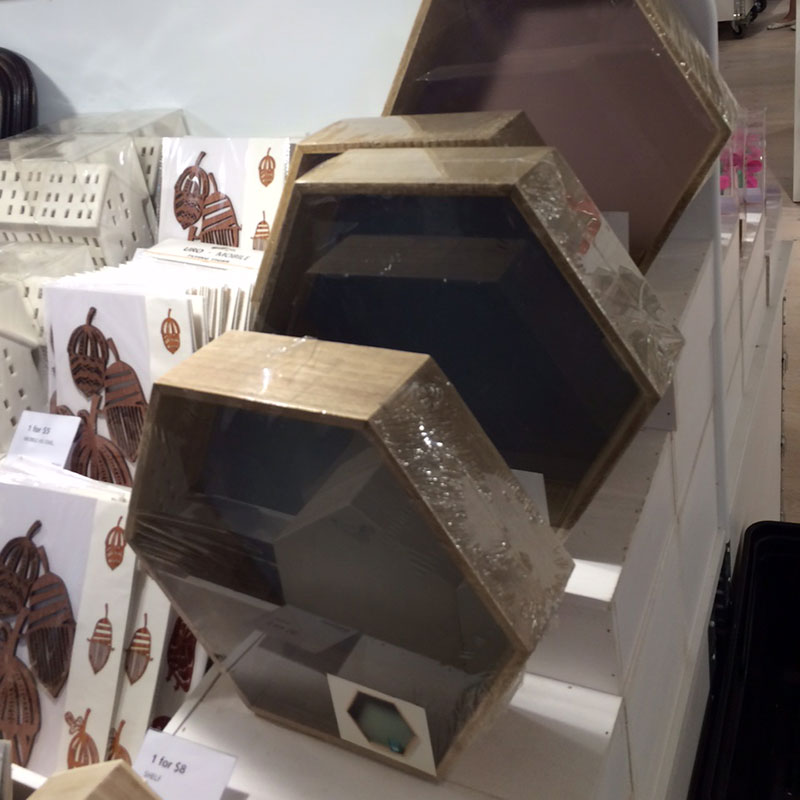 Speaking of DIY, this place is a crafter's dream. They have a wall full of candles in every color of the rainbow in the back of the store, each $1 a piece, for endless melty wine bottle candle perfection. I bought myself two sets of googly eyes at $3 a pop, one large set and one small, so I can stick them to some album art I want to hang on my walls. What's funnier than Bob Dylan with giant googly eyes? Absolutely nothing.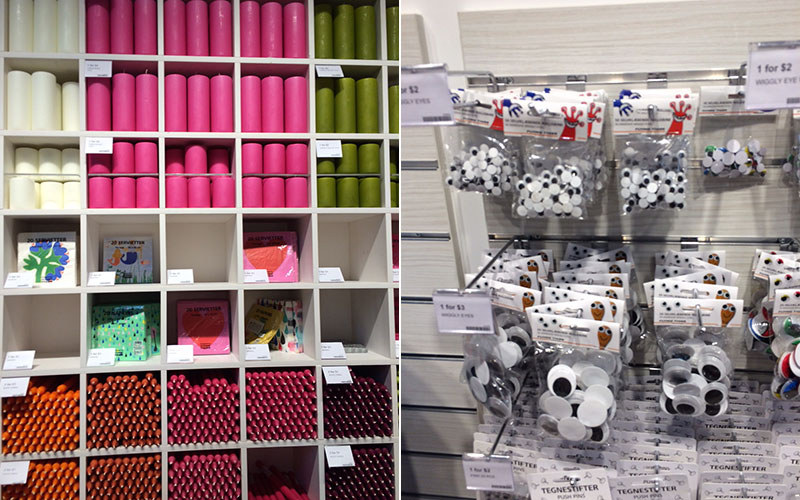 They also had a MASSIVE sketchbook for $15, for the illustratively inclined out there. Not me, but know they can be quite expensive, and $15 is a steal. Although I didn't purchase any today, I was thrilled to see that Flying Tiger had small canvas for only $4 a piece. Also, OMG TINIEST CANVAS EVER SO CUTE STAAAAHP.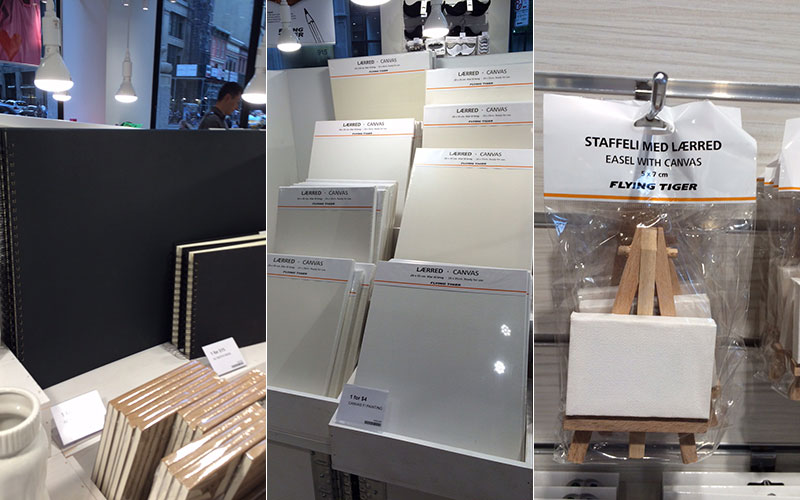 Other highlights included a toothbrush holder that looks like potted grass, plastic vases for plants that you can hang on the wall (I might have to go back tomorrow and buy those, along with the shadowboxes), and a hilarious iPad case that expresses how we all feel when we have the newest gadget in tow.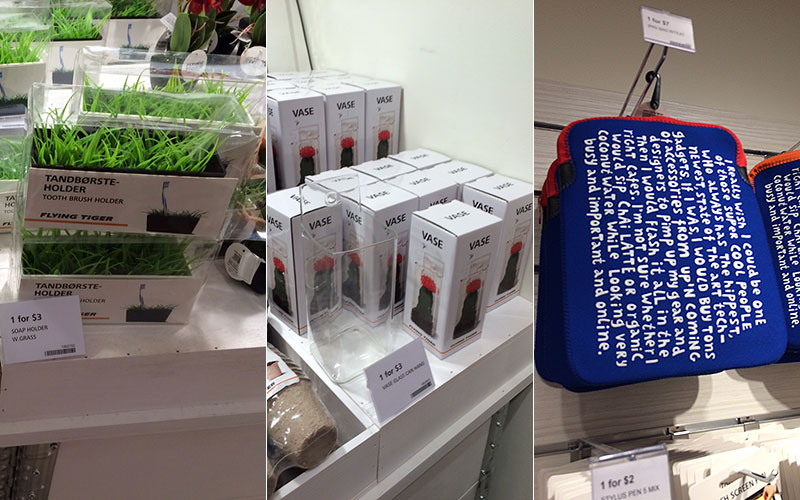 BUT MOST IMPORTANTLY, here's what I left with:
A mint green five pocket folder that cost $4, a set of strawberry string lights for $6, two sets of the aforementioned googly eyes, a phone case that looks like candy for $5, a heart-shaped chalkboard for $3, and a kitty cat sleeping mask for $3. With tax, it cost only $30. Money well spent, IMHO. Cute junk is always good to have around!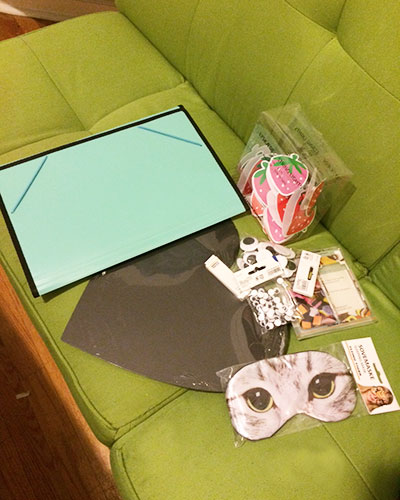 VERDICT: Flying Tiger is awesome, and if you're in NYC you should go spend your money there. I plan on giving them a whole lot of hard-earned cash in the future.
Let John Oliver Explain To You Why Fast Fashion Is Awful
Thursday, April 30th, 2015
If you're reading this blog, you probably already know that fast fashion is bad. Brands like Forever 21, H&M and Zara are known as fast fashion brands because the time it takes for looks to go from the runway to the shelves is, well, fast. The merchandise also flies off the shelves at lightening speed, explaining why that $30 faux leather moto jacket you decided to think about was gone when you went back to the store to grab it 3 days later.
These clothes fall apart, are made from materials you've never heard of, and are so sheer you can see your bellybutton through them. We've all complained about the awful quality of Gap's tissue paper tops or something similar, but there's a reason these clothes are so cheap, in every sense of the word. Fashion fashion relies heavily on over seas labor in third-world countries, where children are paid cents every day to make your Forever 21 Moschino knock-off dress.
Ever since I became more aware of just how devastating the fast fashion problem is, and stopped shopping at fast fashion stores, I've wanted to do a post on the human rights violations executed so you can buy a $5 tank top. However, I've been afraid of tackling such big subject in fear of getting information wrong. Lucky for both you and I, John Oliver ran a lengthy segment on the reprehensible nature of fast fashion on Last Week Tonight. I urge you to watch the 17 minute segment below in its entirety.
John Oliver's segment is just the tip of the iceberg when it comes to these issues. While it's certainly hard as a cheap bitch to stop shopping at these stores, there are ways you can change your consumption over time. Shopping secondhand is an easy way to avoid these companies, and doing your research before you become brand loyal to a seems-to-good-to-be-true store is something I've started doing on the regular.
How have you cut down on shopping at fast fashion retailers? Let me know in the comments.
---