Yes, I'm Rocking Socks And Sandals This Summer, And So Should You
Thursday, July 7th, 2016
I know socks and sandals are supposedly a lame-dad thing to wear, but hear me out – I'm feeling them for the summer. Now, I'm not talking about white socks and Adidas slip-ons, I'm talking about stylish sandals with cool, quirky patterned socks. Still having doubts? Then take a gander at these amazing SUSHI SOCKS with some secondhand 90's Anne Taylor Mary Jane sandals, accessorized with a leaky fire hydrant, a blinding flash and my reflective gams.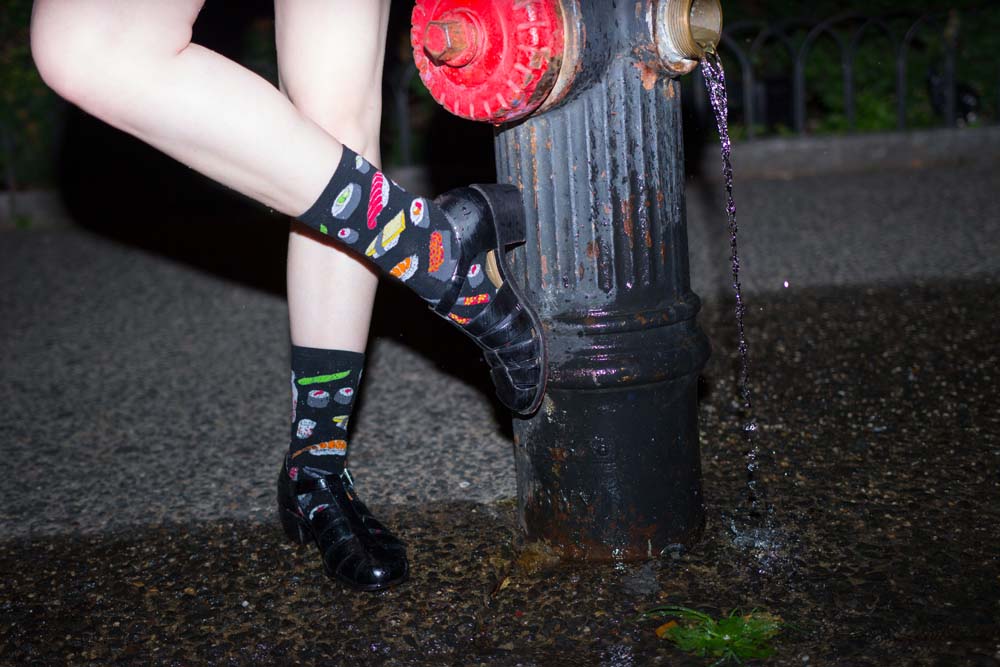 The look was inspired by Leandra Medine, as are a lot of my sartorial choices, and my co-worker Katie who occasionally wears high-heeled sandals and socks (hey, girl). When I found these sushi socks for $7.50, and I fucking love sushi…I had to give the look a go. Socks and sandals are surprisingly cool re: temperature, and I haven't had too many issues with sweaty summer feet. I wouldn't wear them on a day over 80 degrees, but they're perfect for sunny in the mid-70's days in NYC, especially with a mini-skirt and a graphic tee.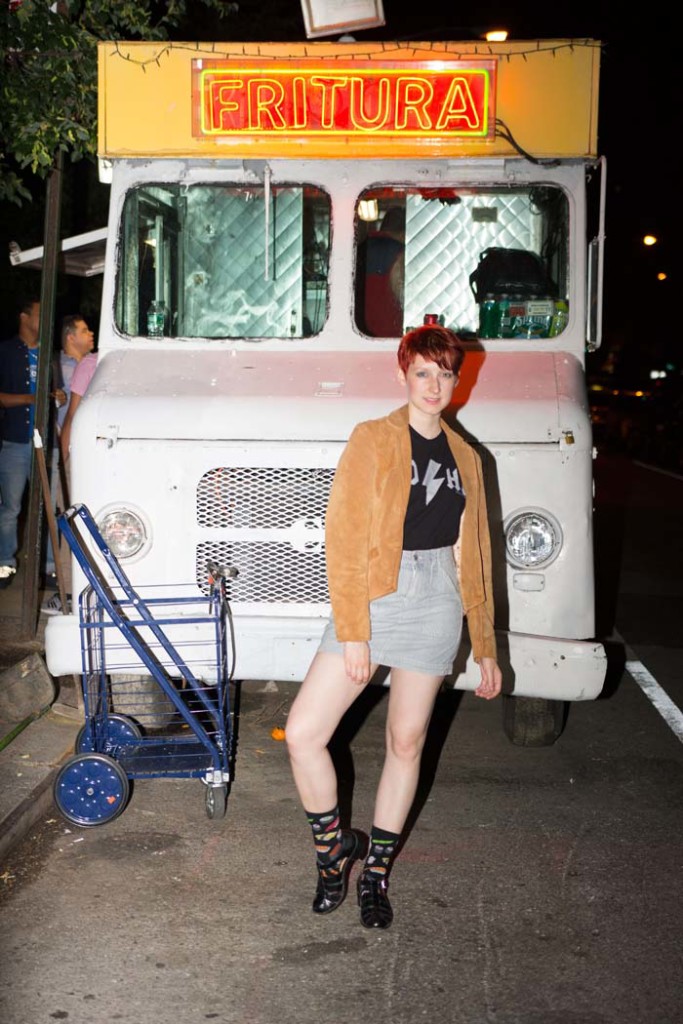 This is one of those amazing outfits where almost everything I'm wearing is secondhand. I feel like an earth crusader when that happens. The socks are new, (secondhand socks sound like a bad call), but I bought them at Crossroads Trading. The skirt is secondhand but originally from Madewell and I paid $20 for it. The t-shirt was thrifted. It was OBVIOUSLY calling my name, since it looks like the AC/DC logo but it really says AD/HD. The jacket was a gift from my step-grandmother and it's made many appearances on TCB before, back in the day. The shoes are 90s Anne Taylor.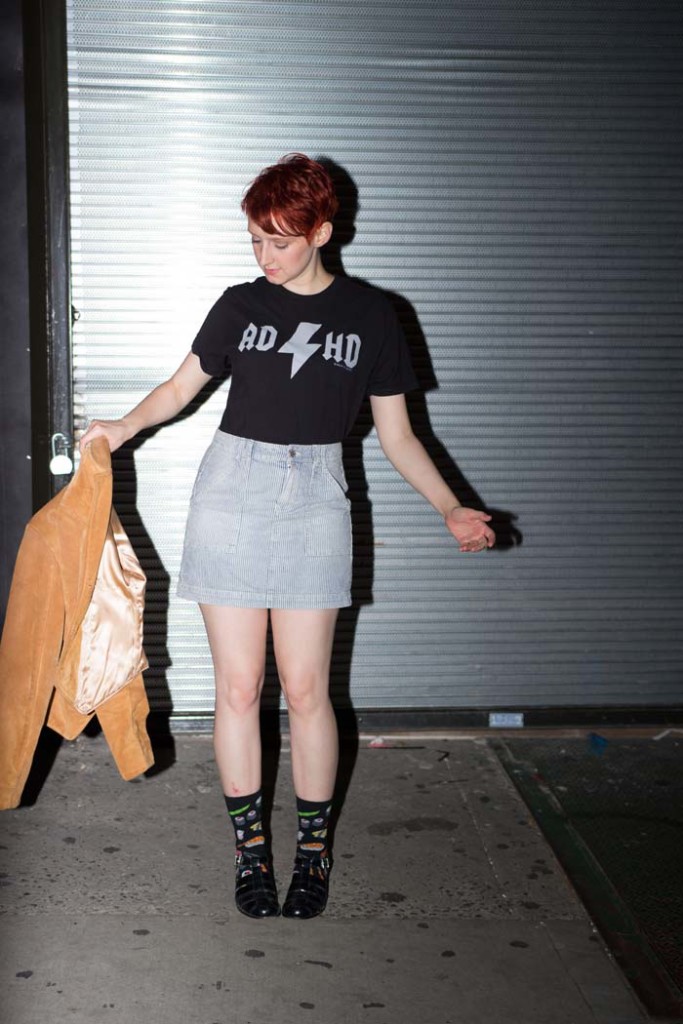 While I was out in about in Washington Heights with my roommate Kacy, taking these photos, we were causing a fucking SCENE. And by that I mean, I forced Kacy to make a scene with me for blog photos. The flash I recently bought is no joke, and it's basically a bat call for people to come over and see what's going on. A woman her 2 children were all watching me pose for the picture where I'm swinging my jacket around. And while we were taking photos in from the the food truck, this man with a dog made me take his photo:
I think his portrait turned out better than mine. DOPE.
Fresh Ink For 25 + Back To Blogging
Monday, July 4th, 2016
After an 11 month break, I figure it's time to get back to blogging. Because I miss it and I have cool secondhand clothes I want to show off. I've also acquired a camera flash as you might be able to tell from the picture below, and a new tattoo, which you can't tell from the photo below. But just be patient, that's coming up soon enough.
I got this shirt from a clothing swap at Bustle, not sure which of my coworker's it was originally but THANKS!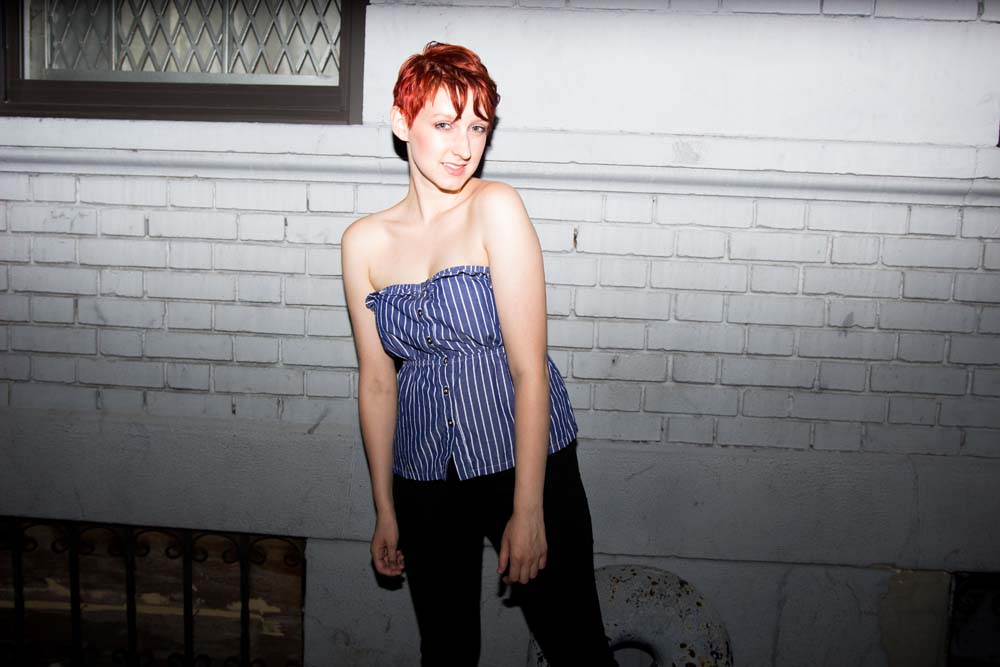 So what have I been up to for the past 11 months? A fuck ton of stuff, actually. As planned in my "reveal all my traffic secrets" video on Facebook, I spent most of my waking hours focused on my work at Bustle, where I made this funny video, and this funny video, this more serious video, and a bunch of others. I also got to make 2 short documentaries which was something I never thought I'd do, and produce 3 episodes of Season 1 of Love, Factually.
Outside of work, I made a habit of writing in a journal every day, took a butt ton of photos, and tried my hand at watercolor painting (no links to that work because I suck, but it's fun). I went to San Francisco and Washington DC, and planned trips to Los Angeles and Salt Lake City for the near future.
Oh, and I turned 25! Frankly, I'm pretty damn sure 25 is going to be the best year of my life.
My gift to myself for my 25th birthday was a new tattoo from Three Kings Tattoo in Alphabet City. Although I'm all for tattoo positivity, and a drag queen once told me "tattoos are like dreams, they only mean something to those who have them," (which I thought was genius), I like to get tattoos that represent something that will never change. That's opposed to say, a song lyric or a something I find aesthetically pleasing. My first tattoo is on my shoulder, an outline of the state of Missouri, which is where I'm from. This tattoo is of aperture blades, 9, specifically. Aperture blades live inside the lens of a camera and open and close to determine how much light is let in. It has 9 blades because I recently purchased my first big kid lens, the Sigma 18-35mm f/1.8 and it has 9 blades.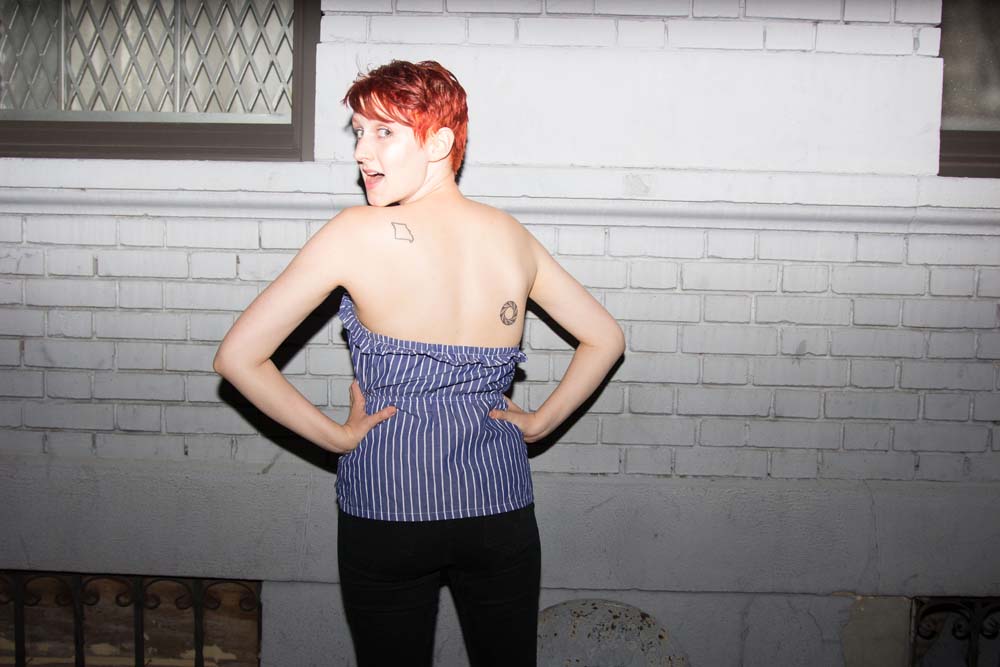 Here's a closer look from my Instagram. 
A more metaphorical take on my tattoo, other than the literal "I make videos and take photos with a camera" angle, is that the aperture blades inside your camera determine depth of field. When your depth of field is very shallow, you get photos like this one, where only the subject is in focus. Even though having a shallow depth of field can make pictures look pretty and cinematic, it can be more difficult to take photos because you risk focusing on the wrong subject if you're inexperienced or aren't paying close attention. I've struggled with ADHD and an anxiety disorder for pretty much my whole life, and focus, whether it be the lack thereof provided by ADHD or the extreme, sometimes problematic hyper-focus caused by anxiety, has been a constant for me. It can be really great sometimes! I think my ADHD makes me creative, and my anxiety, when it's manageable, motivates me to make imaginative work (like this blog) rather than sitting down and watching Netflix or something. But it also makes life difficult when my anxiety is at its peak, and I'm focused on what I fucked up at work, or obsessing over something I said that could be misconstrued, or even worse, when it's hard for me to see the good in other people because I'm only able to focus on their imperfections. Something I learned at 24 is that when you're really hard on yourself, it's really easy to be just as hard on other people. And that shit is toxic for yourself and those around you. When your "depth of field" (see what I did there?) is shallow, and you're hyper-focused, you can't see the full picture. In the past year I've figured out that a combination of self-care and compassion makes it easier to see the beauty in everything and everyone. And it makes it a lot easier to fall asleep when you're worried about some random shit everyone is going to forget about tomorrow.
So, now that emotional stuff is over, let's get back to FASHUN BLOG TALK.
That Cheap Bitch will be a little different going forward than it was before. I used to focus a lot on articles that provided a service (how to remove Manic Panic, what to do when you burn your scalp with bleach) and aggregated content for traffic via Pinterest (colorful pixie cuts and DIY projects). Those two types of articles combined, SEO traffic and Pinterest traffic, really expanded my audience. But now that I'm putting more steam into my photography and videography efforts vs. fighting for clicks, That Cheap Bitch of 2016 will be more of a personal blog. It will still be about my thrift store finds, what I'm selling to Buffalo Exchange this month, and news on the hair-dye experiment front. But where as I used to use this blog as a tool to push my career and skillset as a creator further, now it's more for the hell of it. I also won't be posting quite as frequently as I did back in 2015.
So for those of you who've been around, I hope you stick around. Thanks, as always, for clicking and reading. This should be fun!
Flares Are Cool Again, But NOT In The Way You're Thinking
Sunday, August 23rd, 2015
Have you heard that flares are going to be super trendy this fall? If you haven't, go check out a Forever 21 or H&M storefront window. They're everywhere.
If you grew up in the early aughts, when you think of flared jeans, you think tacky. You think of a Delia's catalogue (fun fact, I worked at Delia's for one holiday season). You think of low-rise jeans that gave everyone a muffin top. You think of Britney Spears in the Slave 4 U music video wearing a $5 Rue 21 thong over a pair of metallic bell bottoms. Well, as a big fan of the coming flared jeans trend, I am here to tell you that your school of flared jean thought is just plain WRONG. 
First off, let's think about some fall trend context clues. What else is showing up in every store window? Suede everything, button-up girly chiffon blouses with pussybows, oversized collars, and fringe on everything. What era do these trends allude to?
The 70s!!! Not the aughts!!!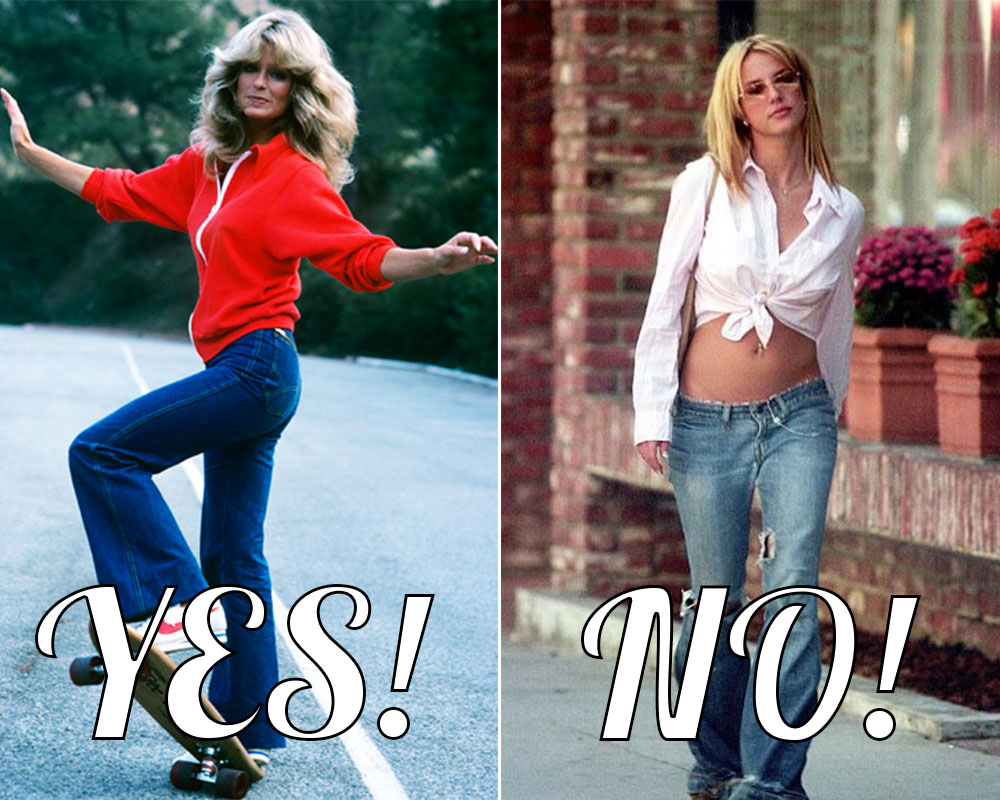 If the idea of wearing bell bottoms that look like they jumped out of a 2001 Abercrombie and Fitch catalogue scares you, the solution is simple. Stick with high waisted, non-destroyed denim. I found this pair at Urban Outfitters last week, and I'm looking forward to styling them in countless different ways. Here's a few looks I've been able to get away with at the end of summer, along with some styling tips.
Here I am casually hanging out in front of some apartment buildings and recycling bins wearing an Urban Outfitters fitted crop top (it's on sale for $19 bucks right now guys, click that link if you want it), my high-waisted super-70s flares, a quarter-length sleeve black blazer that was found in the storage locker of the TV production company I used to work for, black mules from Aldo, and bangles and necklaces I stole from my girlfriend.
I wasn't a fan of the crop top trend when it first came on the scene, but now that I wear exclusively high-waisted jeans, I'm into it. I like showing just a little bit of skin, and lucky for me my office is more than down with the crop top. One of the many benefits of working at a body positive feminist publication.
I'm also OBSESSED with this blazer, shout out to my friend and once boss Christine who gave it to me for freeeeeee. I've always had issues finding blazers that I like, but once I put this quarter-length sleeve version on, it was like, DUUUUH why did I never think of this style as an option before? Quarter-length sleeve blazers look a little bit less masculine than a full sleeve, if like me, girly takes on menswear are your jam.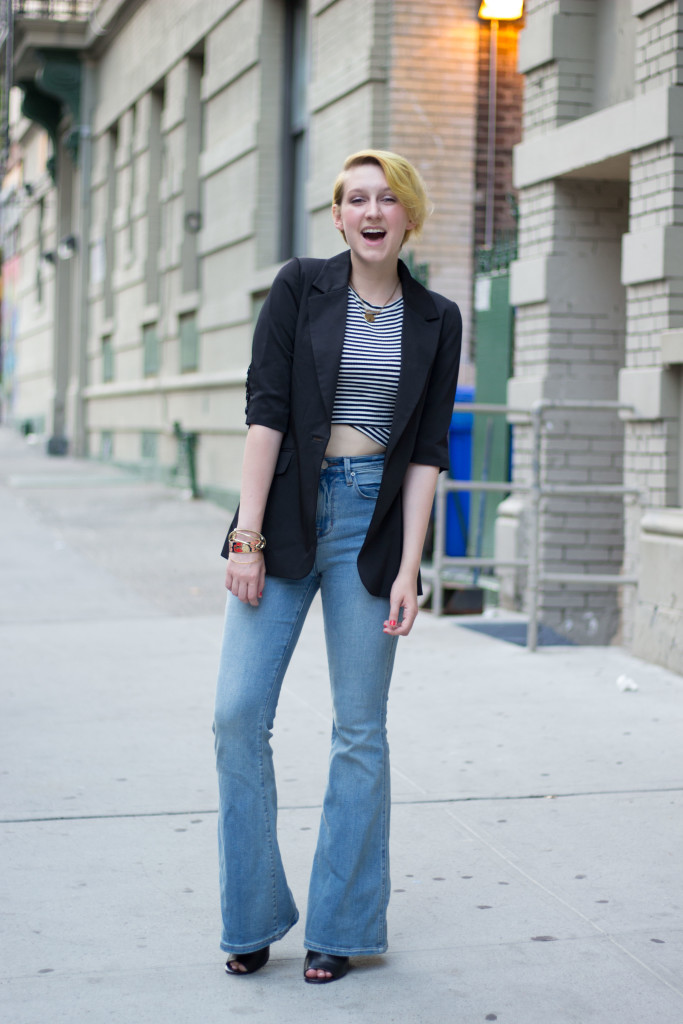 Style tip: wear bangles as often as you can. I searched for a cool set of bangles for quite awhile, inspired by Leandra Medine of The Man Repeller like every other fashion blogger on this planet, and never found a reasonably priced pair I liked. So when I found these collecting dust in my girlfriend's dresser, I decided to call them my own. They've become a staple of my wardrobe in the past couple of months. I want to get a big clunky gold watch in Chinatown to pair with these babies, and scour some thrift stores for $1 additions to my collection.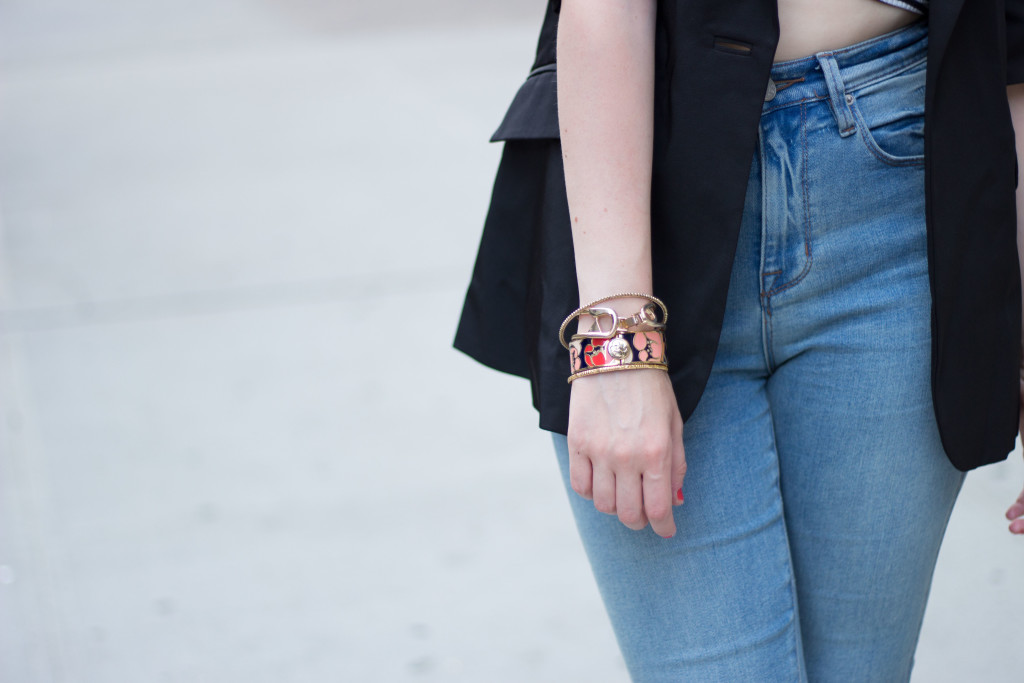 I'm also wearing my girlfriend's necklaces, because I've yet to find dainty gold jewelry that I like to stack for a reasonable price. Instead I occasionally don her initials and a necklace I bought her for Christmas with the day after our anniversary engraved on it in Roman numerals. When I got her the necklace I thought it was our actual anniversary date, but an evening spent reading my old tweets made me realize our anniversary is actually the 29th of July, not the 30th, because on the cab ride home from our date, I tweeted about a weird commercial featuring donuts being fried to elevator music. Whoops.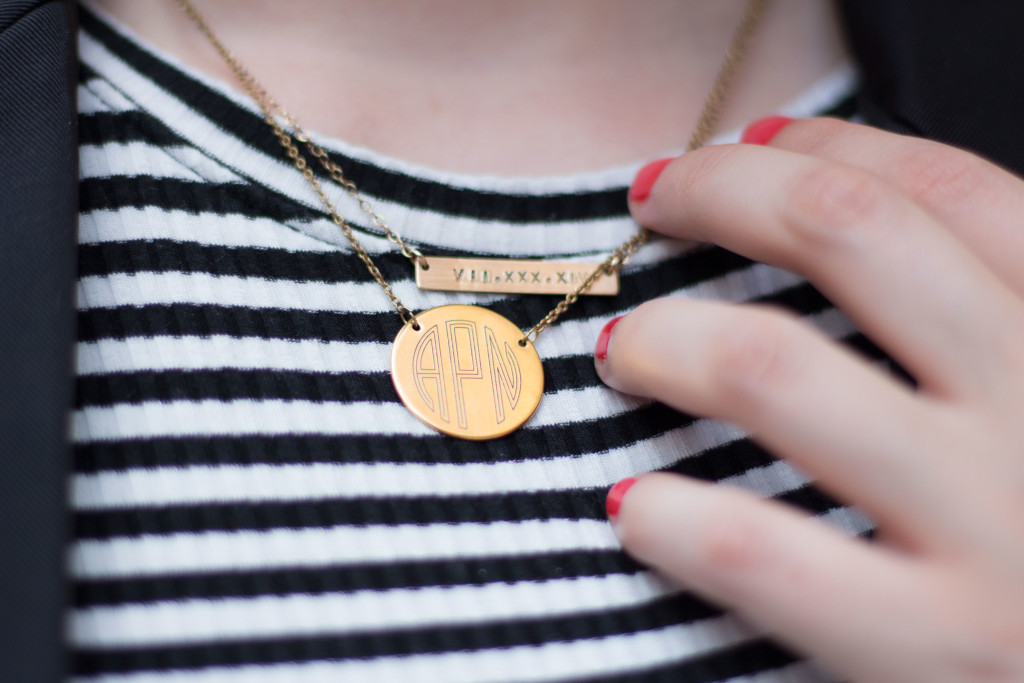 If the previous outfit says "I am stylish and fun but I also mean bizness," than this outfit says "I am stylish and fun and I also, I am hungry." Or something like that. ¯\_(ツ)_/¯. Idk. Blouse from Pixie Market, UO flares again, bangles, and leopard print stiletto mules from Chinese Laundry. I thrifted them for $19, but if you really love them, you can buy the same pair here.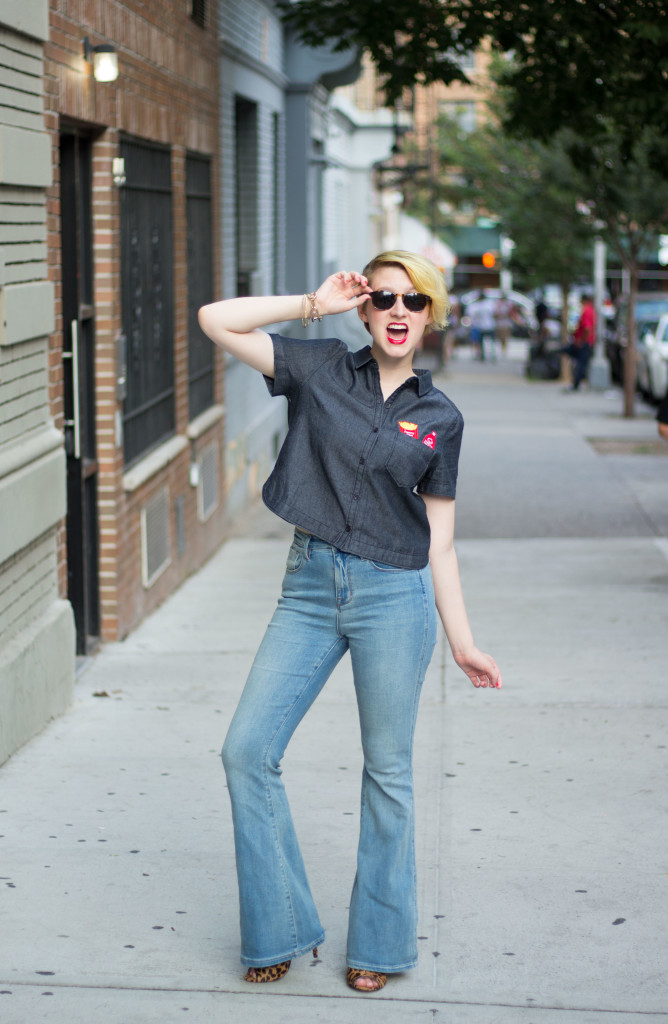 I very rarely buy anything full price, but when I saw this cropped, chambray, french fry and ketchup patched button-up from Pixie Market, I bought it on the spot. I didn't even do that thing where you stare at the items in your shopping cart for awhile and hold your credit card like "UGH do I really want to spend this money?" and almost put your card back in your wallet.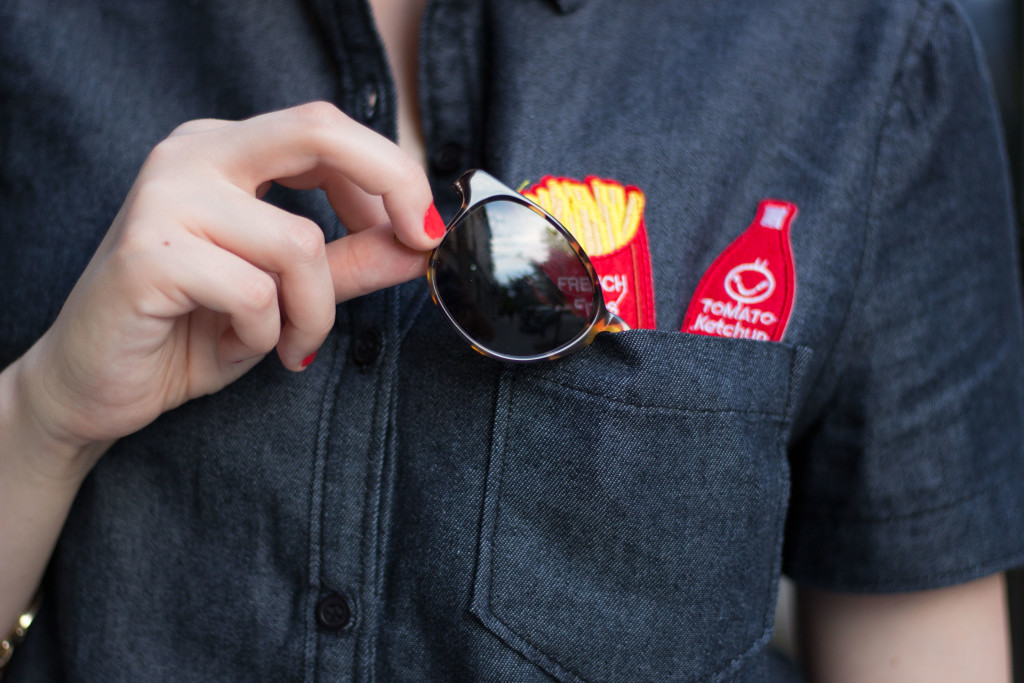 The sunglasses are Warby Parker and also belong to my girlfriend. Even though they are brand new and I have a habit of breaking sunglasses, she was so kind as to let me wear them for these photos. However I will not be borrowing them for reasons previously stated. BUT LOOK AT THOSE AWESOME PATCHES, AMIRITE?! $45 well spent.
Bottom line: flares are cool. I'm wearing mine as a write this post, plan on wearing them to work tomorrow, and were worth every penny of the $65 price tag. I can't wait to wear them with my heeled combat boots and leather jacket in the fall.
Feminist Apparel: T-Shirts For Your Inner Riot Grrrl
Friday, August 7th, 2015
I am a sucker for cool white graphic t-shirts. I have an estimated ONE MILLION OF THEM.
…or at least it feels like I do. The real number is closer to 8 or 9. But still! That's a whole lot of white t-shirts. And when I saw this "Angry Liberal Feminist Killjoy" t-shirt from Feminist Apparel, I had to add it to my collection. Not only is the jewel-tone floral design super classy, but it also gives off girl power vibes in a powerful and hilarious way. It's everything I've ever dreamed off in a piece of clothing.
At $30 a pop, it wasn't the cheapest tee I've purchased. But the price tag was totally worth it, if only for this amazing picture my dear friend Carly took of me on my roof. Can you make out the Empire State Building in the background? Am I pointing it out only to draw your attention away from my yellow-tinged, electric banana scalp?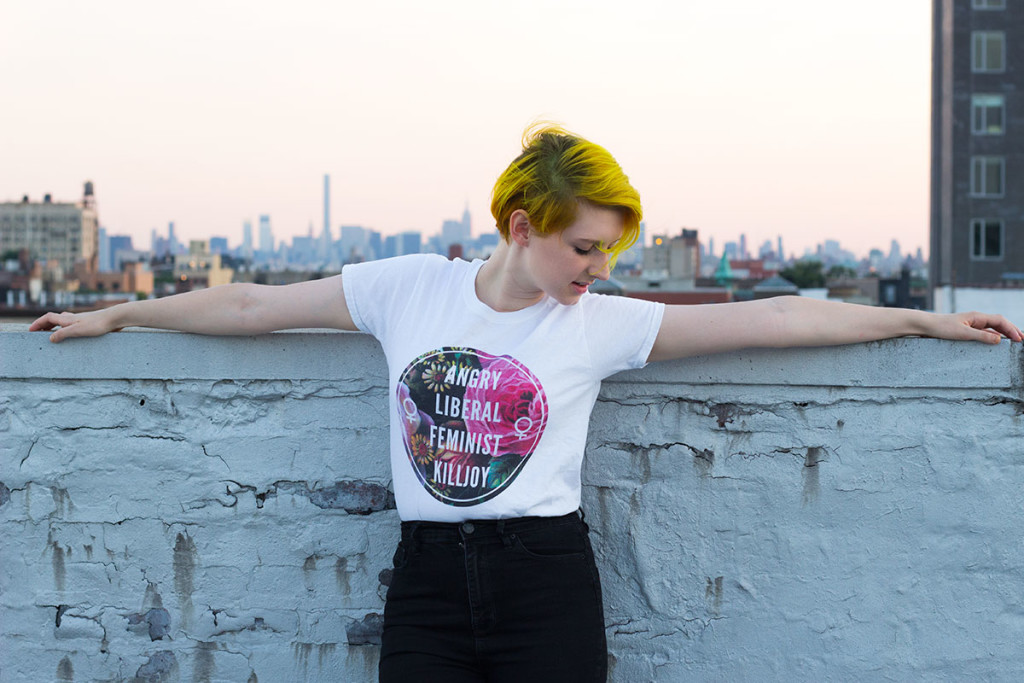 Feminist Apparel believes "the negative connotations of feminism are unwarranted, misinformed, and stem from a present and mainstream culture of dominance; one that does a disservice to women, men, and all of humanity." They're a non-profit, so instead of buying a $10 "GIRL POWER" t-shirt from Forever 21 and living with that sweatshop manufactured guilt on your shoulders, sleep well at night in these tees.
Each design is sourced from submissions (you can even submit your own design) and sizes range from XS to 3XL, for feminists of all shapes and sizes.
Here's a few other designs I love from Feminist Apparel: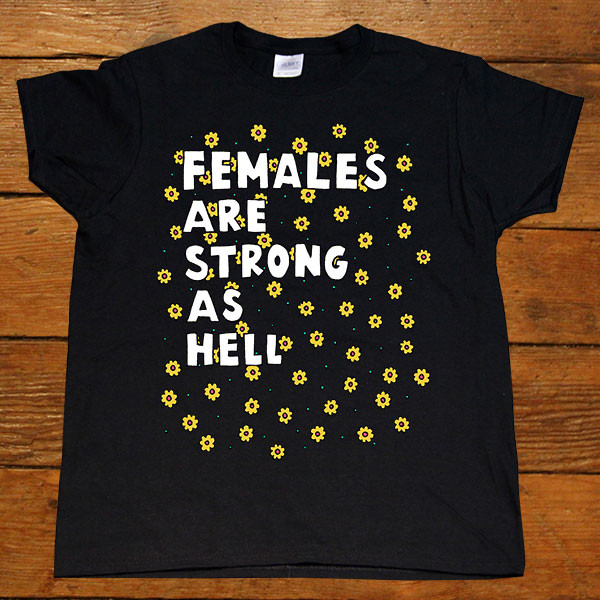 I can get down with a good Unbreakable Kimmy Schmidt reference and a feminist t-shirt. Females Are Strong As Hell T-Shirt, $29.95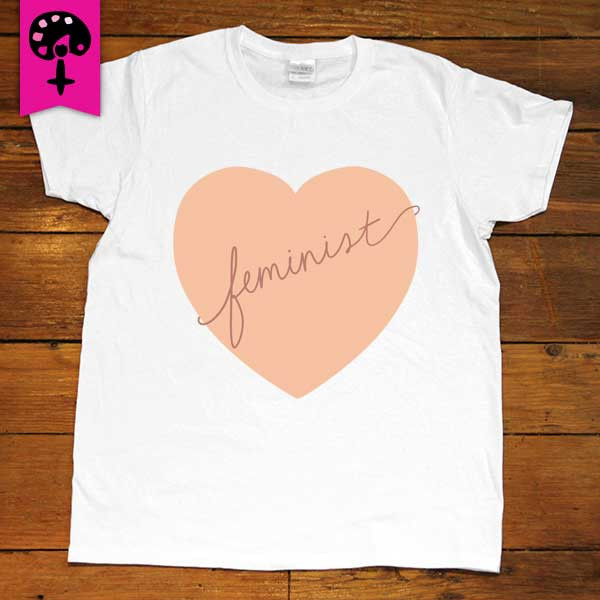 So simple but super cute. Feminist Heart T-Shirt, $29.95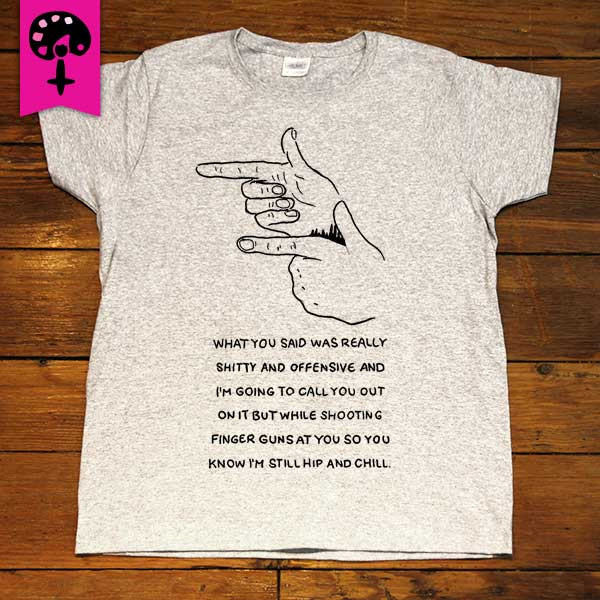 If you're going to wave male privilege finger at someone, do it with a finger guns instead.  Feminist Finger Guns T-Shirt, $29.95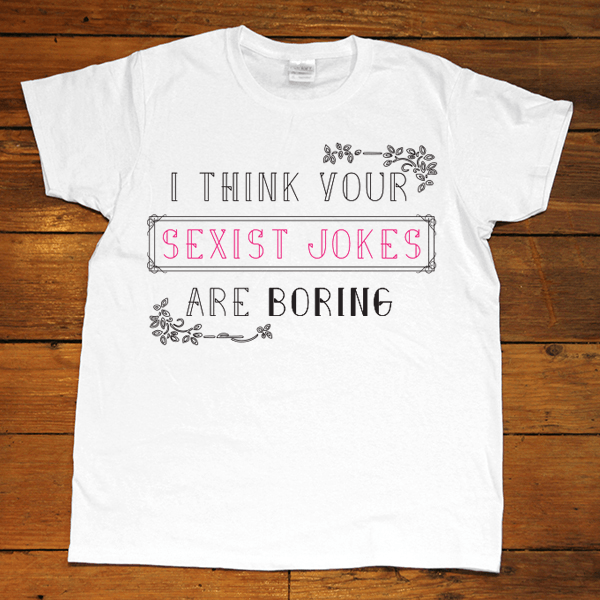 **ZZZZZZ emoji** @ your blonde jokes. I Think Your Sexist Jokes Are Boring T-Shirt, $29.95
And just for the hell of it, here's another glamorous roof picture courtesy of Carly.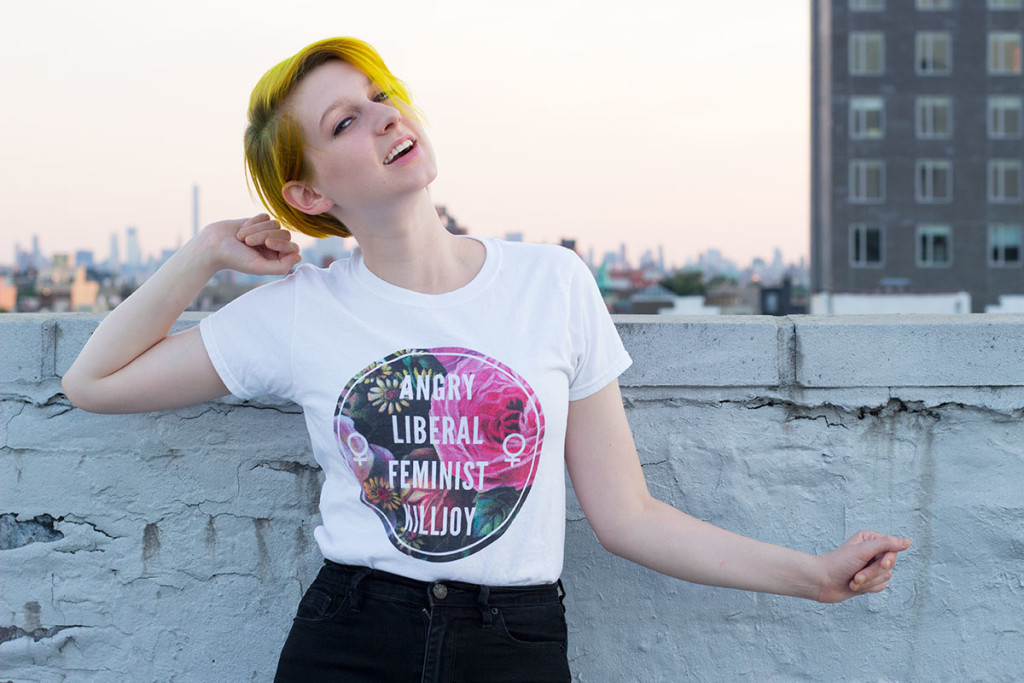 Mermaid Hair Is Over, Make Way For Sunflower Hair
Sunday, August 2nd, 2015
Back in May, I decided to go back to red after rocking a platinum/pastel pixie cut for about a year. I have been in mourning ever since. I will never stop talking about how much I miss the ability to dye my hair any color of the rainbow whenever I want. If you're sick of hearing me talk/write about it, TOO BAD. Go find another hip lesbian with a blog.
Even though I don't have virgin snow colored hair anymore, I still like to layer warm-hued Manic Panic colors over my strawberry blonde base. I've experimented with pink, orange, and peach, but I think I've found my new favorite color. It's called Electric Banana, and it makes me feel like a human-sized, talking sunflower. Move over, mermaid hair trend…sunflower hair is about to become a thing.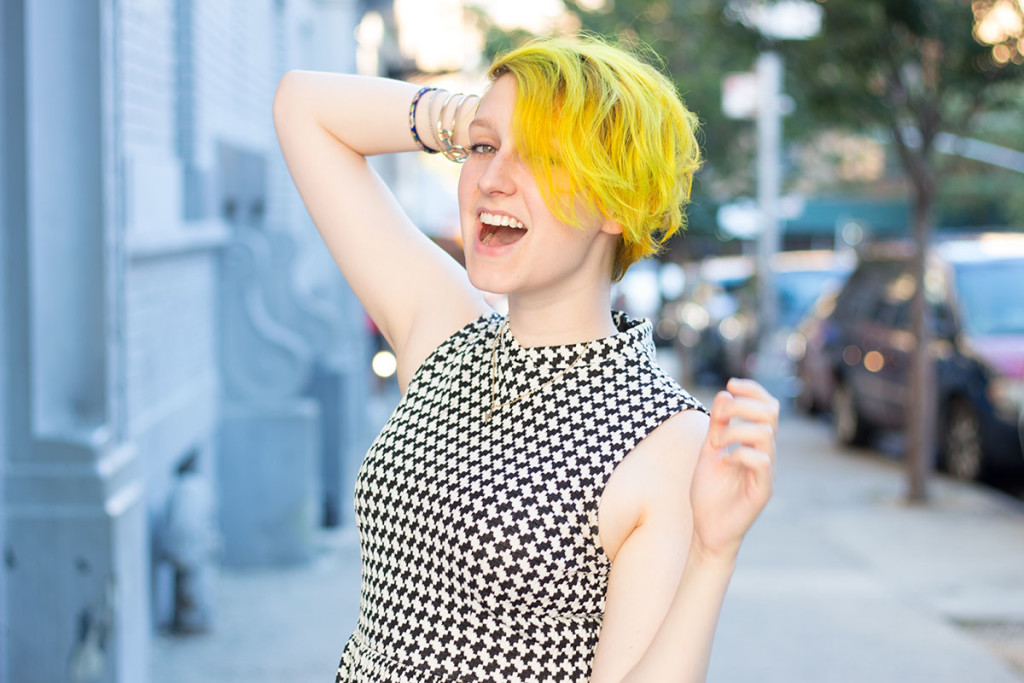 Why do I love my yellow hair so much? Let me count the ways…
1.  I've yet to see anyone else with yellow hair. Which is kind of surprising, considering how trendy rainbow hair is these days. I like the feeling that I'm going against the grain but still on trend with this shade.
2. It's ultra-summery. A darker red will be fun for fall, but for hot-as-balls August days, this sunny shade is perfect.
3. It's low maintenance. This color lasts surprisingly long, and fades evenly to a more natural gold hue. Even though my roots are pretty long right now, they don't looks awkward with this color.
4. It glows under black lights. I'm not under black lights on a regular basis, but today I happened to be and it looks really f**king cool.
5. It doesn't clash with my wardrobe. This color goes with everything. When I had blue hair there were a few pieces in my closet I couldn't wear, but I've yet to have that problem with yellow.
What do you think of my cartoon-yellow hair? Let me know in the comments. 
---