You're Doing It Wrong: How To Use A Clay Mask
Monday, May 18th, 2015
Clay masks are a classic skin care staple. When I was a kid, I thought clay masks were the height of glamour, and that only fancy ladies in movies and stock photos used them. I remember being super excited the first time my mom bought a bottle of clay mask from the drug store, and we even bought a cucumber to slice and put on our eyes for ultimate fanciness. So when I found Freeman face masks on sale for $3 a piece, obviously I had to buy four of them. For research. For nostalgia. For glamour. Because I make impulsive decisions.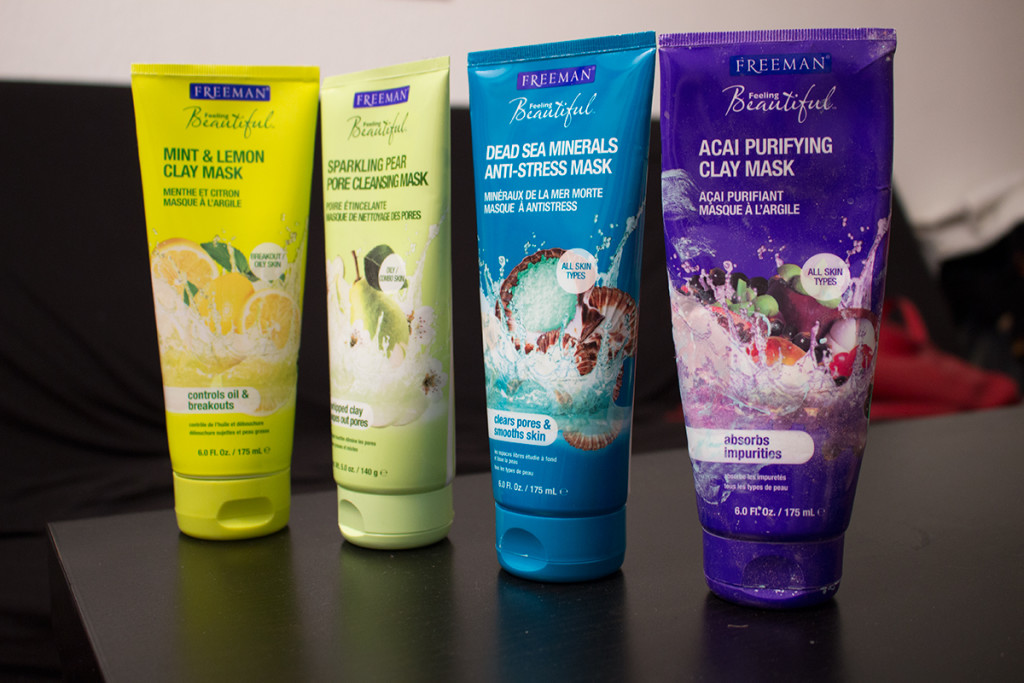 I bought a mint and lemon clay mask that controls oil, a sparkling pear pore cleansing mask, an anti-stress dead sea minerals mask, and a acai berry purifying mask. 
While I was trying out the sparkling pear mask, I noticed something on the back of the bottle. The directions said to let the mask dry for 5 to 10 minutes. However, after 10 minutes, the mask hadn't completely dried.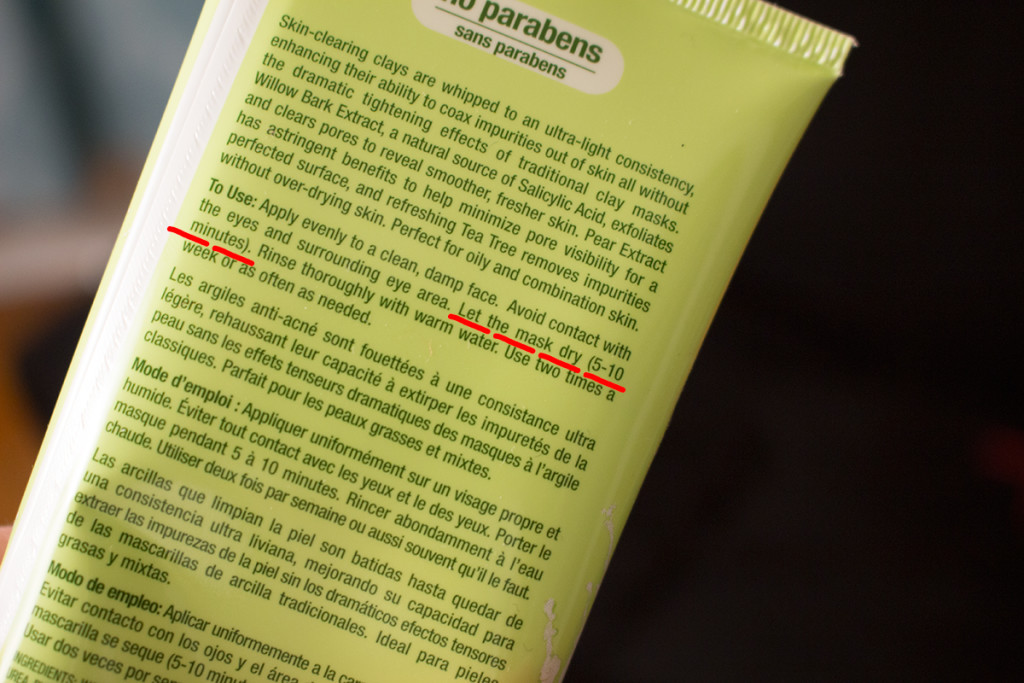 I was under the impression that the whole point of a clay mask was to let it dry out, then wash off all of the dead skin and dirt clogged all up in your pores. But the clay mask took at least 20 minutes to dry out, and maybe that was because I caked that sh** on until you could not see a single pore…but seriously, was everything I ever believed to be true about clay masks a lie?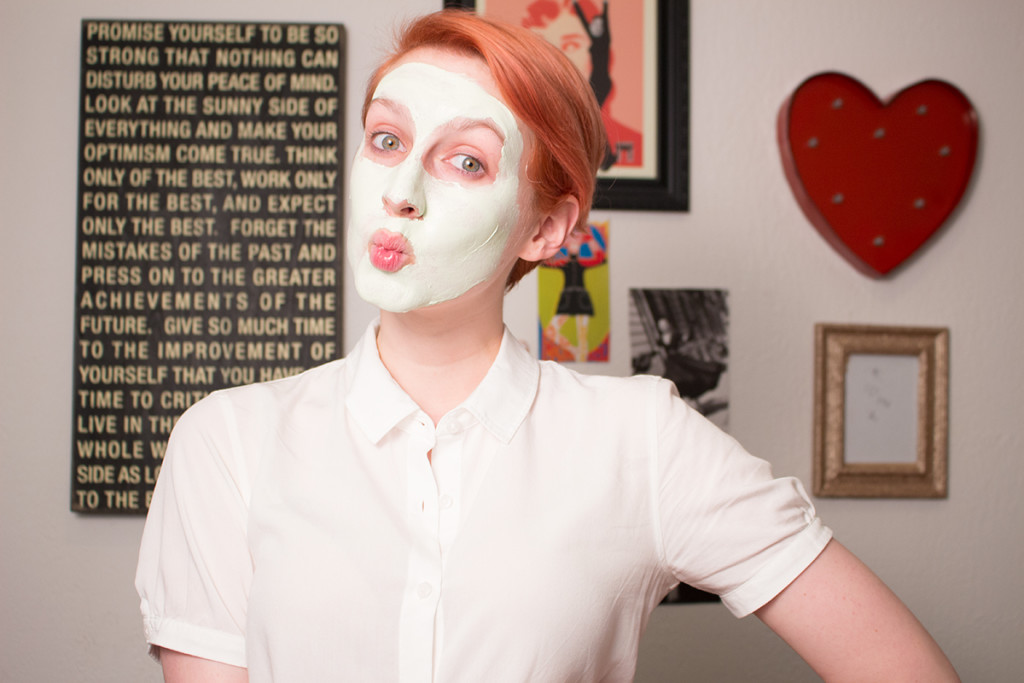 As it turns out, which I now know thanks to this Allure article, you aren't supposed to let a clay mask dry completely on your face. In fact, when you let a clay mask dry all the way, you could have potentially negative side effects. The "wet" phase of a face mask is when your skin soaks up all the good stuff (like sparkling pear, I guess). Then when it starts to dry, the mask "stimulates blood flow" as it gets tighter on your skin. But if you let it get too dry, it starts sucking up natural oils, and that's bad news. Nobody wants a flaky face.
A few more tips for using a clay mask:
This should be obvious, but wash your face before you use a clay mask. It's not a face wash, and you don't want to end up sealing in nasty sh** from your makeup with a mask. Exfoliating is also a good thing to do before using a mask. When you're done with your mask, make sure to moisturize and replenish any natural oils that have been soaked up by the clay.  You also probably don't need to use quite as much mask as I did. You only need a thin layer to utilize the mask's purifying qualities. But it is a lot less fun to use only a little, fyi.
---
How A Real Life Girl (Me) Stopped Shopping At Fast Fashion Stores
Sunday, May 17th, 2015
When you think about inexpensive fashion, the first stores you might think of are Forever 21, or Zara, if you're really fancy. If you don't, you're living under a rock. But you might also remember how fast fashion is totally f**ked up, and while people think unfair fast fashion labor is only overseas, it's alive and well in the U.S. of A., too, i.e. undocumented hours from workers who don't know their employee rights, facilities infested with cockroaches, etc.. But somehow, it's still easy to run up to the register with $10 dollar dresses and $3 jewelry. I've certainly been the culprit of such actions, so no judgment in these parts of the Internet. Forever 21 anonymous, here, and I've been fast-fashion free for 9 months…maybe more.
There's a lot to wrap your head around when it comes to the consequences of fast fashion. It's bad for laborers overseas, it's bad for the environment (if we don't change our fashion manufacturing ways, demand for water will exceed supply by 40%in 2030), it's bad for undocumented people in the U.S. and documented citizens…it's honesty just bad news all around. As a result, it's hard to know where to shop that doesn't screw everyone who's ever handled those garments over. It's also hard for those who don't make a ton of money, and don't want to spend their hard earned cash on expensive clothes. A.k.a. EVERY SINGLE PERSON IN THE UNITED STATES, pretty much ever.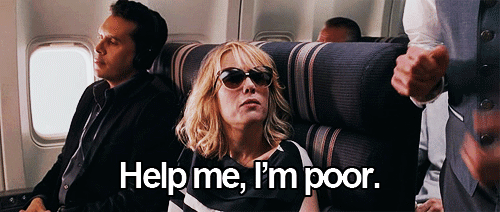 As a 23-year-old woman living in one of the most expensive cities in the world, I will swear on the holy bible that I've felt the difficulties that come with looking good on a tight budget. Call me selfish, but I believe looking fabulous is a right and not a privilege. That being said, I've completely changed my shopping habits over the past year, and built a 100% unique wardrobe from clothes I feel ethically confident in. Want to know how I did it? Lucky for you, I'm going to tell you how in only three simple steps. 
Shop secondhand.
Shopping at thrift stores and consignment stores is the most simple way to stop shopping at fast fashion stores. Consignment stores are the easiest solution to buying brand new items, because they're choosy about on-trend merchandise. Think about how often you buy the coolest new item at Forever 21, and then it ends up gathering dust in your closet. Some people sell those items to consignment stores! And then, instead of spending $50 on that green leather vest, you've spent $13 instead. It's a win for ethical fashion, and a win for your wallet.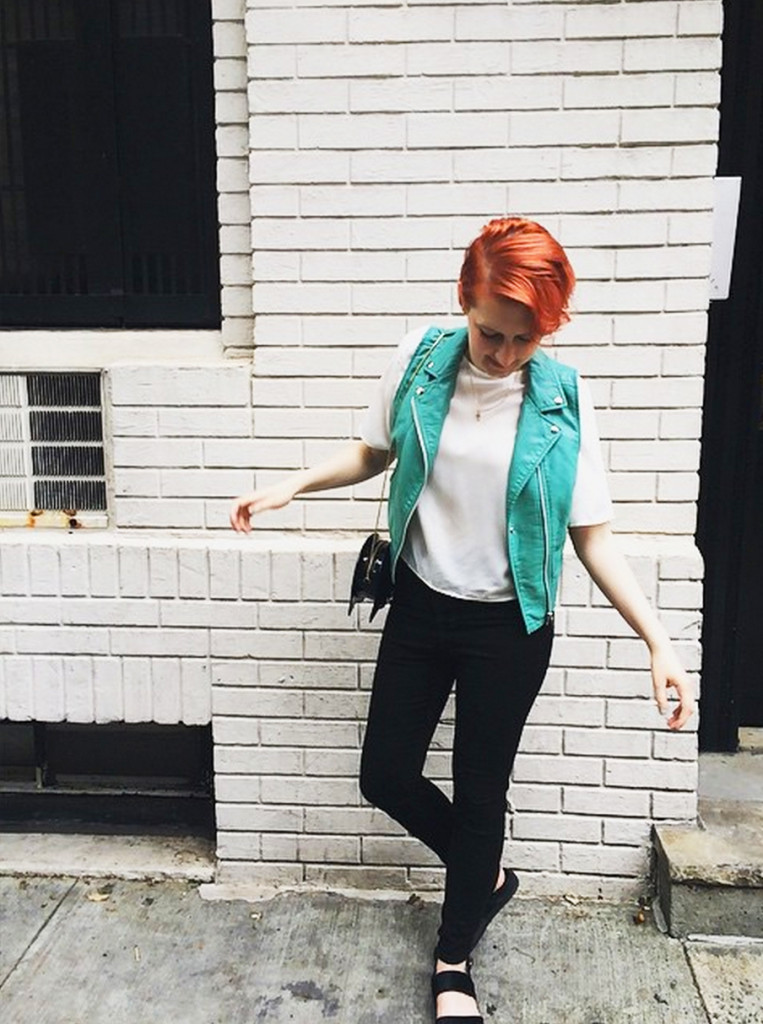 I feel less guilty buying potentially poorly manufactured items from thrift and consignment stores, knowing that I'm not directly giving my money to those corporations. Buying new items, even if they aren't produced in sweat shops, continues a cycle of toxic chemicals entering our water supply. By buying clothes from thrift stores, you can feel good knowing you haven't hurt the environment or forced a child into labor with your purchase.
There's a whole bunch of other benefits from shopping secondhand, too. After I stopped shopping in new-merchandise stores, Forever 21 and H&M made me incredibly anxious. The music was loud, the lights were too bright, and there were so many people…shopping in thrift stores is a much more relaxing experience.
I am also quite pickier about the items I buy in secondhand stores. If I don't absolutely love something, I let it go. I'm not paying $15 for a used Forever 21 blouse that I don't think really fits my style – f**k that! This principle has left me with a closet full of clothes I love. And if I decide in two months I'm not feelin' it anymore, I can just sell it right back to the consignment store.
Buy pricier items when you can.
When you buy most of your clothes secondhand, you can afford to buy more expensive items that you really love. I personally love to hit up sample sales, and don't feel bad splurging at stores that haven't been involved in a sweatshop scandal. For example, ASOS is a part of the Ethical Trade Initiative, which works to improve global working conditions. Or, LOFT performs unannounced audits in their factories to make sure their factories are up to safety standards. Despite a history of destroying unsold merchandise, H&M is the largest user of organic cotton worldwide. I also love buying designer clothes from secondhand thrift websites like Fashion Project. 
Google that shit.
If you're ever in doubt, the Internet is handy tool for figuring out whether or not your favorite stores use sweatshops or have been involved in bad labor practices. I try to Google every company I purchase from before I shell out my cold hard cash, because I don't feel comfortable giving my money to companies that are less than ethical.
Point being – you don't have to settle for unethically made clothing because you don't think you can afford to shop elsewhere.
What do you make of the fast fashion scandal in the U.S.? Let me know in the comments.
---
May Thrift Haul From Depop's Closet Sale and Crossroads Trading
Monday, May 11th, 2015
I had a thrift haul for your last month, and now I have a May thrift haul for you! This either means that I'm incredibly dedicated to my craft…or it means I have too much free time on my hands. Enough time to sit in my room and talk to a camera about what I've bought recently. Watch the video below to see my steals, and my newly dyed hair looking like a hot mess. I was afraid to wash it.
This month's finds (try saying that 5 times fast, it's hard) come from the Depop Closet Sale held at Root Studios in Chelsea, as well as Crossroads Trading Company in the Flatiron District.
The Depop Closet Sale was a pretty awesome event. It was held by Depop and Nylon Magazine, and was basically a fashion blogger garage sale. Depop was selling clothes from big-name fashion bloggers like The Blonde Salad, One Dapper Street, I Hate Blonde, and Just Another Fashion Blog. I picked up a pair of Windsor Smith Birkenstock-like black sandals from the last one for only $15 (similar ones here). From Nylon's sample closet, I got a color block mini-dress with a Peter Pan collar. I've gotten a lot of wear out of this in the short time I've had it in my possession. It's so easy to throw it on and run out the door.
I love shopping at Crossroads Trading Company in Flatiron, but I'm there so often the staff there knows me. I can't decide if that's a good thing or if it's totally embarrassing. At Crossroads I picked up a Ralph Lauren Rugby cardigan with a simple athletic stripe detail, a bright yellow and floral printed Liberty of London by Target trench coat, and a pink and white striped H&M button-up.
At the end I threw in a cropped sweater my girlfriend gave me. Having a girlfriend is like having two wardrobes. It's the best.
Let me know what you think in the comments! Unless you have something mean to say about my wonky hair. Keep that shit to yourself.
---
DIY "My Cardio Is Crushing The Patriarchy" Jacket
Saturday, May 9th, 2015
In case it wasn't already obvious, I am a feminist. And when I saw a t-shirt that said "My cardio is crushing the patriarchy" on it, I knew I had to make something emblazoned with said quote. Using a Missguided jacket that I picked up at a thrift store and iron-on gold letters, I turned an already eye-catching jacket into a  piece that represents me in a nutshell. When you see this jacket, I know you'll want one…but this is one-of-a-kind, bitch! Go make your own misogyny killing glitter apparel.
Missguided only sells their clothes online, so I was pumped to find this varsity-style jacket at a thrift store for $11. I loved the look of this jacket on its own, but for whatever reason, I hardly wore it.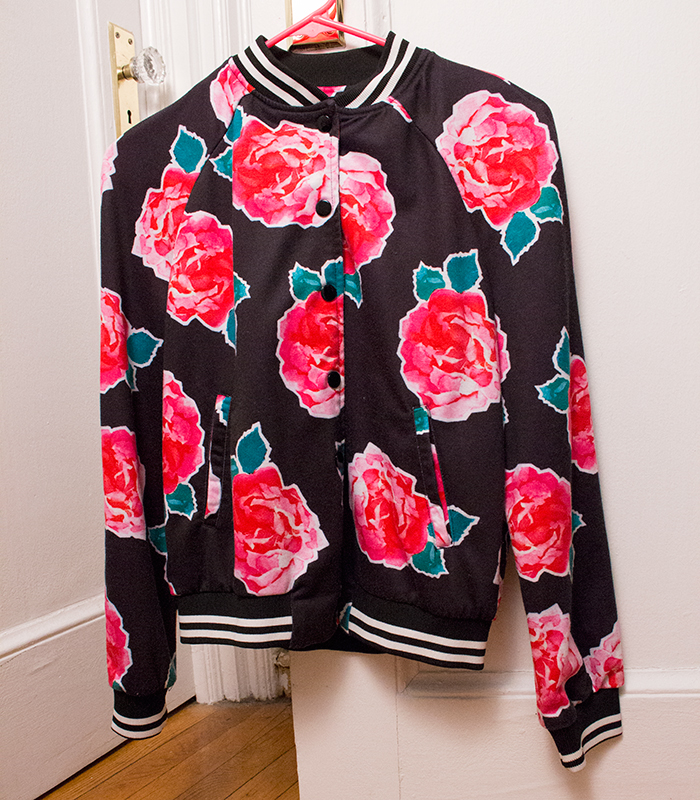 When in doubt, add glitter. I bought these Transfermations iron-on letters at Michael's for $5.49 a set. I needed two sets since the phrase was so long.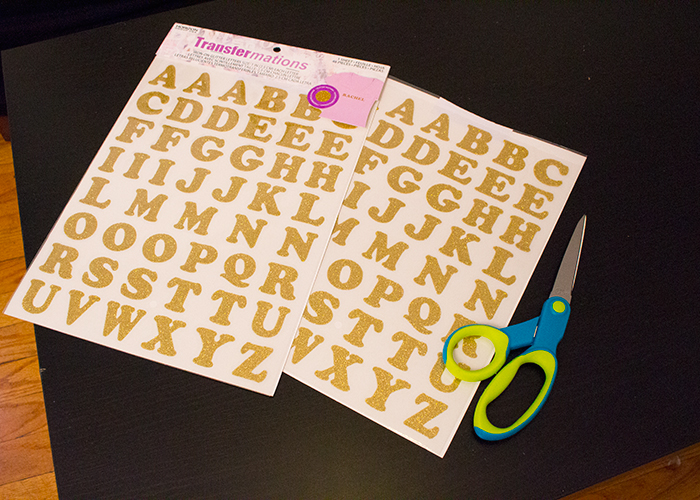 The letters were slightly difficult to work with. The letters had a soft layer of textured plastic keeping them a sheet of harder, smooth plastic. The instructions said to pull off the top layer of plastic, but you actually have to pull off both layers of plastic and set the letter on your fabric. It took me a pretty long time to take the layers off of every single letter.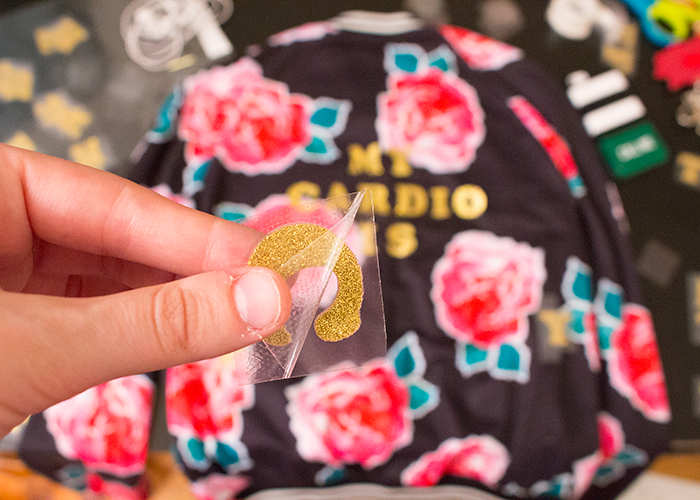 Once every letter was cut out, de-plasticed and in it's correct place (I double checked my spelling so many times), it was time to apply them to the jacket. I ended up grabbing a freebie t-shirt out of my Goodwill bag and cutting a piece of fabric to use a press cloth between the iron and the letters, but you could also use a pillowcase or sheet. I ironed it quite a few sides on the outside of the jacket, and once on the inside for good measure.
Here's the finished product: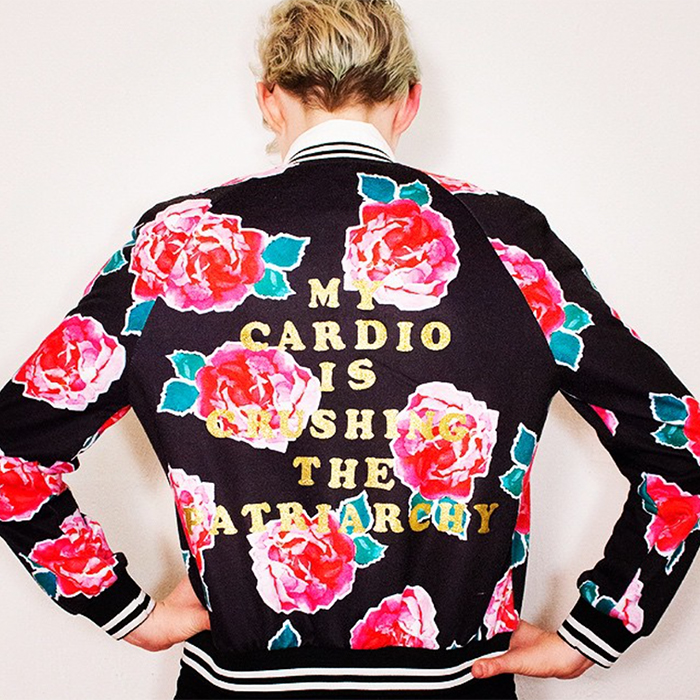 It's a little bit hard to tell in this photo exactly what it says, but in the daylight, you can read it just fine. I'm going to wear this everywhere in the next few weeks, before it starts getting too hot for jackets. I used a few extra letters on the front to write out "TCB" on the upper left side. It's like a fashion blogger letterman jacket!
What do you think of my feminist DIY jacket? Let me know in the comments.
---
All I Do Is Daydream About Blue Leather Jackets
Wednesday, May 6th, 2015
Whoever said money can't buy happiness obviously has never seen this Maje Adder Blue Leather Jacket.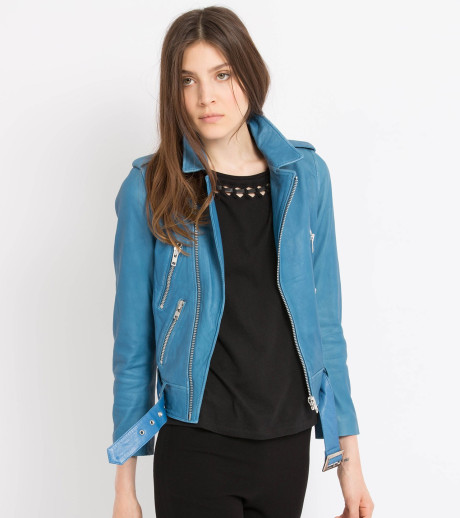 Last week, on a sample sale high from my epic Rebecca Minkoff shoe purchase, I decided to try my luck again. I headed back to 260SampleSale for the Maje sale, a brand I'd never heard of before. I crossed my fingers that since I didn't know what it was, that maybe no one else did either and they'd be begging me to buy their merchandise for pennies. Alas, that is not how it went down.
I've been looking for a slightly oversized moto jacket lately, and this Maje turquoise number made my heart beat fast. There was one left in my size. It fit perfectly and looked great with the outfit I was wearing that day. It was also $350. **CRYING**
Obviously, I could not justify spending that much cash on an average every day lunch break. But ever since that day, I've been scouring the internet to find a similar one at a cheaper price point. Let me tell you, it has NOT BEEN EASY, especially since I am not about to buy a jacket from a fast fashion retailer like Forever 21. I haven't been able to find one in quite this color, but I haven't given up.
A jacket like this would be an amazing staple piece. I could throw this one with any button up blouse for a look that says "I'm professional and put together, but I'm not going to take any of your shit." I could put it on with jeans and run out the door when I'm running late and look grungy. I love the belt on the bottom of the jacket, making it look just a little bit more undone and effortlessly cool. UGH. EVERYTHING IS TERRIBLE.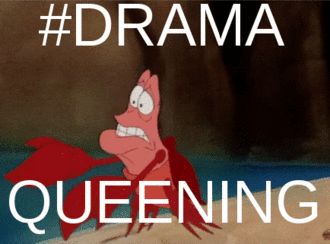 In case you are also looking for an ethically-made but not $300 blue leather moto jacket, here's some options I found through ShopStyle. There's a good chance I'm buying the Cheap Monday one.
---
Make A DIY 'Love Can't Wait' T-Shirt And Show Your Support For Equal Rights
Wednesday, May 6th, 2015
There are a lot of things I love in this world. I love glitter, I love getting cash from my roommate for the utility bill and pretending it's free money, I love watching videos of English bulldogs on YouTube, I love upcycling old clothes, AND I love it when everyone has basic civil rights! YAY! 
If you've been paying attention, the Supreme Court heard arguments last Tuesday, April 28th, regarding whether or not states can instate same-sex marriage bans. Depending on the final decision on June, a decision in favor of same-sex couples could bring marriage equality to the entire country. Because I would like the option to one day marry a lady, and because I am a crafty bitch, I decided to grab my fabric paint and make a poor-mans version of a screen-printed t-shirt with the OFFICIAL Human Rights Campaign "slogan" for the Supreme Court decision, "love can't wait." It's also a hashtag, but I skipped the hashtag part for this DIY.
Here's how I made it: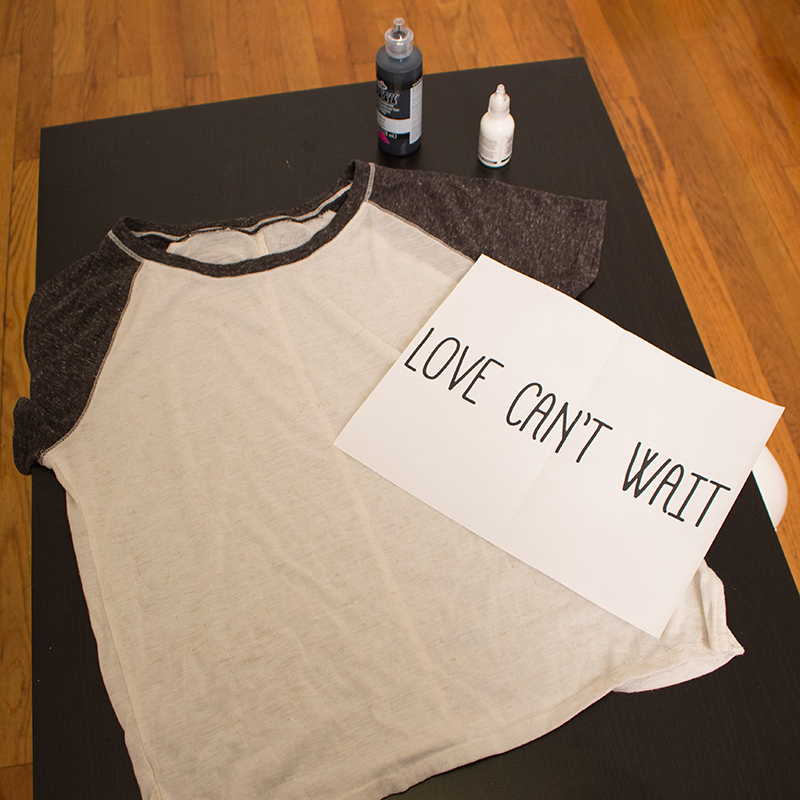 I started out with a t-shirt I got at Urban Outfitters awhile back for $5 (clearance rack, baby!). I made a stencil in Photoshop using my favorite font ever called "mathlete," which you can download for FREEEE here. Or, if you want, you can download the stencil here! You're welcome.
I printed my stencil out on regular printer paper, and it worked just fine. It may have taken a little bit less grunting and frustration had I used card stock paper instead. If you have card stock, I'd recommend using that. If not, ain't no thang.
I also bought a bottle of black Tulip Puffy Paint at the craft store for this project.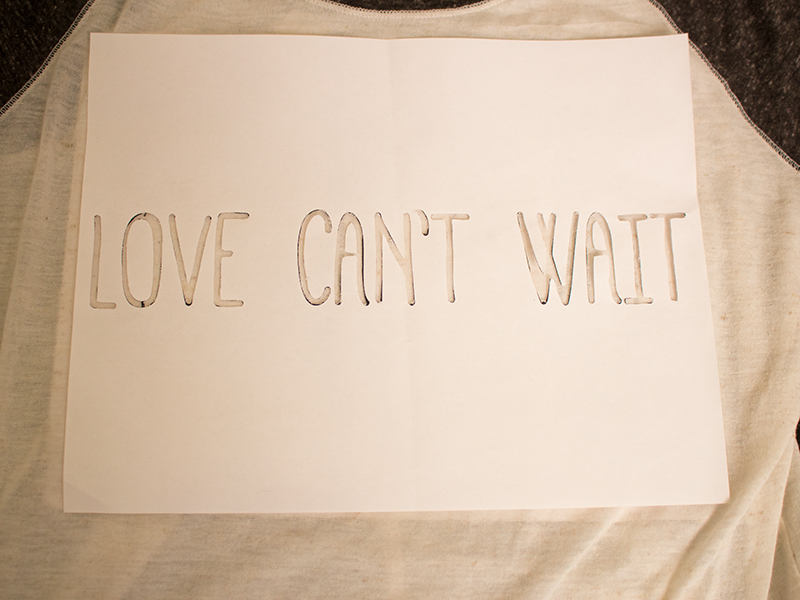 Using an X-Acto knife, I cut the letters out of the stencil. Don't forget that you need to keep the inside of your "O" and the inside of your "A"'s.
Before you start filling in the stencil with paint, be sure to put something inside of the shirt so the paint doesn't leak through the fabric. I used an old Target Christmas catalog that is inexplicably still hanging around my apartment.
Once you're ready to fill it in, cover the tip of a sponge applicator with paint. Dab the paint on, being careful not to get it too far outside of the stencil.
Using this flimsy paper stencil method, you aren't going to get a super clean, professional looking print. I was fine with this, since the shirt was supposed to look "distressed" when I bought it anyway.
Peel the stencil off, let it dry overnight, and voila!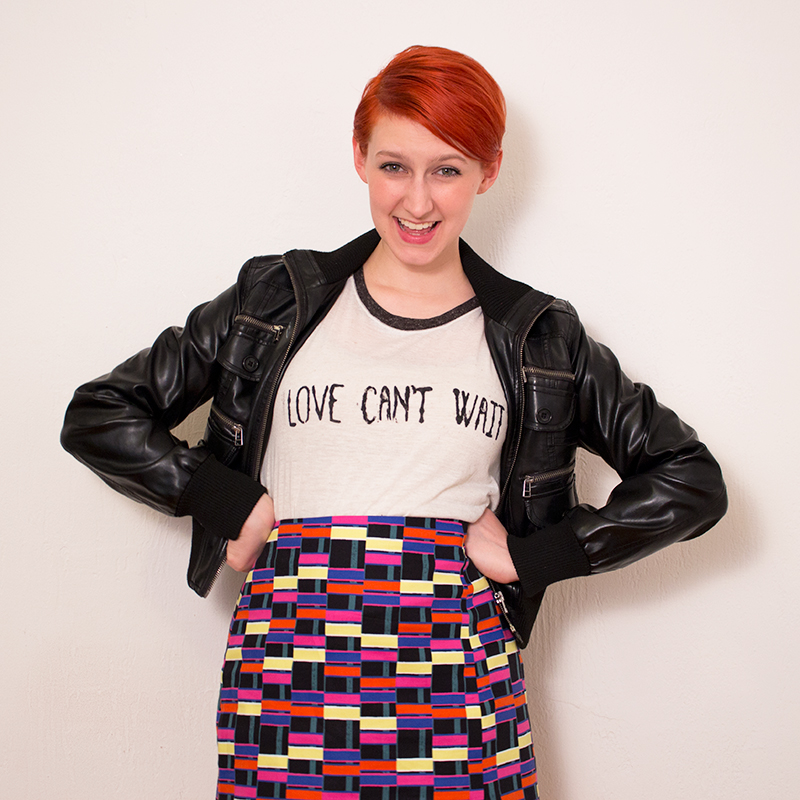 This DIY t-shirt method is so simple, you can make pretty much any design you want to. I used it before, and I'm sure I'll use it again. I styled my t-shirt with a Kate Spade Saturday geometric patterned skirt and a faux leather jacket.
Let me know what you think in the comments!
---
Why I Said Goodbye To My Platinum Blonde Hair
Monday, May 4th, 2015
About a year ago, I was obsessed with platinum blonde hair. Everywhere I turned there seemed to be a hip girl with a platinum pixie cut, or someone with pastel purple fairy hair. I had been dyeing my hair red since I was a freshman in college, and decided it was time to switch up my look. I headed to a beauty school and crossed my fingers that my hair would come out white blonde and beautiful. And it did! For 10 months I had Marilyn-Monroe-esque locks, sometimes pink hair, occasionally blue hair and more often purple hair. But this past weekend I decided to hang up my toe head hat. I'm back to my red tresses, and if you're curious why, it's your lucky day…because I WROTE ABOUT IT BELOW! Betchya didn't see that coming!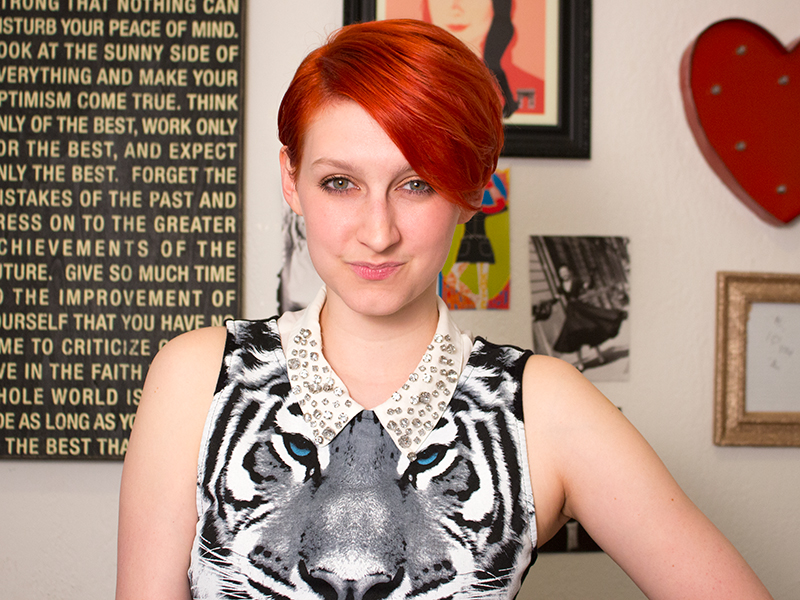 1. Being blonde is too much maintenance.
When I get my hair done, because I have a short crop, the hairdresser tends to tell me "come back in five weeks for another haircut." To which I nod and smile, but think in my head, "yeah right. I am not shelling out $50 a month so my hair looks perfectly pixied at all times." This is also what I thought when I was told I'd need to get my roots done every five weeks with blonde hair. I was wrong. You really do need to get your roots done every five weeks, unless you want big patches of brown hair that match the color of subway rats on your head. Next to the blonde, my natural light brown color looked nasty. And the roots grew so quickly, it always felt like I could see them only a week out from a dye job. Not only is scheduling a hair appointment in my already busy schedule frustrating, but it also brings me to my next point:
2. Getting your hair colored every five weeks is expensive as f**k.
The first time I bleached my hair, everything was fine. The second time, I had the most painful experience of my life. After that chemical burn nightmare, I decided that hair schools were not quite good enough for my sensitive scalp. This meant instead of paying $55 every time I wanted my roots done, it was at least $120. I tried my best to go to different salons each time so I could take advantage of new customer deals, but shelling out that much cash for my hair was cheap bitch blasphemy. Now I can spend that money on more important things, like unlimited mimosa brunch or nacho cheese covered hot dogs.
3. Manic Panic is fun…until it's not.
I loved having the freedom to dye my hair any shade of the rainbow, but after being bleached for 10 months, I was finished with pastel hair. The last color I dyed my hair was blue, and it took two months to completely fade. At the end, there were little bits of green, blue, silver, and yellow in my hair. I had a good inch and a half of grown-out roots on top of my cranium, and I was so sick of having patchy blonde, brown, and blue locks. I'd set out to do the pastel hair thing, and I did it many times over. It was time to move on.
4. Everyone else is doing it.
Okay, for this reason I'm half serious, half joking. Have you seen how many people are dyeing their hair pastel colors now?! Hilary Duff. Kylie Jenner. Even Julianne Hough, a.k.a. the most boring and occasionally racist celebrity ever, went pastel. Obviously I am a unique snowflake work of art that follows the lead of no one, so, bye basics. LOLZ JK, sort of. 
5. My hair was totally fried.
From bleaching my hair so often, my hair was dry and brittle. I was shedding like a labrador, and no products could make my hair feel healthy again. I decided having unmanageable, straw-like hair was not worth it. Now that I don't have to bleach my hair every five weeks, my locks will have a chance to recuperate.
I'm glad I went blonde and I may do it again someday. In fact, It feels weird to be a redhead again, because I dyed my hair blonde at a very defining time in my life. It was really representative of being comfortable with myself and letting go of things from the past that were holding me back. The red reminds me a bit of days where I wasn't so sure of myself, and it's making me feel some feelz. But I'm looking forward to revamping my style around the color, keeping it vibrant, and moving forward.
---
Let John Oliver Explain To You Why Fast Fashion Is Awful
Thursday, April 30th, 2015
If you're reading this blog, you probably already know that fast fashion is bad. Brands like Forever 21, H&M and Zara are known as fast fashion brands because the time it takes for looks to go from the runway to the shelves is, well, fast. The merchandise also flies off the shelves at lightening speed, explaining why that $30 faux leather moto jacket you decided to think about was gone when you went back to the store to grab it 3 days later.
These clothes fall apart, are made from materials you've never heard of, and are so sheer you can see your bellybutton through them. We've all complained about the awful quality of Gap's tissue paper tops or something similar, but there's a reason these clothes are so cheap, in every sense of the word. Fashion fashion relies heavily on over seas labor in third-world countries, where children are paid cents every day to make your Forever 21 Moschino knock-off dress.
Ever since I became more aware of just how devastating the fast fashion problem is, and stopped shopping at fast fashion stores, I've wanted to do a post on the human rights violations executed so you can buy a $5 tank top. However, I've been afraid of tackling such big subject in fear of getting information wrong. Lucky for both you and I, John Oliver ran a lengthy segment on the reprehensible nature of fast fashion on Last Week Tonight. I urge you to watch the 17 minute segment below in its entirety.
John Oliver's segment is just the tip of the iceberg when it comes to these issues. While it's certainly hard as a cheap bitch to stop shopping at these stores, there are ways you can change your consumption over time. Shopping secondhand is an easy way to avoid these companies, and doing your research before you become brand loyal to a seems-to-good-to-be-true store is something I've started doing on the regular.
How have you cut down on shopping at fast fashion retailers? Let me know in the comments.
---
THE BEST OF THE BEST
ADVERTISEMENTS
PINTEREST
INSTAGRAM