May Thrift Haul From Depop's Closet Sale and Crossroads Trading
Monday, May 11th, 2015
I had a thrift haul for your last month, and now I have a May thrift haul for you! This either means that I'm incredibly dedicated to my craft…or it means I have too much free time on my hands. Enough time to sit in my room and talk to a camera about what I've bought recently. Watch the video below to see my steals, and my newly dyed hair looking like a hot mess. I was afraid to wash it.
This month's finds (try saying that 5 times fast, it's hard) come from the Depop Closet Sale held at Root Studios in Chelsea, as well as Crossroads Trading Company in the Flatiron District.
The Depop Closet Sale was a pretty awesome event. It was held by Depop and Nylon Magazine, and was basically a fashion blogger garage sale. Depop was selling clothes from big-name fashion bloggers like The Blonde Salad, One Dapper Street, I Hate Blonde, and Just Another Fashion Blog. I picked up a pair of Windsor Smith Birkenstock-like black sandals from the last one for only $15 (similar ones here). From Nylon's sample closet, I got a color block mini-dress with a Peter Pan collar. I've gotten a lot of wear out of this in the short time I've had it in my possession. It's so easy to throw it on and run out the door.
I love shopping at Crossroads Trading Company in Flatiron, but I'm there so often the staff there knows me. I can't decide if that's a good thing or if it's totally embarrassing. At Crossroads I picked up a Ralph Lauren Rugby cardigan with a simple athletic stripe detail, a bright yellow and floral printed Liberty of London by Target trench coat, and a pink and white striped H&M button-up.
At the end I threw in a cropped sweater my girlfriend gave me. Having a girlfriend is like having two wardrobes. It's the best.
Let me know what you think in the comments! Unless you have something mean to say about my wonky hair. Keep that shit to yourself.
---
DIY "My Cardio Is Crushing The Patriarchy" Jacket
Saturday, May 9th, 2015
In case it wasn't already obvious, I am a feminist. And when I saw a t-shirt that said "My cardio is crushing the patriarchy" on it, I knew I had to make something emblazoned with said quote. Using a Missguided jacket that I picked up at a thrift store and iron-on gold letters, I turned an already eye-catching jacket into a  piece that represents me in a nutshell. When you see this jacket, I know you'll want one…but this is one-of-a-kind, bitch! Go make your own misogyny killing glitter apparel.
Missguided only sells their clothes online, so I was pumped to find this varsity-style jacket at a thrift store for $11. I loved the look of this jacket on its own, but for whatever reason, I hardly wore it.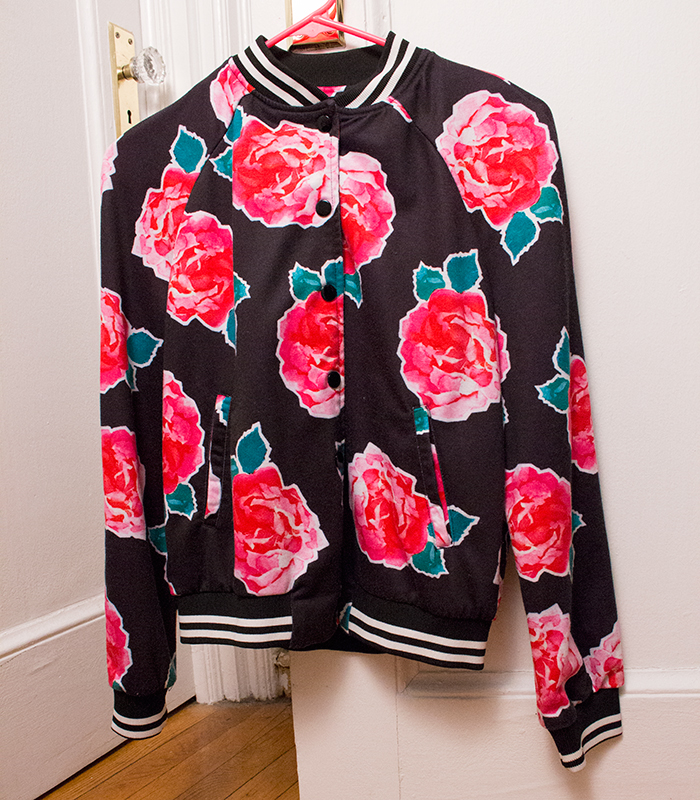 When in doubt, add glitter. I bought these Transfermations iron-on letters at Michael's for $5.49 a set. I needed two sets since the phrase was so long.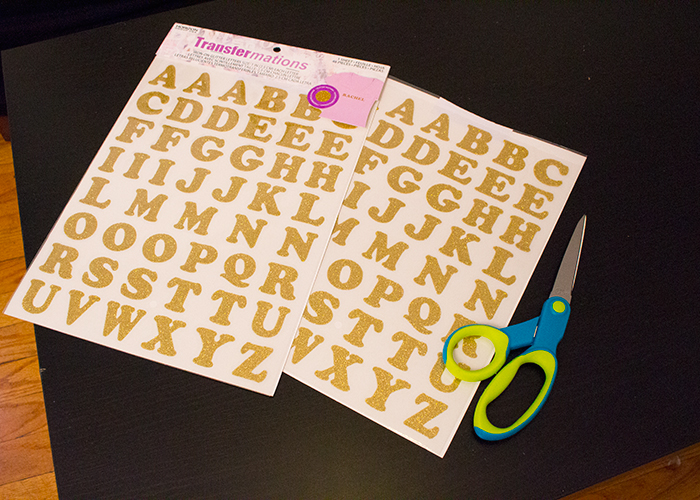 The letters were slightly difficult to work with. The letters had a soft layer of textured plastic keeping them a sheet of harder, smooth plastic. The instructions said to pull off the top layer of plastic, but you actually have to pull off both layers of plastic and set the letter on your fabric. It took me a pretty long time to take the layers off of every single letter.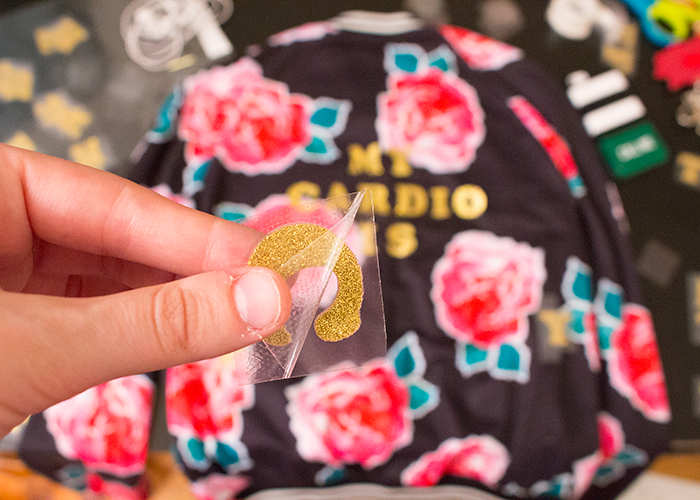 Once every letter was cut out, de-plasticed and in it's correct place (I double checked my spelling so many times), it was time to apply them to the jacket. I ended up grabbing a freebie t-shirt out of my Goodwill bag and cutting a piece of fabric to use a press cloth between the iron and the letters, but you could also use a pillowcase or sheet. I ironed it quite a few sides on the outside of the jacket, and once on the inside for good measure.
Here's the finished product: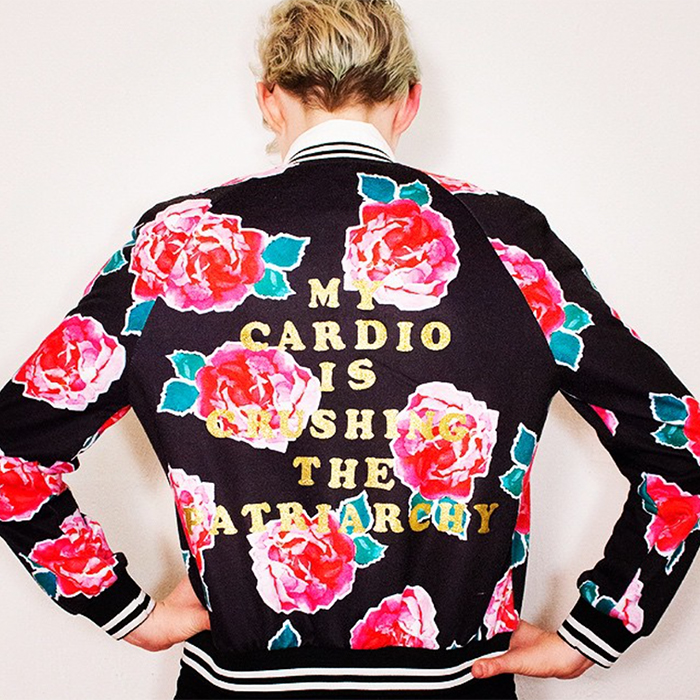 It's a little bit hard to tell in this photo exactly what it says, but in the daylight, you can read it just fine. I'm going to wear this everywhere in the next few weeks, before it starts getting too hot for jackets. I used a few extra letters on the front to write out "TCB" on the upper left side. It's like a fashion blogger letterman jacket!
What do you think of my feminist DIY jacket? Let me know in the comments.
---
All I Do Is Daydream About Blue Leather Jackets
Wednesday, May 6th, 2015
Whoever said money can't buy happiness obviously has never seen this Maje Adder Blue Leather Jacket.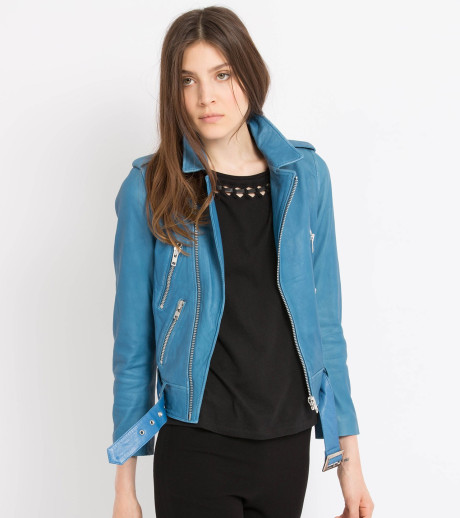 Last week, on a sample sale high from my epic Rebecca Minkoff shoe purchase, I decided to try my luck again. I headed back to 260SampleSale for the Maje sale, a brand I'd never heard of before. I crossed my fingers that since I didn't know what it was, that maybe no one else did either and they'd be begging me to buy their merchandise for pennies. Alas, that is not how it went down.
I've been looking for a slightly oversized moto jacket lately, and this Maje turquoise number made my heart beat fast. There was one left in my size. It fit perfectly and looked great with the outfit I was wearing that day. It was also $350. **CRYING**
Obviously, I could not justify spending that much cash on an average every day lunch break. But ever since that day, I've been scouring the internet to find a similar one at a cheaper price point. Let me tell you, it has NOT BEEN EASY, especially since I am not about to buy a jacket from a fast fashion retailer like Forever 21. I haven't been able to find one in quite this color, but I haven't given up.
A jacket like this would be an amazing staple piece. I could throw this one with any button up blouse for a look that says "I'm professional and put together, but I'm not going to take any of your shit." I could put it on with jeans and run out the door when I'm running late and look grungy. I love the belt on the bottom of the jacket, making it look just a little bit more undone and effortlessly cool. UGH. EVERYTHING IS TERRIBLE.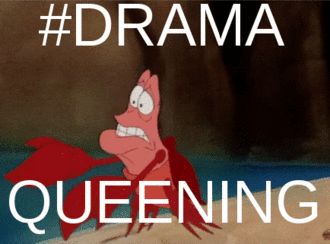 In case you are also looking for an ethically-made but not $300 blue leather moto jacket, here's some options I found through ShopStyle. There's a good chance I'm buying the Cheap Monday one.
---
Make A DIY 'Love Can't Wait' T-Shirt And Show Your Support For Equal Rights
Wednesday, May 6th, 2015
There are a lot of things I love in this world. I love glitter, I love getting cash from my roommate for the utility bill and pretending it's free money, I love watching videos of English bulldogs on YouTube, I love upcycling old clothes, AND I love it when everyone has basic civil rights! YAY! 
If you've been paying attention, the Supreme Court heard arguments last Tuesday, April 28th, regarding whether or not states can instate same-sex marriage bans. Depending on the final decision on June, a decision in favor of same-sex couples could bring marriage equality to the entire country. Because I would like the option to one day marry a lady, and because I am a crafty bitch, I decided to grab my fabric paint and make a poor-mans version of a screen-printed t-shirt with the OFFICIAL Human Rights Campaign "slogan" for the Supreme Court decision, "love can't wait." It's also a hashtag, but I skipped the hashtag part for this DIY.
Here's how I made it: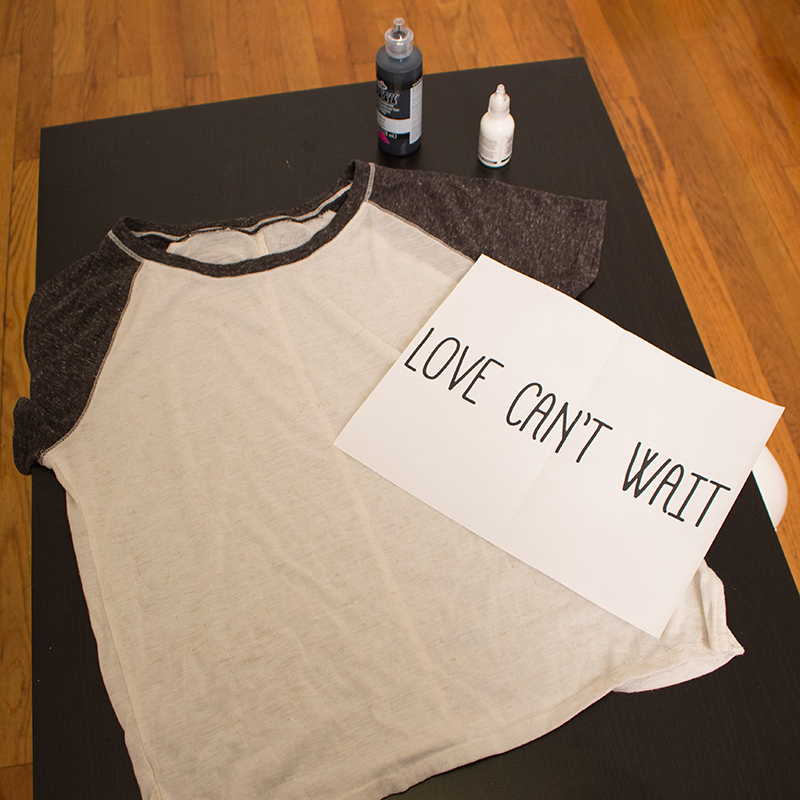 I started out with a t-shirt I got at Urban Outfitters awhile back for $5 (clearance rack, baby!). I made a stencil in Photoshop using my favorite font ever called "mathlete," which you can download for FREEEE here. Or, if you want, you can download the stencil here! You're welcome.
I printed my stencil out on regular printer paper, and it worked just fine. It may have taken a little bit less grunting and frustration had I used card stock paper instead. If you have card stock, I'd recommend using that. If not, ain't no thang.
I also bought a bottle of black Tulip Puffy Paint at the craft store for this project.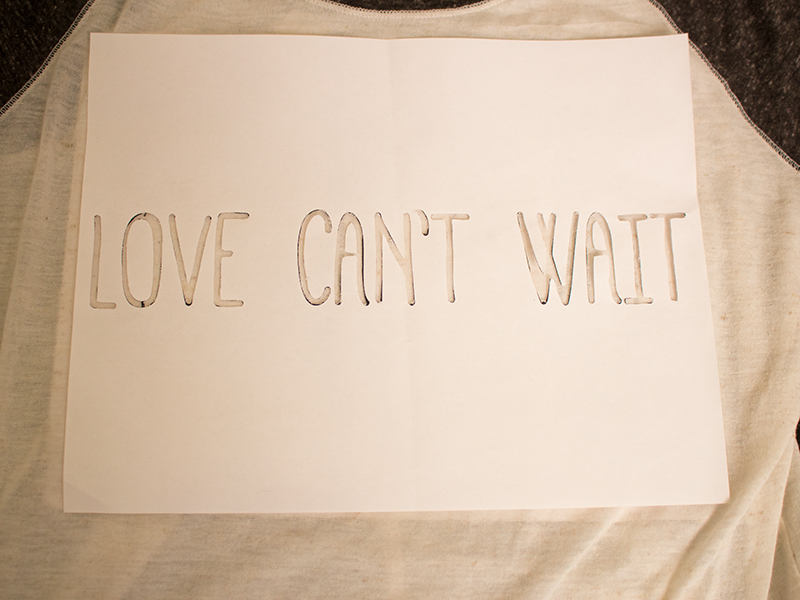 Using an X-Acto knife, I cut the letters out of the stencil. Don't forget that you need to keep the inside of your "O" and the inside of your "A"'s.
Before you start filling in the stencil with paint, be sure to put something inside of the shirt so the paint doesn't leak through the fabric. I used an old Target Christmas catalog that is inexplicably still hanging around my apartment.
Once you're ready to fill it in, cover the tip of a sponge applicator with paint. Dab the paint on, being careful not to get it too far outside of the stencil.
Using this flimsy paper stencil method, you aren't going to get a super clean, professional looking print. I was fine with this, since the shirt was supposed to look "distressed" when I bought it anyway.
Peel the stencil off, let it dry overnight, and voila!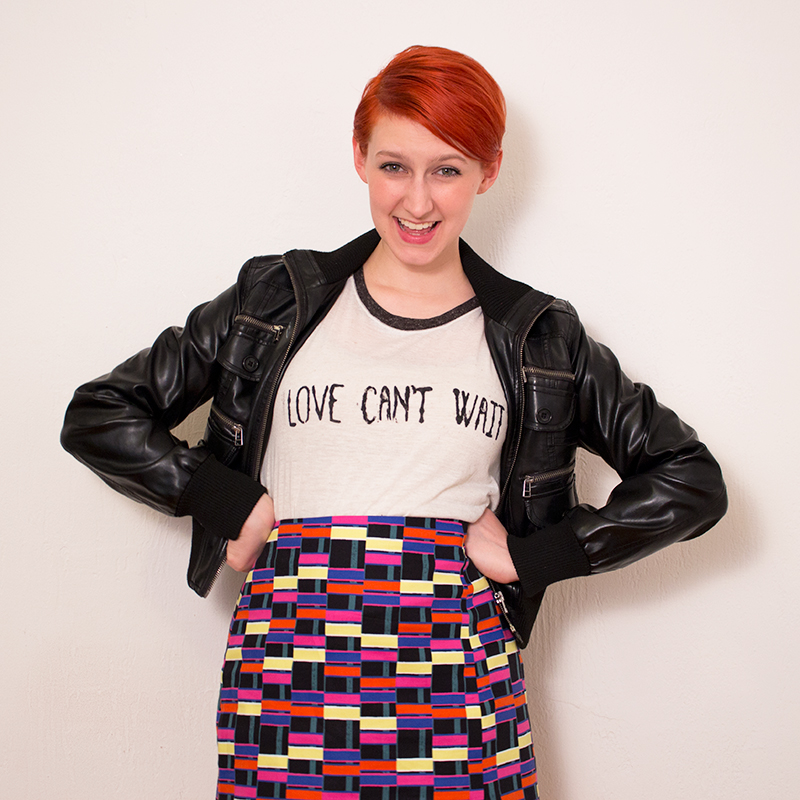 This DIY t-shirt method is so simple, you can make pretty much any design you want to. I used it before, and I'm sure I'll use it again. I styled my t-shirt with a Kate Spade Saturday geometric patterned skirt and a faux leather jacket.
Let me know what you think in the comments!
---
Why I Said Goodbye To My Platinum Blonde Hair
Monday, May 4th, 2015
About a year ago, I was obsessed with platinum blonde hair. Everywhere I turned there seemed to be a hip girl with a platinum pixie cut, or someone with pastel purple fairy hair. I had been dyeing my hair red since I was a freshman in college, and decided it was time to switch up my look. I headed to a beauty school and crossed my fingers that my hair would come out white blonde and beautiful. And it did! For 10 months I had Marilyn-Monroe-esque locks, sometimes pink hair, occasionally blue hair and more often purple hair. But this past weekend I decided to hang up my toe head hat. I'm back to my red tresses, and if you're curious why, it's your lucky day…because I WROTE ABOUT IT BELOW! Betchya didn't see that coming!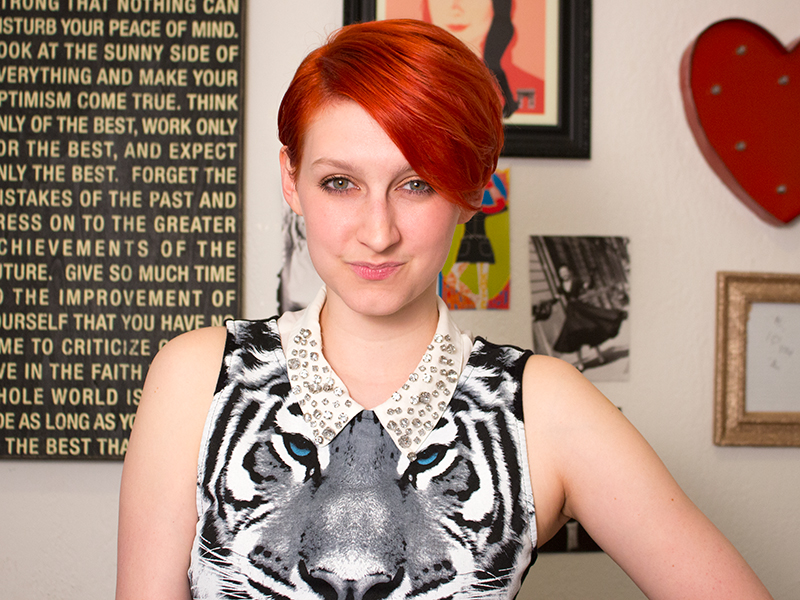 1. Being blonde is too much maintenance.
When I get my hair done, because I have a short crop, the hairdresser tends to tell me "come back in five weeks for another haircut." To which I nod and smile, but think in my head, "yeah right. I am not shelling out $50 a month so my hair looks perfectly pixied at all times." This is also what I thought when I was told I'd need to get my roots done every five weeks with blonde hair. I was wrong. You really do need to get your roots done every five weeks, unless you want big patches of brown hair that match the color of subway rats on your head. Next to the blonde, my natural light brown color looked nasty. And the roots grew so quickly, it always felt like I could see them only a week out from a dye job. Not only is scheduling a hair appointment in my already busy schedule frustrating, but it also brings me to my next point:
2. Getting your hair colored every five weeks is expensive as f**k.
The first time I bleached my hair, everything was fine. The second time, I had the most painful experience of my life. After that chemical burn nightmare, I decided that hair schools were not quite good enough for my sensitive scalp. This meant instead of paying $55 every time I wanted my roots done, it was at least $120. I tried my best to go to different salons each time so I could take advantage of new customer deals, but shelling out that much cash for my hair was cheap bitch blasphemy. Now I can spend that money on more important things, like unlimited mimosa brunch or nacho cheese covered hot dogs.
3. Manic Panic is fun…until it's not.
I loved having the freedom to dye my hair any shade of the rainbow, but after being bleached for 10 months, I was finished with pastel hair. The last color I dyed my hair was blue, and it took two months to completely fade. At the end, there were little bits of green, blue, silver, and yellow in my hair. I had a good inch and a half of grown-out roots on top of my cranium, and I was so sick of having patchy blonde, brown, and blue locks. I'd set out to do the pastel hair thing, and I did it many times over. It was time to move on.
4. Everyone else is doing it.
Okay, for this reason I'm half serious, half joking. Have you seen how many people are dyeing their hair pastel colors now?! Hilary Duff. Kylie Jenner. Even Julianne Hough, a.k.a. the most boring and occasionally racist celebrity ever, went pastel. Obviously I am a unique snowflake work of art that follows the lead of no one, so, bye basics. LOLZ JK, sort of. 
5. My hair was totally fried.
From bleaching my hair so often, my hair was dry and brittle. I was shedding like a labrador, and no products could make my hair feel healthy again. I decided having unmanageable, straw-like hair was not worth it. Now that I don't have to bleach my hair every five weeks, my locks will have a chance to recuperate.
I'm glad I went blonde and I may do it again someday. In fact, It feels weird to be a redhead again, because I dyed my hair blonde at a very defining time in my life. It was really representative of being comfortable with myself and letting go of things from the past that were holding me back. The red reminds me a bit of days where I wasn't so sure of myself, and it's making me feel some feelz. But I'm looking forward to revamping my style around the color, keeping it vibrant, and moving forward.
---
Let John Oliver Explain To You Why Fast Fashion Is Awful
Thursday, April 30th, 2015
If you're reading this blog, you probably already know that fast fashion is bad. Brands like Forever 21, H&M and Zara are known as fast fashion brands because the time it takes for looks to go from the runway to the shelves is, well, fast. The merchandise also flies off the shelves at lightening speed, explaining why that $30 faux leather moto jacket you decided to think about was gone when you went back to the store to grab it 3 days later.
These clothes fall apart, are made from materials you've never heard of, and are so sheer you can see your bellybutton through them. We've all complained about the awful quality of Gap's tissue paper tops or something similar, but there's a reason these clothes are so cheap, in every sense of the word. Fashion fashion relies heavily on over seas labor in third-world countries, where children are paid cents every day to make your Forever 21 Moschino knock-off dress.
Ever since I became more aware of just how devastating the fast fashion problem is, and stopped shopping at fast fashion stores, I've wanted to do a post on the human rights violations executed so you can buy a $5 tank top. However, I've been afraid of tackling such big subject in fear of getting information wrong. Lucky for both you and I, John Oliver ran a lengthy segment on the reprehensible nature of fast fashion on Last Week Tonight. I urge you to watch the 17 minute segment below in its entirety.
John Oliver's segment is just the tip of the iceberg when it comes to these issues. While it's certainly hard as a cheap bitch to stop shopping at these stores, there are ways you can change your consumption over time. Shopping secondhand is an easy way to avoid these companies, and doing your research before you become brand loyal to a seems-to-good-to-be-true store is something I've started doing on the regular.
How have you cut down on shopping at fast fashion retailers? Let me know in the comments.
---
5 Designer Clothes DIYs For The Broke Girl With Expensive Taste
Monday, April 27th, 2015
Unless you have a magical money tree in your backyard, or are one of the lucky few who can buy happiness with daddy's credit card (that's a thing that's real **sarcasm**), or you're a super savvy sample sale shopper…you probably can't afford designer clothes/shoes/accessories whenever you want them. If you're like me, you instead just stare at your computer screen and ugly cry over the $500 beautiful pair of jeans you'll never own, looking like my good friend Britney Jean over here: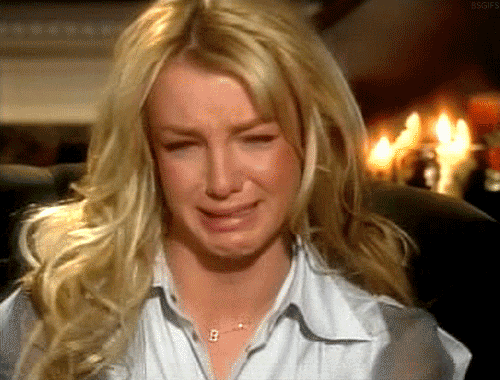 (source)
But even if you don't have a bunch of cash to throw around, you can still get a taste of the luxe life with a some glitter, a hot glue gun, fabric paint, and the bits and baubles hanging around your house. Wipe your tears away and get ready to do some epic crafting with the 5 DIY tutorials below. I am personally going to try EVERY SINGLE ONE OF THESE. Then whenever anyone asks me where I got my clothes, I'm going to tell them how much the original designer version cost to buy and how much my DIY version cost to make. Then they will nod politely and walk away so they don't have to hear me talk anymore. Anyway, ON TO THE CRAFTS!
DIY Version: Estimated $40, if you're using all new materials. You'll have plenty of leftover materials for other projects afterward. Get the tutorial here.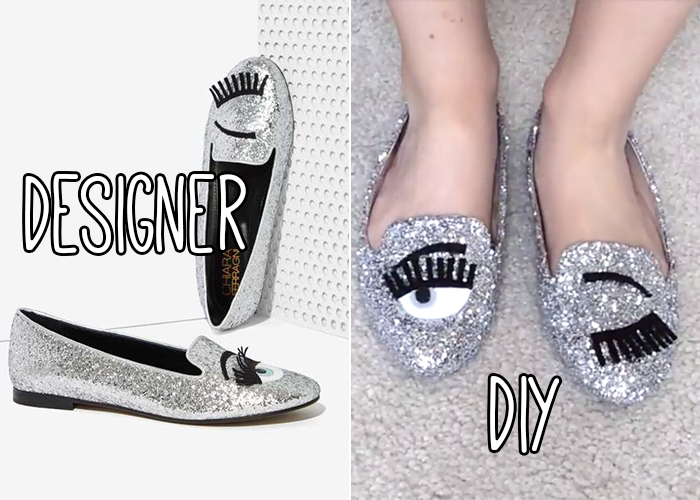 DIY Version: Estimated $7 if you already have a pair of jeans. Click here to read le instructions, but it seems pretty self explanatory.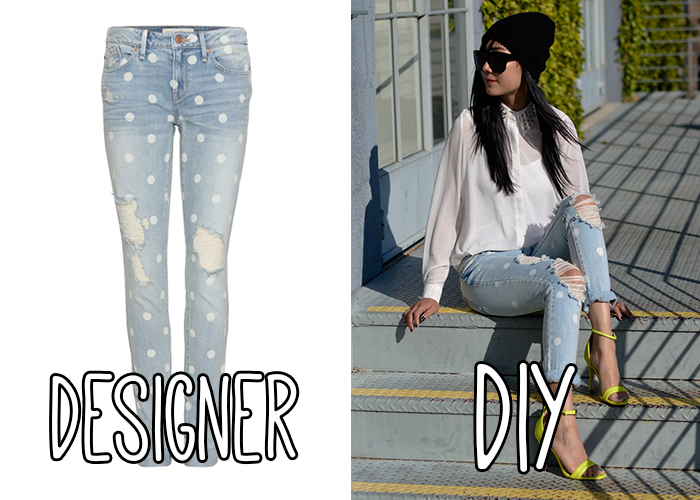 DIY Version: Estimated $13 if you don't have materials. Read the instructions right thur (right thur).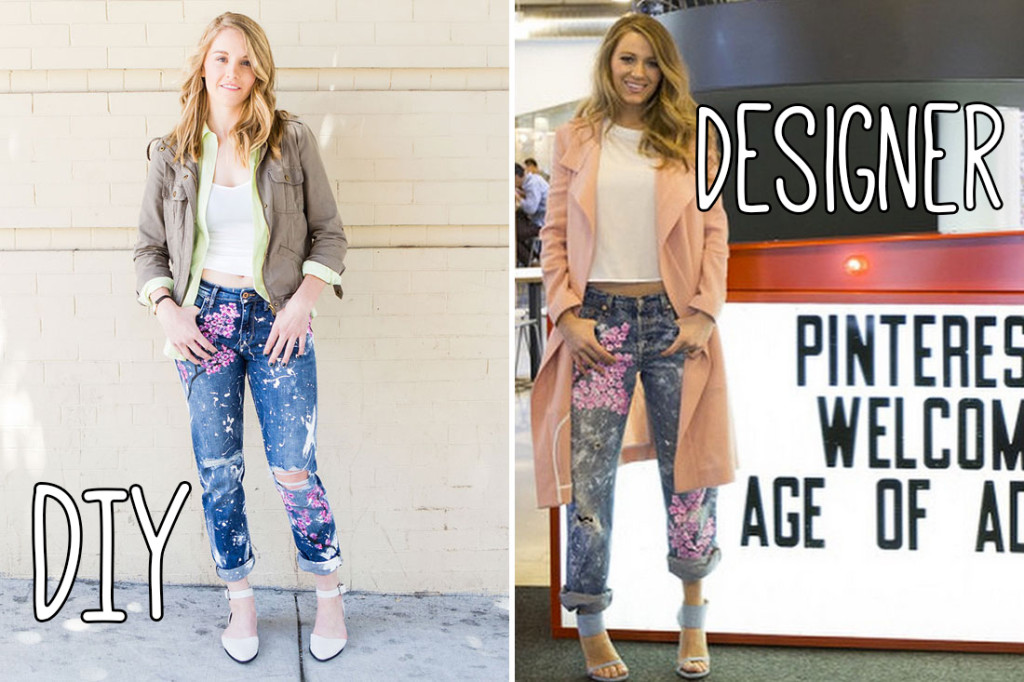 DIY Version: This one didn't cost a CENT! Read how to make it

here

.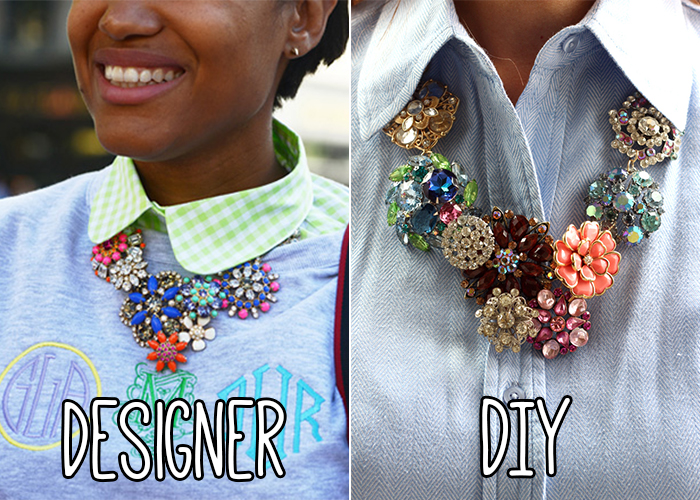 Dolce & Gabanna Embellished Headband, $871
DIY Version: Estimated $20 using new supplies. I don't recommend sniffing the E6000 glue this tutorial uses, just fyi.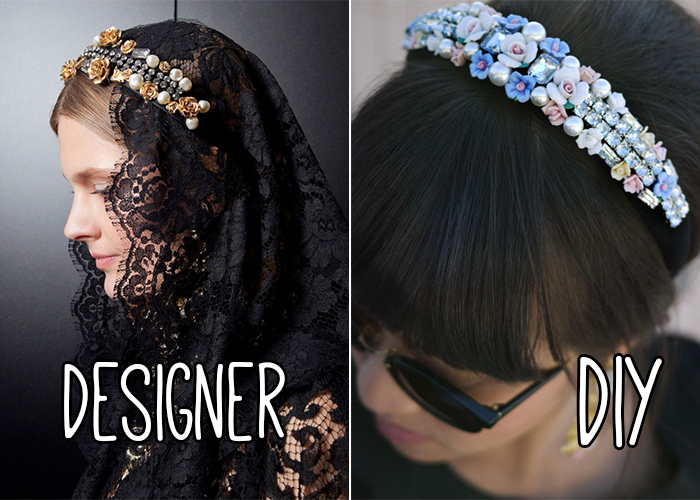 It's SO HARD TO DECIDE WHICH ONE OF THESE I WANT TO TRY FIRST! I'm probably going to go with the polka dot jeans because I already have the materials, but I can't get over how cute the cherry blossom jeans are. But that means I have to go out and find a par of boyfriend jeans, GAH.
---
I Went To My First Sample Sale And Now I'm Hooked
Monday, April 27th, 2015
Before last week, whenever I heard "sample sale," I thought, "designer things that are really expensive are marked down to prices that are still really expensive, especially in the eyes of those who prefer shopping at thrift stores." But when I accidentally walked into the Rebecca Minkoff sample sale at the aptly named 260 Sample Sale, (the address is 260 5th Avenue) my opinion changed forever. Now I'm a sample sale addict.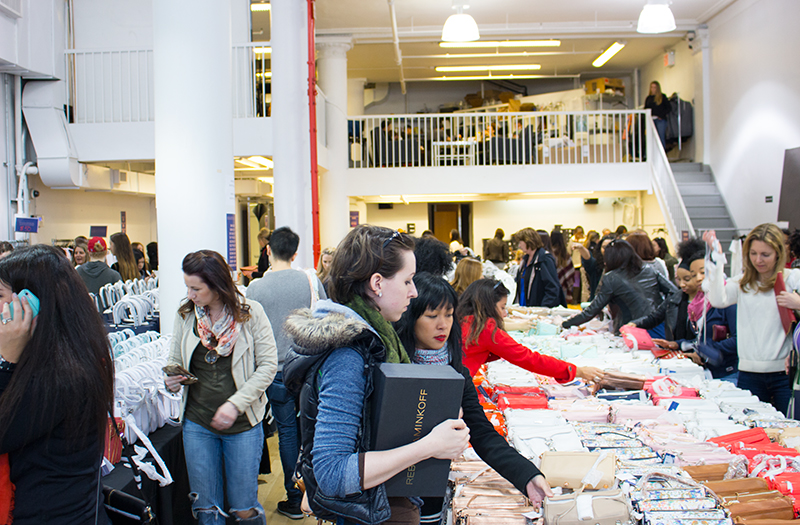 I consider myself a pretty fashion-industry-savvy young woman, but for this article I had to google "what is a sample sale?" I knew that sample sales are limited-time-only pop-up stores where you can grab designer duds for a fraction of the cost, but wasn't sure what the purpose or idea behind them is. According to the Internet, brands will sell excess merchandise for around 70% off in hopes of acquiring brand loyal customers who will one day pay full price for their merchandise. I always thought that sample sales would only have sample sizes, a.k.a. runway-ready merchandise for tiny beanpole supermodels that I would never fit into, but sample sales tend to have a range of sizes, much to my excitement.
Rebecca Minkoff is best known for her handbags. The handbags at the sale were still pretty expensive – a backpack I wanted that retails for around $375 still cost $175. I wasn't looking to drop that much cash on a sale I accidentally happened upon, but there were definitely diamonds-in-the-rough for those who weren't looking to spend over $100. There were true "sample" handbags, a.k.a. single bags used for vendor shows or fashion shows, that cost $50 flat. All heels cost $100 flat, and then were marked down to $50 flat on the last day of the sale. All flats and booties were $50 flat, which is how I got this pair of Macy cut-out Oxfords that normally retail for $275 for $50. They're perfect for that in-between spring weather. If it's cold, I can just wear them with a pair of black socks, and no one has to know they have cut-outs!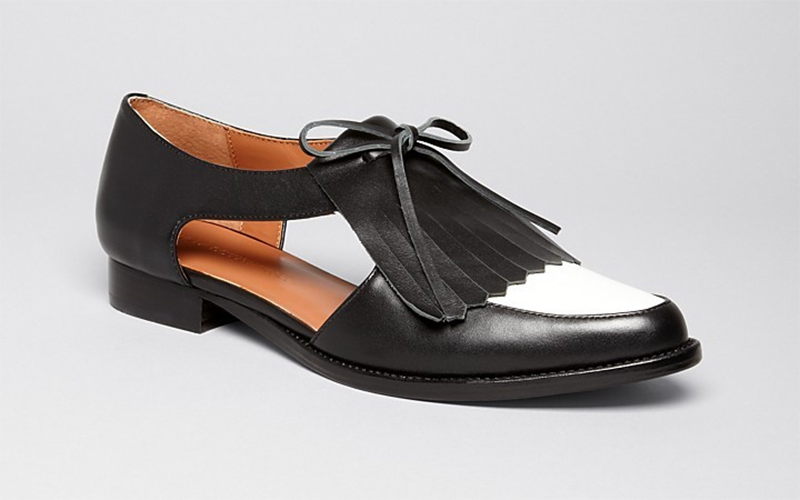 Wondering how I knew the heels were marked down to $50 on the last day? That's because I went twice. I happened upon the sale on its first day (Monday) and bought these shoes, and figured on the last day, the prices would go down even further. Hoping to score one of the MAB backpacks for cheap, I went back on Saturday. The backpacks had, in fact, been marked down to $100 flat, but had already been cleared out by earlier-than-me shoppers. All dresses were marked down to $50, versus $100 at the start of the sale. The handbags weren't specifically marked down, but for every $100 spent, they took 15% off your overall purchase, and the percentage went up depending on how much you were willing to shell out.
My plan of attack for sample sales in the future is as follows:
Check out the sample sales in NYC on Racked NY, keeping an eye out for my favorite designers.
Hit up the first day of the sale to grab the things I just can't live without.
Hit up the last day of the sale to purchase super low-priced leftover merchandise.
Even though most of the selection is still expensive, I figure I can justify it since I shop at thrift and consignment stores 90% of the time. I would easily pay $50 for a pair of quality shoes at a department store, and if they're from a classy, high-end designer, even better! The shoes look great with my thrifted plaid trousers ($10 at Buffalo exchange), Urban Outfitters utility jacket ($20 at Refresh STL), Forever 21 graphic cat tee ($5 at Buffalo), and a clearance rack bejeweled collar from Urban Outfitters ($10).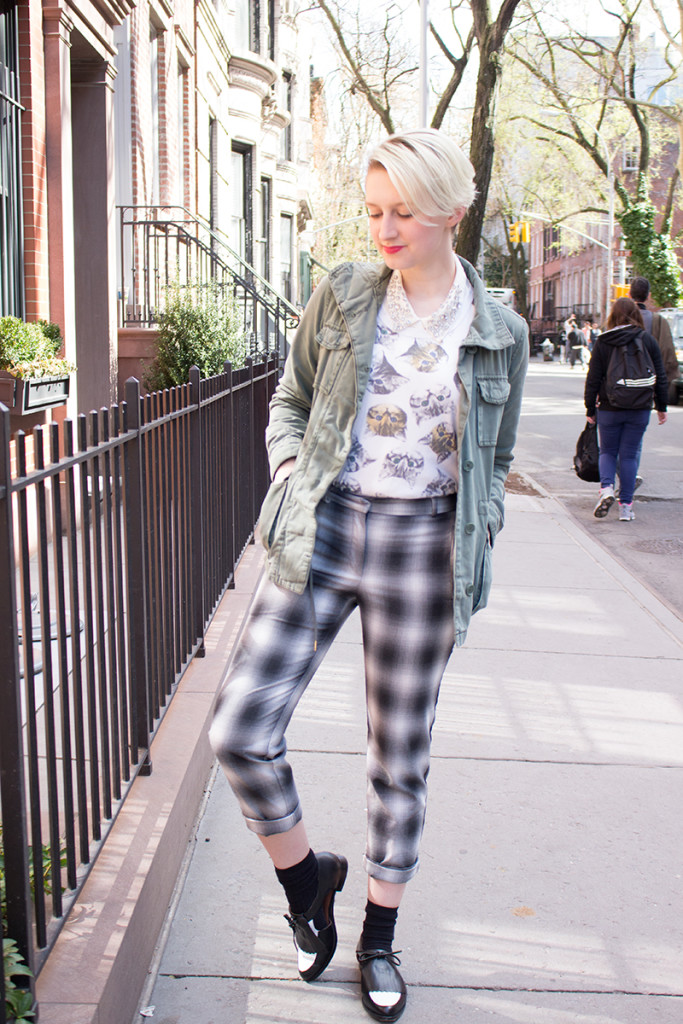 How would you style these shoes? Or do you have any sample sale tips and tricks? Let me know in the comments.
---
THE BEST OF THE BEST
ADVERTISEMENTS
PINTEREST
INSTAGRAM